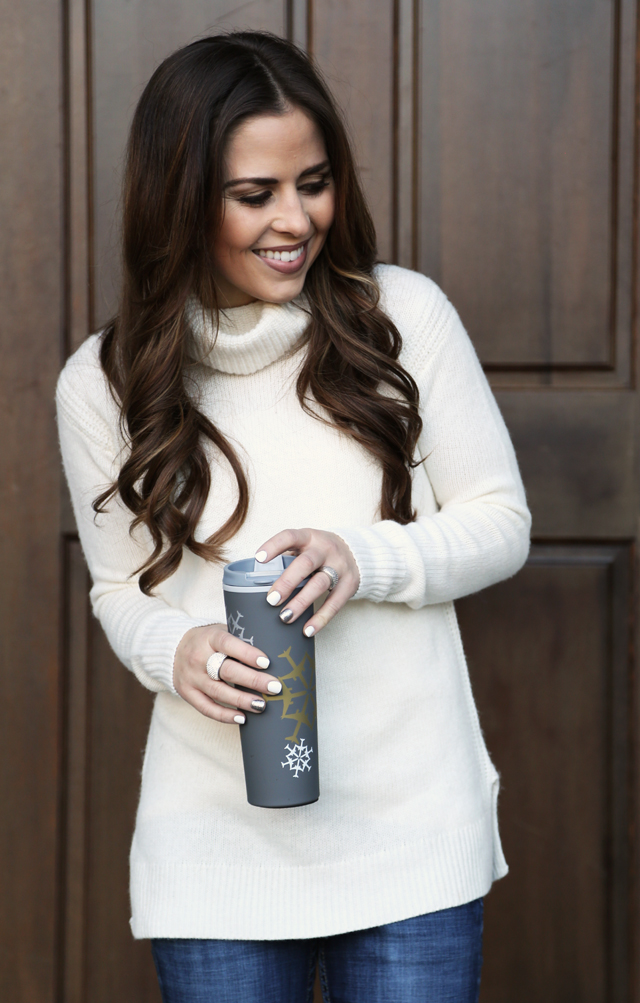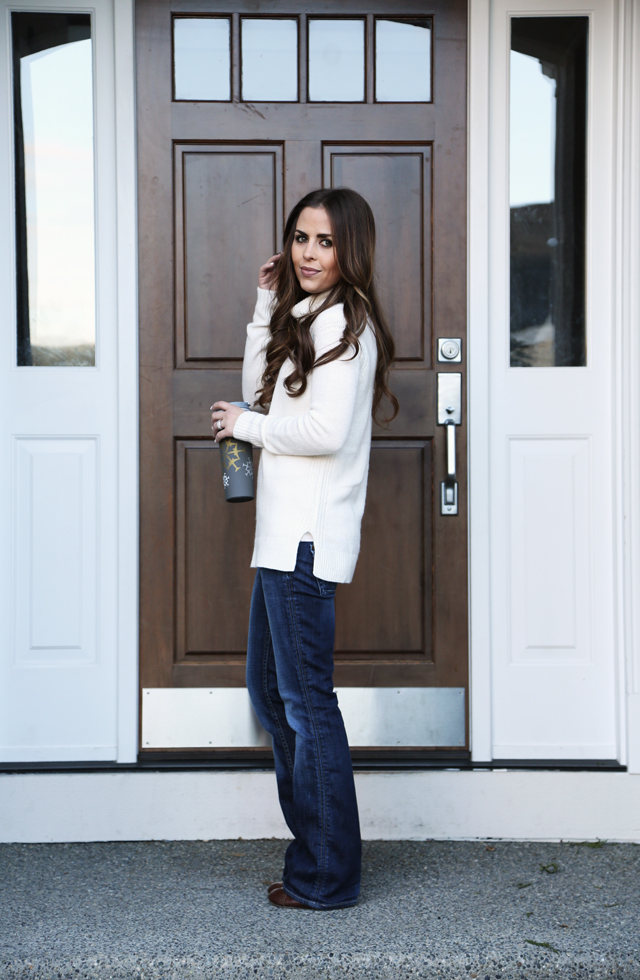 Sweater: JCrew Factory. (on sale.) Jeans: Hudson. Shoes: Old. (similar here.) Nails: Essie. (white, silver.)
Saturday is the perfect day for a cup of cocoa and a cozy sweater, don't you think?
I thought I would tell you a few things about my life, since I don't know why actually.  I just feel like it.
Every Friday night we have a pizza party with our kids.  We get two XL pizzas (thas how many it takes to feed our family now, yikes) and a couple 2 liters of soda and spread a blanket on the floor in our upstairs loft.  Then we watch a movie together.  For the last few Fridays we've been working our way through the Indiana Jones series.  Next week we're starting on Back to the Future.  Speaking of which.  It's 2015.  That's crazy.
I lost my wedding ring when we moved back to Seattle last June.  For some reason, when I got pregnant with Ava, my skin suddenly decided it was allergic to my wedding ring.  Every time I put it on I would get a horrible rash.  This still hadn't gone away a year and a half later and so I wasn't wearing it, I had it tucked away with my jewelry and somehow in the chaos of the move it disappeared.  I turned my house upside down but I've never been able to find it.  It still makes me want to cry because my husband picked it out and surprised me with it when we got engaged and it was really, really special to me, and now it's just a memory.  Makes me so sad…
I've had a sore throat for over a week, and it's starting to get worse NOT better.  I'm ready to remove my esophagus.
I kind of had a nervous tick as a kid.  Well, not kind of.  I had a nervous tick.  It would change too.  I'd either knit my eyebrows or wiggle my nose, or scrunch my eyes pretty much constantly.  It took me a lot of focus to teach myself not to do it, and when I get stressed I still feel myself almost ticking again, but I usually don't.  I realize now that I'm a pretty naturally nervous/anxiety ridden person.
I get really embarrassed when I meet someone in real life who reads my blog/follows me on instagram.  I don't know why.  Like yesterday, when the woman who has a business next to my studio said she looked at my website– I was humiliated.  That's also because my studio is always a giant mess.  Truly creative spaces are messy, right?  Or so I tell myself.  But also, I think I'm going in this weekend and cleaning that place up.
I'm kind of naturally scatterbrained.  I try really hard to write things down so I don't drop the ball, but sometimes it happens.  Also, all the emails I get from all my kids' different teachers/all the different papers they send home every single day, really stress me out.  How in the H am I supposed to keep track of all that stuff.
My husband hates chocolate.  Like won't eat it at all, hates chocolate.  I do not understand this. But I'm like, okay.  More chocolate for me. ;-)
 My Ethan is obsessed with legos.  We, I mean "Santa" made him a lego table for Christmas and Craig and I are still patting ourselves on the back for being the most brilliant parents on the planet.  He looooves that thing.  Sometimes at night I catch him up waaay past bedtime gleefully constructing little intricate worlds out of those interlocking bricks on said table and my momma heart turns into a big old puddle on the floor.
tell me something random about yourself…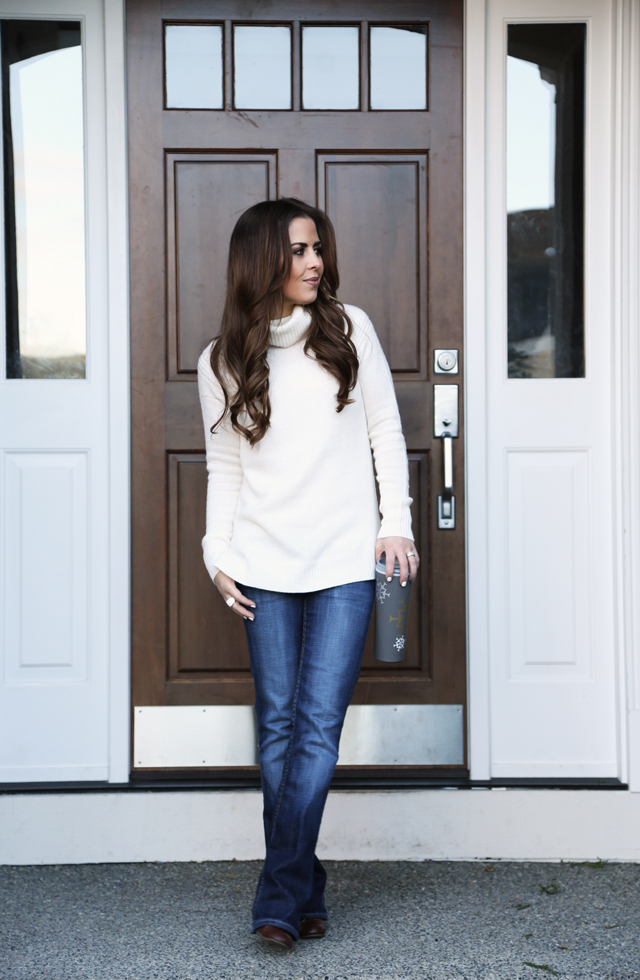 _______________________________
a few of the best weekend deals from around the inter-webs.
somebody please go buy this amazing Kate Spade pencil skirt.  It's 60% off and they don't have one small enough for me and it's breaking my heart.
I tried on so many amazing sweaters at Gap this week that are all (still) way discounted and then I didn't buy one, because I was like "oh I'm going on a cruise in a few weeks, I need to buy cruise stuff, blah blah blah."  But now they're all haunting me, because I looove sweaters and I live in Seattle so there's ample, ample opportunity.  Also they are having a promo, take $50 off your order of $100. TODAY (1/24) ONLY.  use code: 24HR
Have you seen this ampersand sweater at JCrew Factory?  Swoon…  Also, the sweater from today's post is half off, I could live in this thing it's so comfy.
Old Navy is offering 20% off all regular priced items and 40% off sale items.  Online only.  use code: TREAT.  This black jumpsuit is calling my name and one of the reviews said it works great for petites.   Also it has sleeves.  Finally!  A modest jumpsuit I can actually wear!
40% off full-price styles at Banana Republic.  use code: BRTIME  Also, juuust in case you didn't know, you can shop Banana Republic Factory store online now, and they have an extra 25% off clearance right now.  use code: EXTRA25
For the home:
It's Pottery Barn's annual White Sale right now.  20% off bedding, bath and more.  This duvet which looks just like the one I featured in our master bed reveal last week (except a billion times better quality) is on sale.
If Pottery Barn isn't your jam, it's also Target's White Sale right now.  Up to 20% off bed and bath, plus get $10 off when you spend $50 and $25 off when you spend $100. use code: HOME
Up to 50% off furniture at World Market.  also, have you seen their laundry baskets?? LOVE.