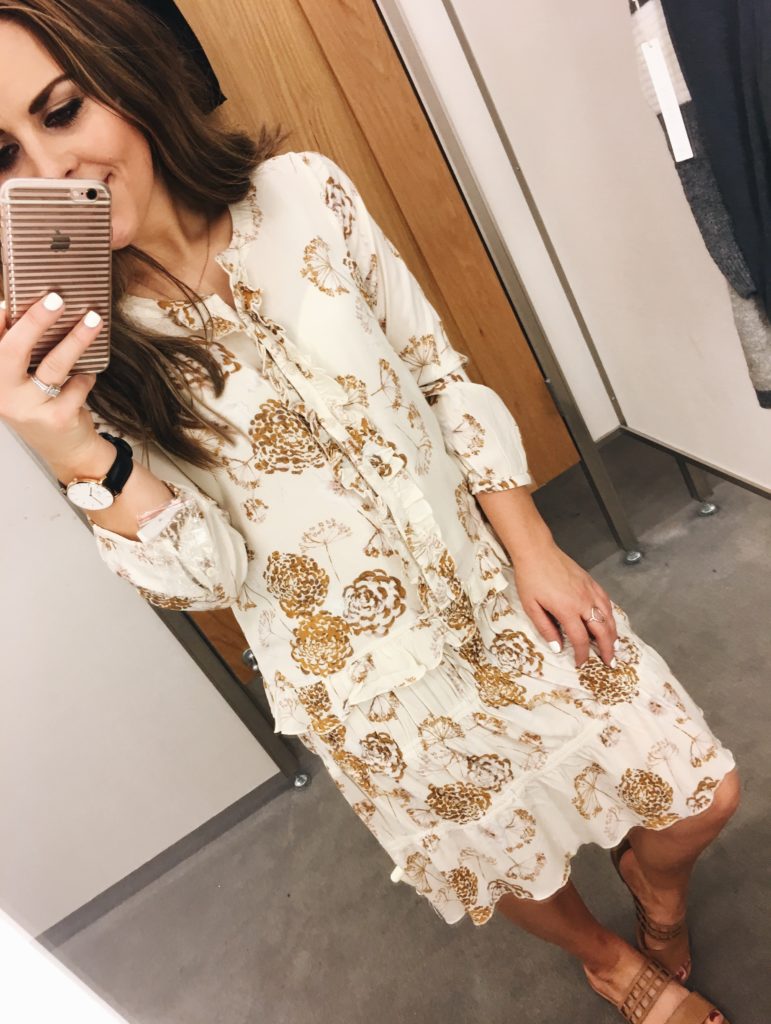 When my mom would take me shopping as a kid/teenager, we had this joke with each other, that I would take 10 things into a dressing room and maybe one would fit.  It's not easy to shop when you're short, and I had to learn to love the try-on process, because pretty much nothing ever fit right off the rack enough for me to just grab and go.  The funny thing is, now I see every dressing room experience as an adventure.  I've learned a lot about what to expect with fit (for example, I just know that every single pair of jeans I try on will need to be hemmed), and I'm always surprised by something I didn't expect to look good and I end up loving.
My point: don't be afraid try things you might not normally try.  Some of my absolute favorite pieces were something I just grabbed/ordered on a whim without any expectations, and then they ended up being awesome.  Does that happen to anyone else?
This is totally how I approach shopping the Nordstrom Anniversary sale.  I tried on and order a ton of stuff (with Nordstrom's free shipping and returns its so easy) and I'm always pleasantly surprised by what I end up loving/keeping.
I'm breaking this post into two parts because there's a lot of stuff, so bear with me.  Also, I have to say, I know a lot of the stuff at Nordstrom is prohibitively expensive, but there are so many pretty tops and dresses that are a really, really good price this year.  Like $15 tees, $30 blouses, etc.  Even the leather moto jacket I ordered last night is marked down to just over $100.
Okay, so lets get started.  I'm going to include fit info, and my thoughts on each piece, but if you have any questions, make sure and ask in the comments and I'll definitely get back to you.
ALSO, I don't know if you hear that Nordstrom's site crashed yesterday (haha, everyone was freakin' guys) but they're giving everyone a 10 points day!  Through today, so make sure you hurry and use that!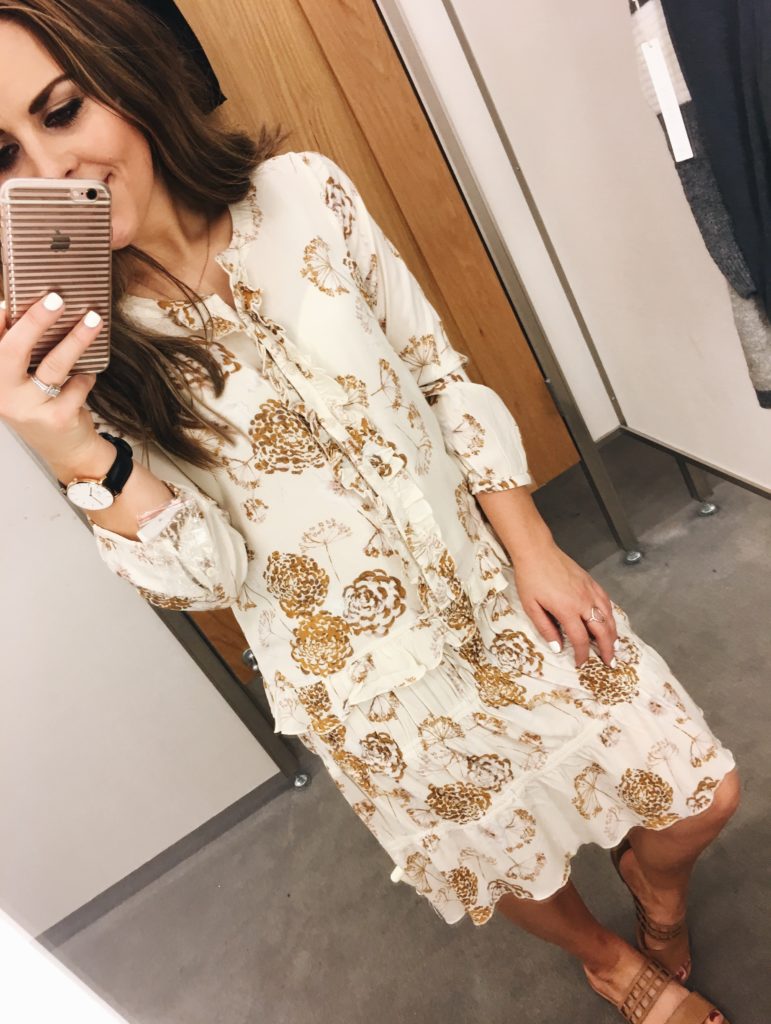 Okay this dress is one of my favorite things I found in the sale yesterday.  It's got a kind of 30's/70's vibe to it.  The print is so pretty and the fabric is nice and lightweight.  Perfect for now and into the fall.  I'm wearing an XS.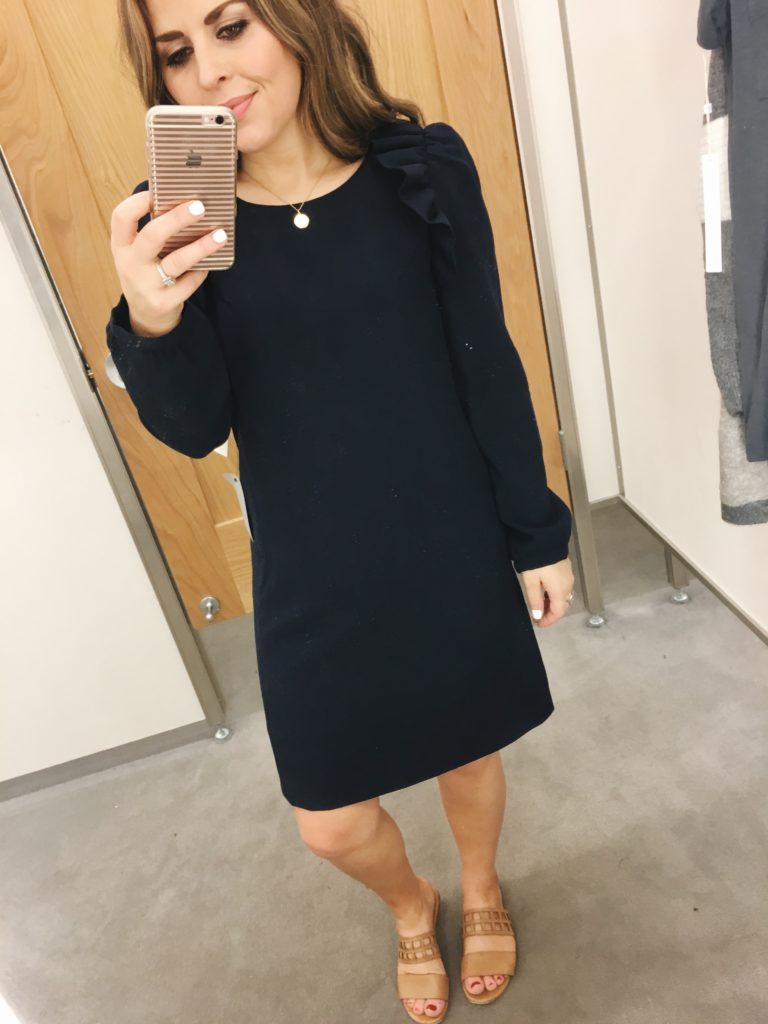 I love this Navy dress so much.  The fit was perfect, although it is a little itchy.  I love the ruffles on the shoulder.  It's so pretty.
This dress is super cute, and the fit was fine, but I didn't love it on me as much as I thought I would.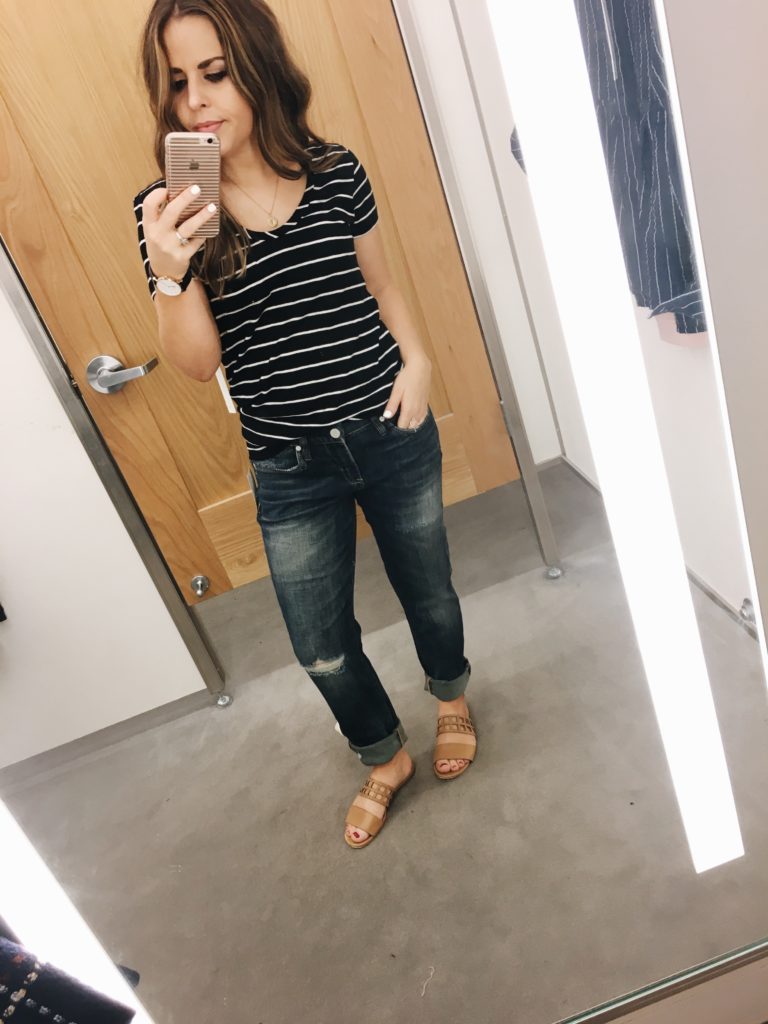 Striped t-shirt. Girlfriend jeans.
Okay, this tee comes in a 16 colors and I love the fit.  It's a great price too, only $17.  These girlfriend jeans are just as awesome as I thought they would be.  This pair is a size bigger than I wear (they didn't have my size in store), so I ordered mine last night.  They are so comfy, and I can tell the fit is going to be perfect.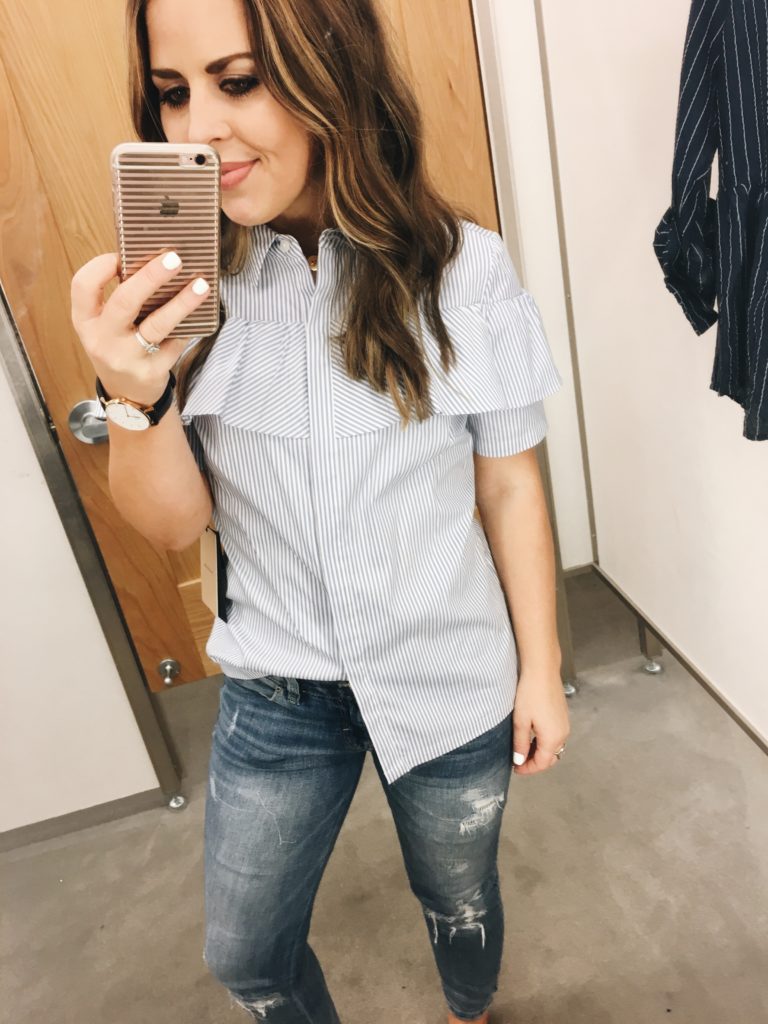 Okay, when I spotted this top in the catalog, I really wanted to like it, but oh my goodness, it turns out, I love it!   The fit is perfect.  It comes in petites too- the fabric, the stripes, the ruffles everything is lovely!  Wearing an XXSP.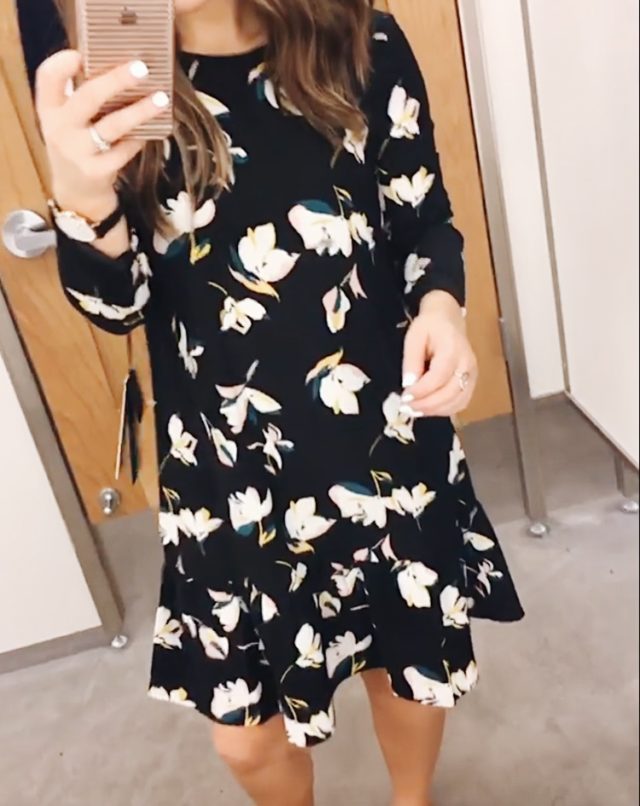 Sorry for the poor picture quality, but I forgot to snap a picture in the dressing room, so this is a screen shot from my instastories.  But this is my second favorite dress.  I love it so much and it comes in petites too.  Wearing XXSPetite.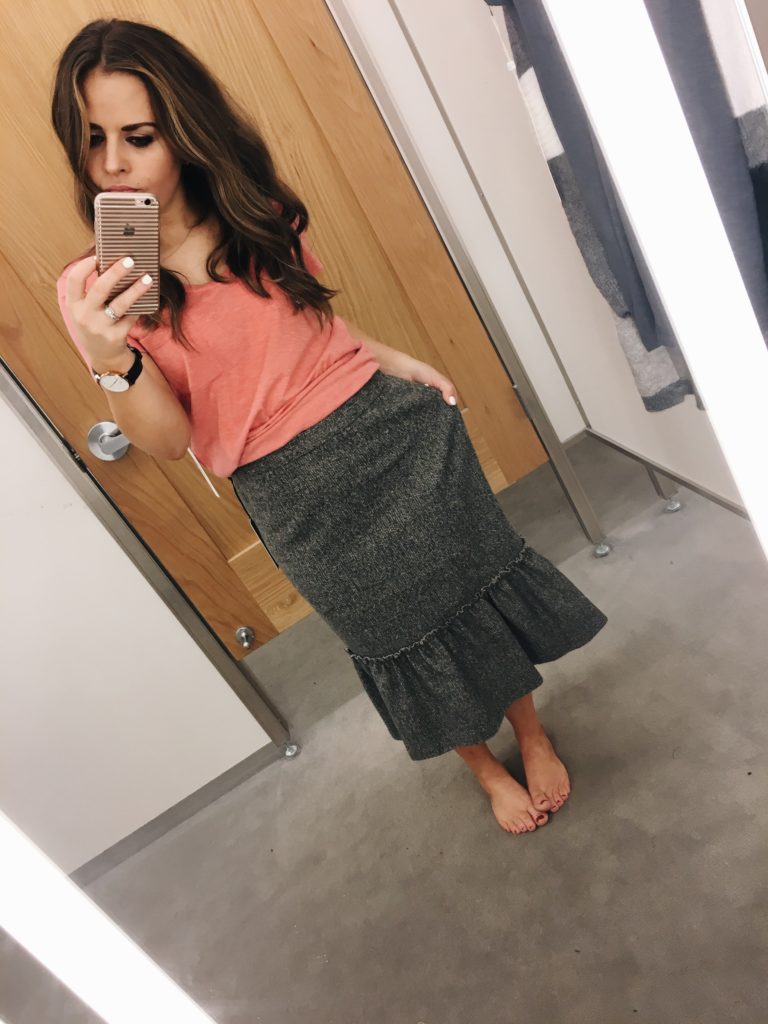 I actually love this skirt, but the smallest size they had in store was a 2, so obviously I need to size down.  Comes in petites too and goes down to 00P, which is probably the right size for me.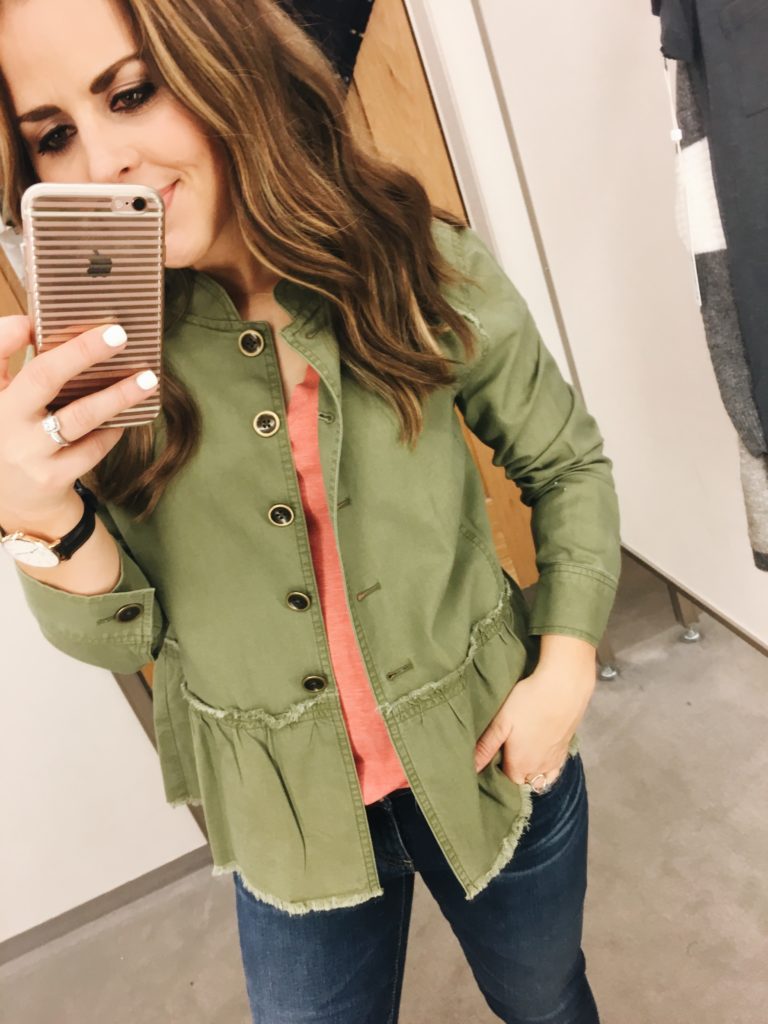 This jacket is so cute and light weight.  It comes in petites.  I'm wearing an XSP.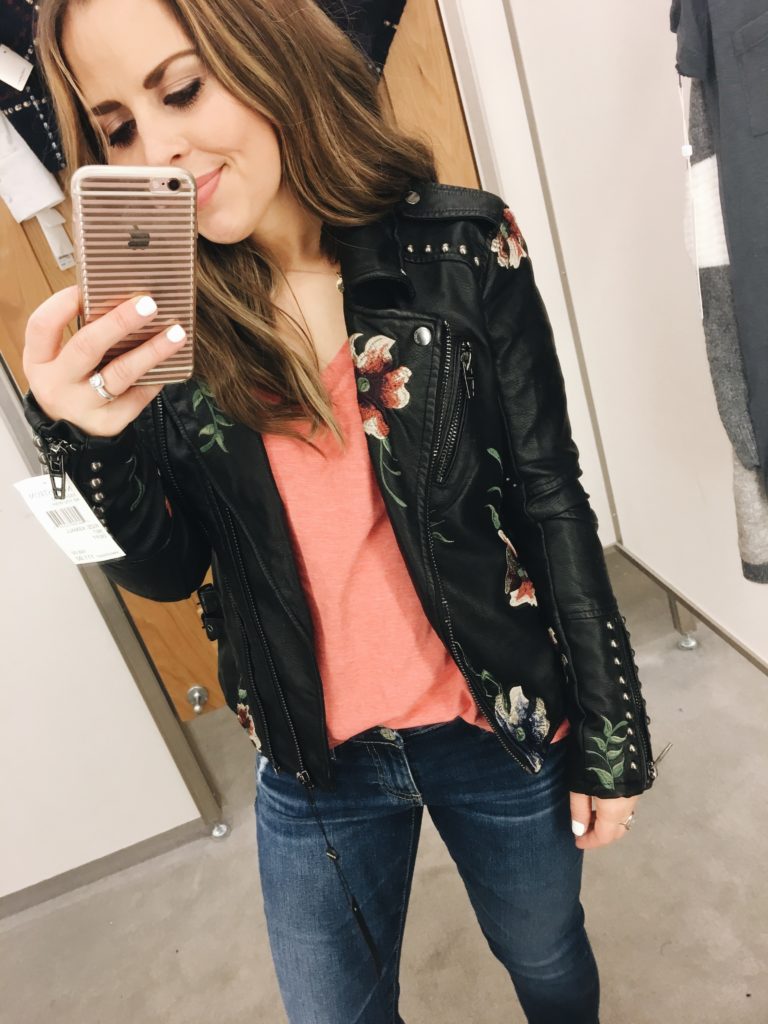 Okay this jacket was a little too biker princess for me, although I thought it was super cute.  I just know I would never wear it, gotta know yourself right?  ;-)  Price is great, fit is really good too, runs a little small which is always good for me.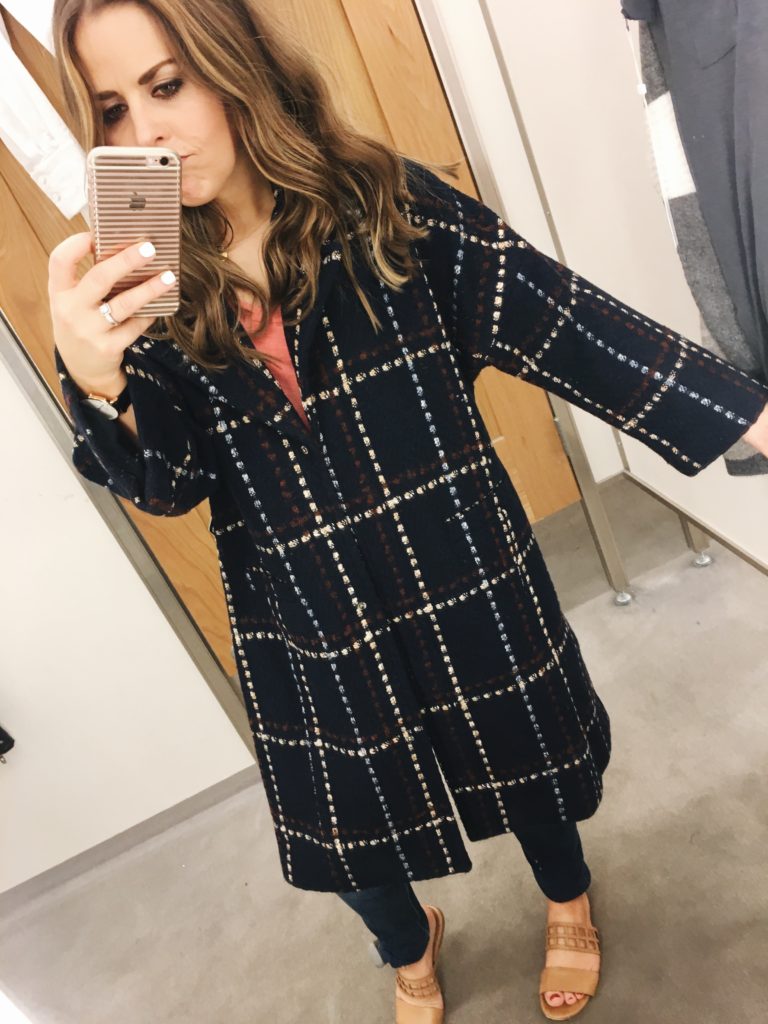 I am obsessed with this coat and the price.  Obviously this is way too big on me (wearing and XS here) but it comes in petites, so I'm ordering it!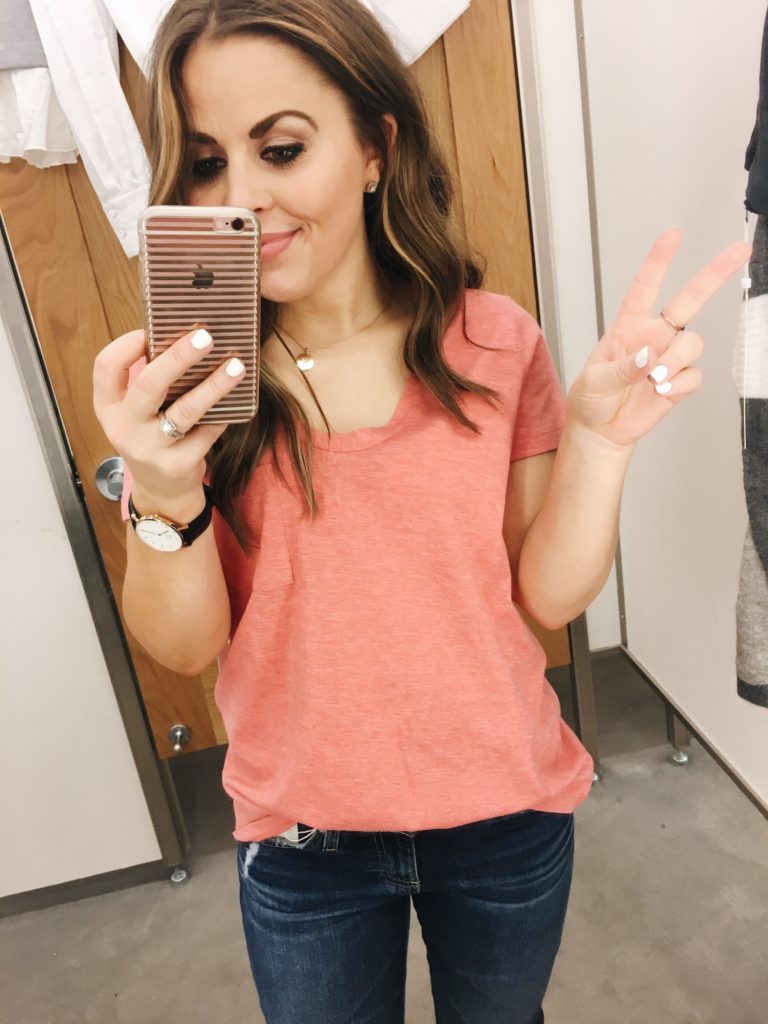 This tee again, I know.  But it's so good.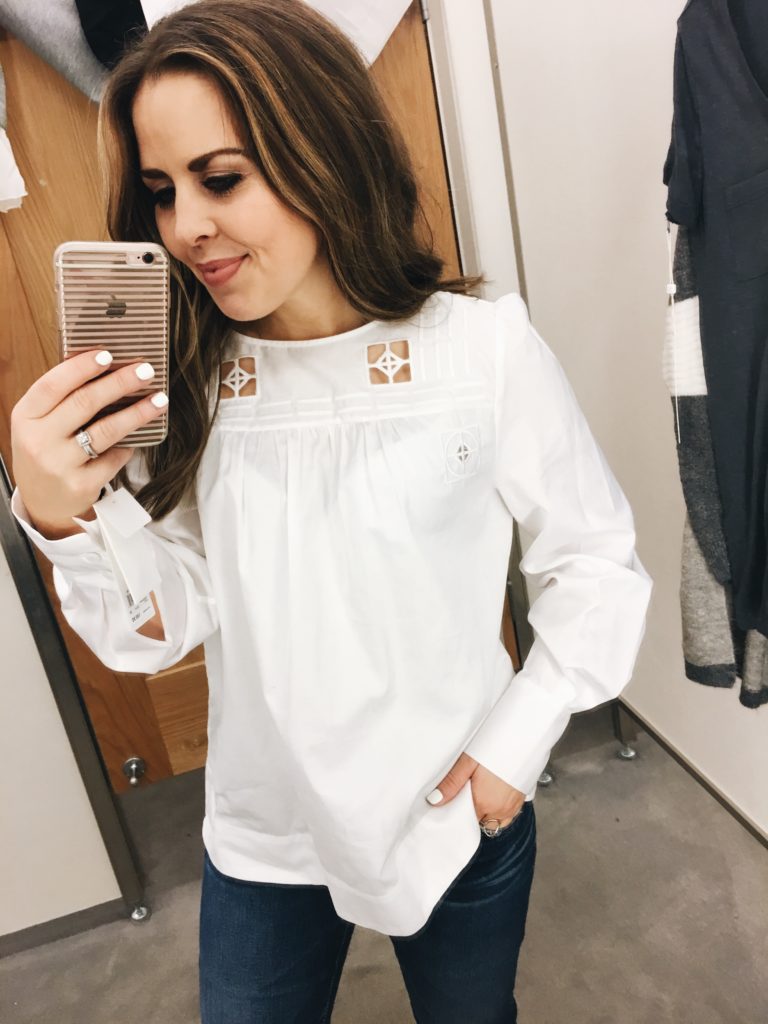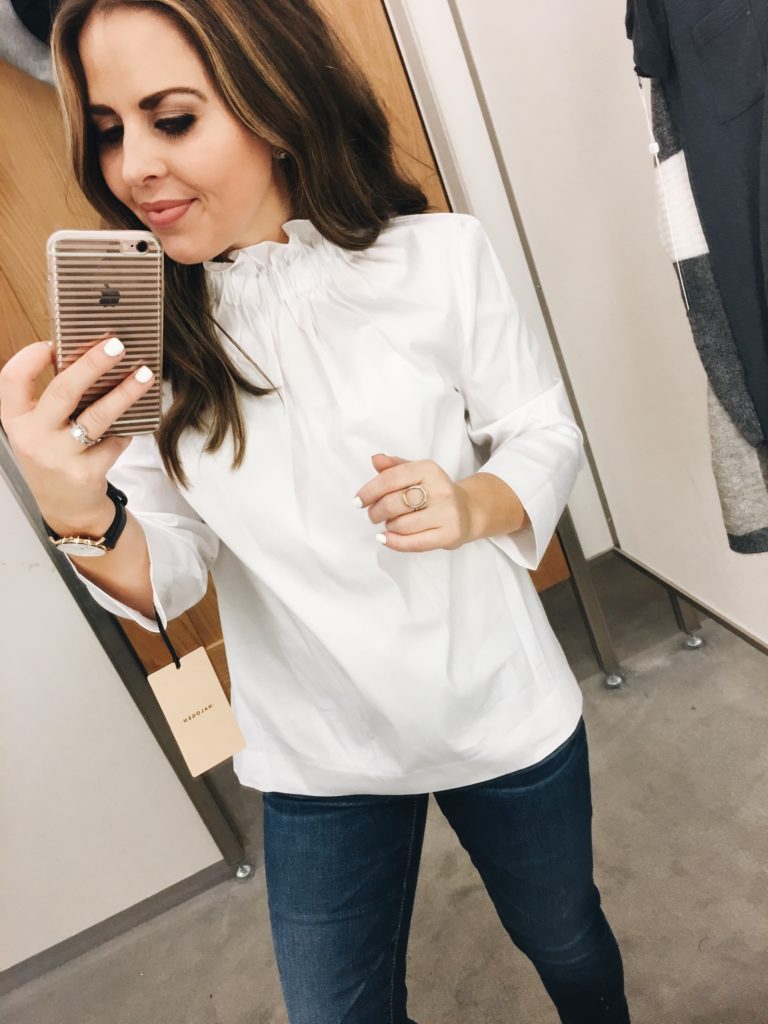 This top would be so pretty to wear if you have an office job or you need to be a little dressier.  I love the detail on the neck.  It's a white blouse but a little dressier. Fit is great and it comes in petites.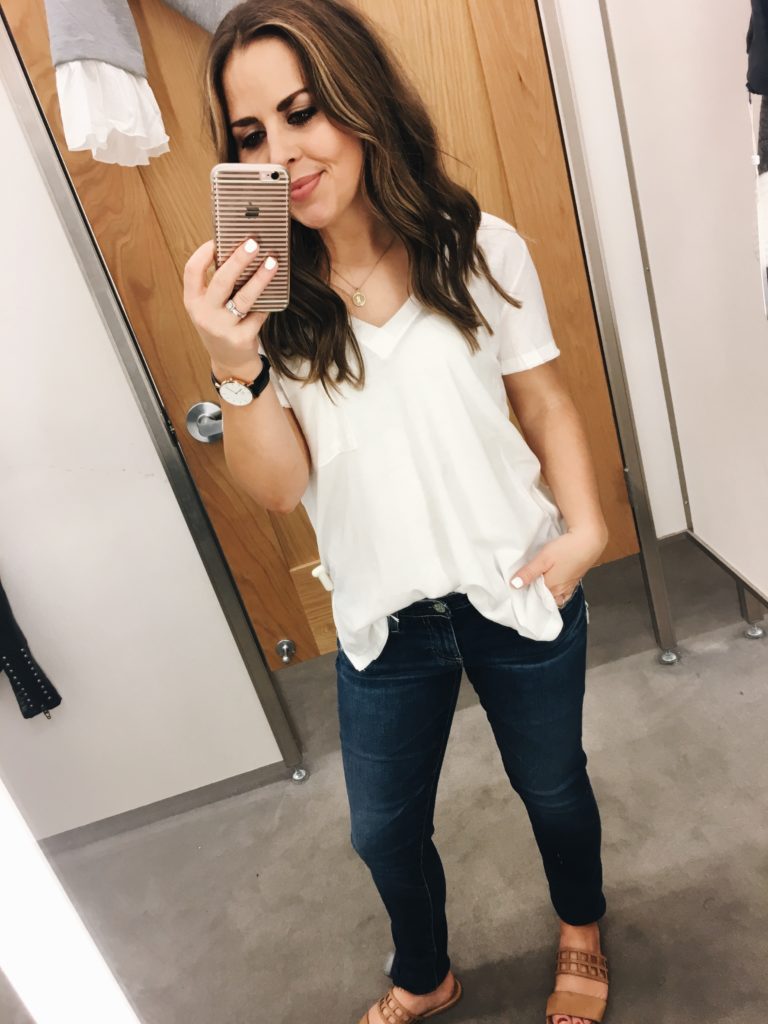 Lush V-neck tee.
This tee runs very large, and doesn't work for me (the v goes too low for my liking.)  But the material is insanely soft. Like out of this world soft.  And it looks cute on some of my taller friends.  only $15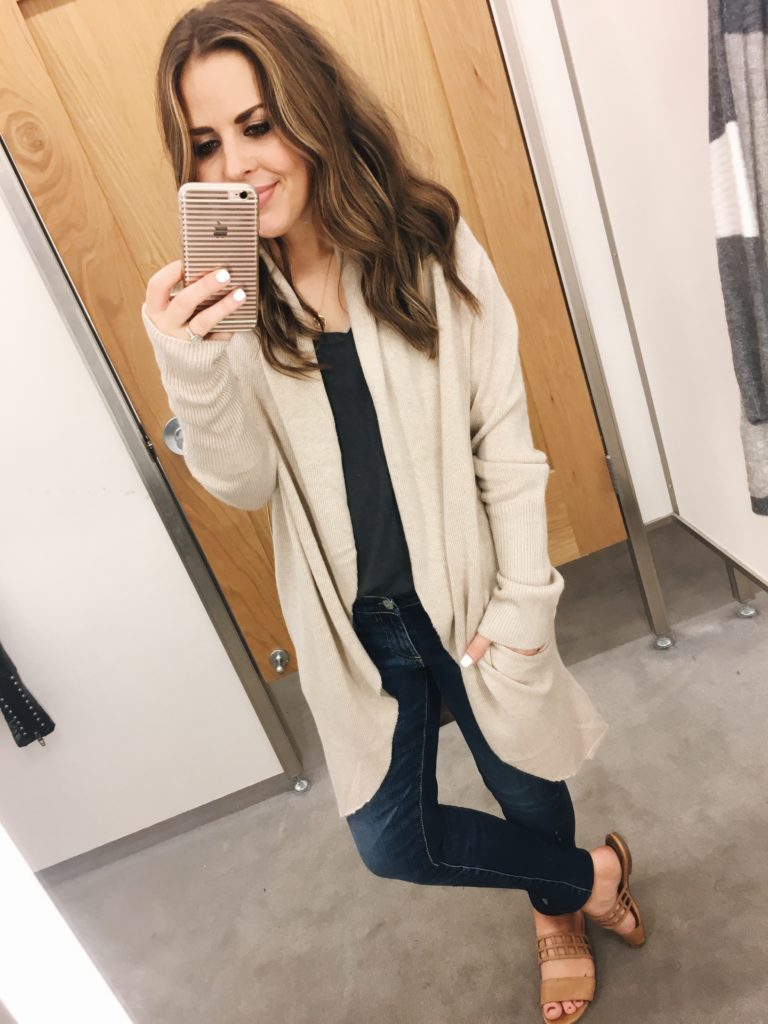 This sweater guys, is insanely soft, and I love the pockets.  Wearing an XS.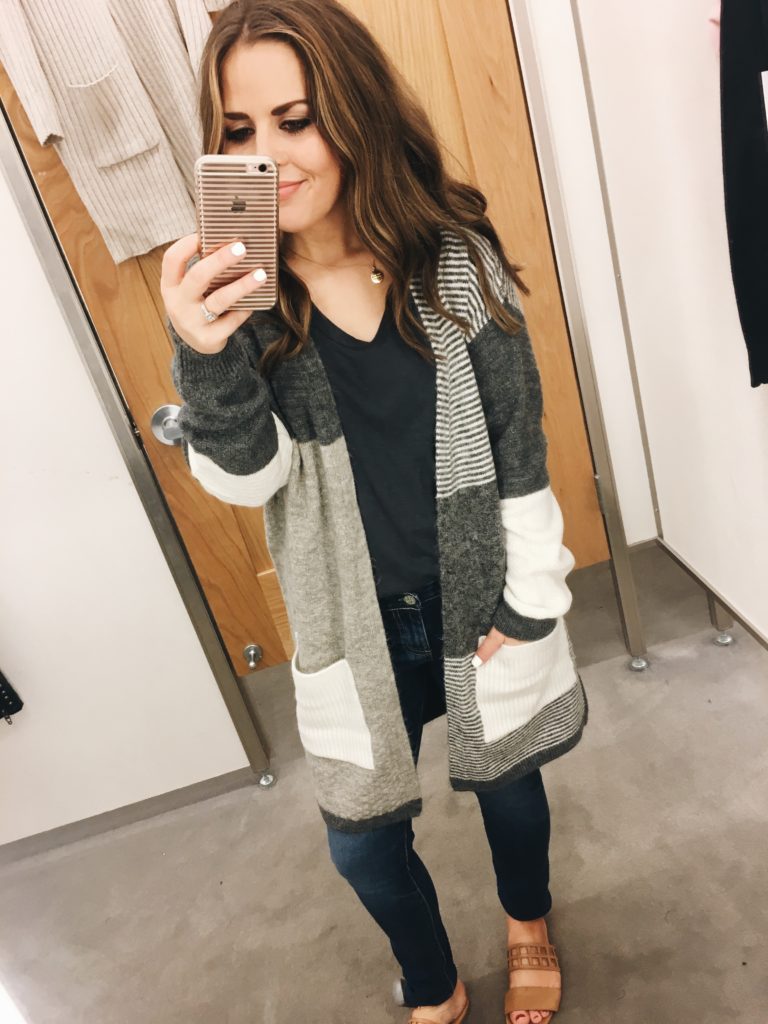 Isn't this the cutest cardigan ever!  I am obsessed.  It's already sold out, but keep an eye on it, cause sometimes stuff comes back in stock!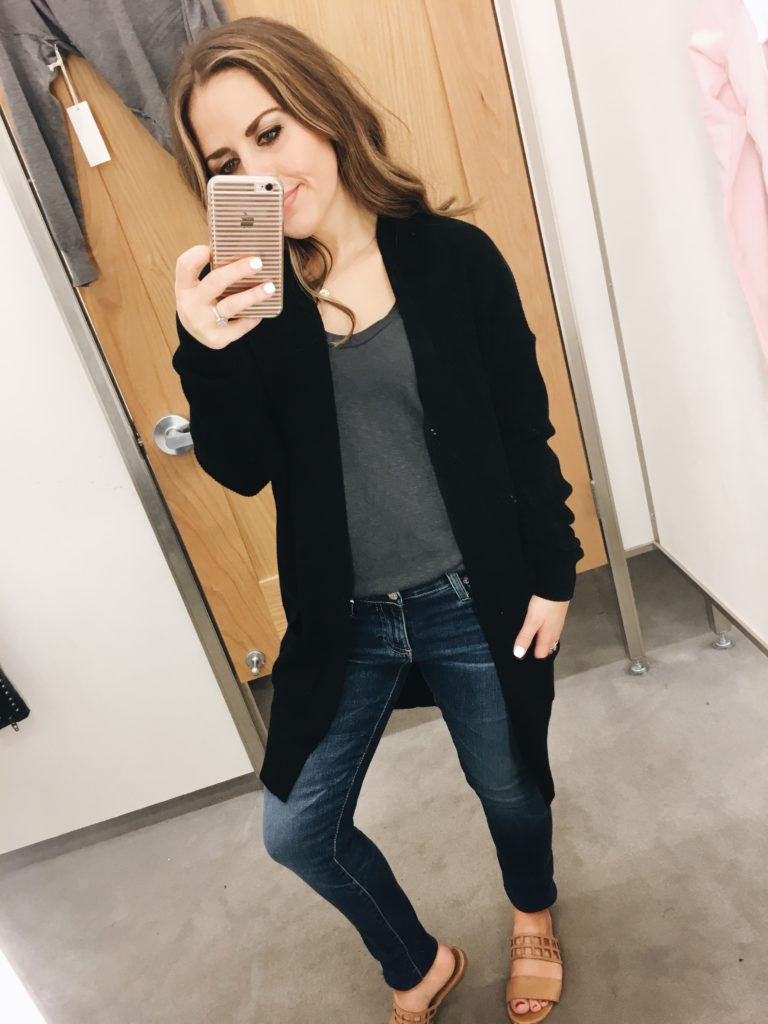 I bought an almost identical black cardigan last year, so I didn't get this one, but it's perfect.  Comes in XXS, and I love the fit.  I did buy it in the oatmeal color!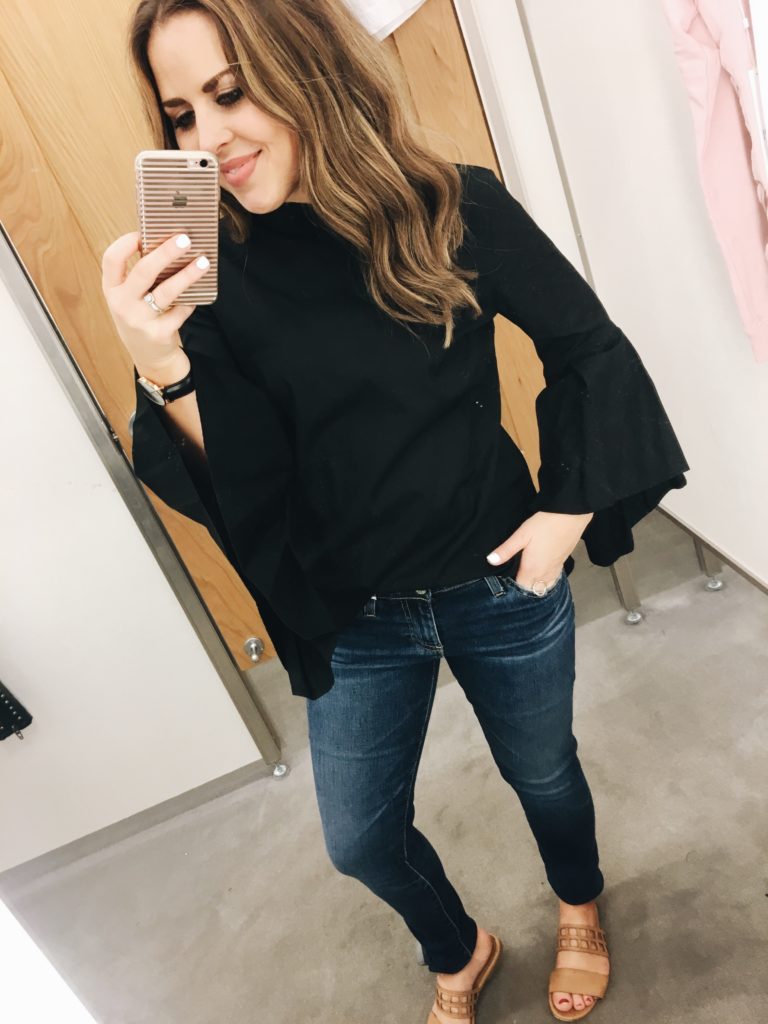 I didn't think that was going to like this top at all, but oh my goodness I love it, so much.  I'm wearing an XXSPetite.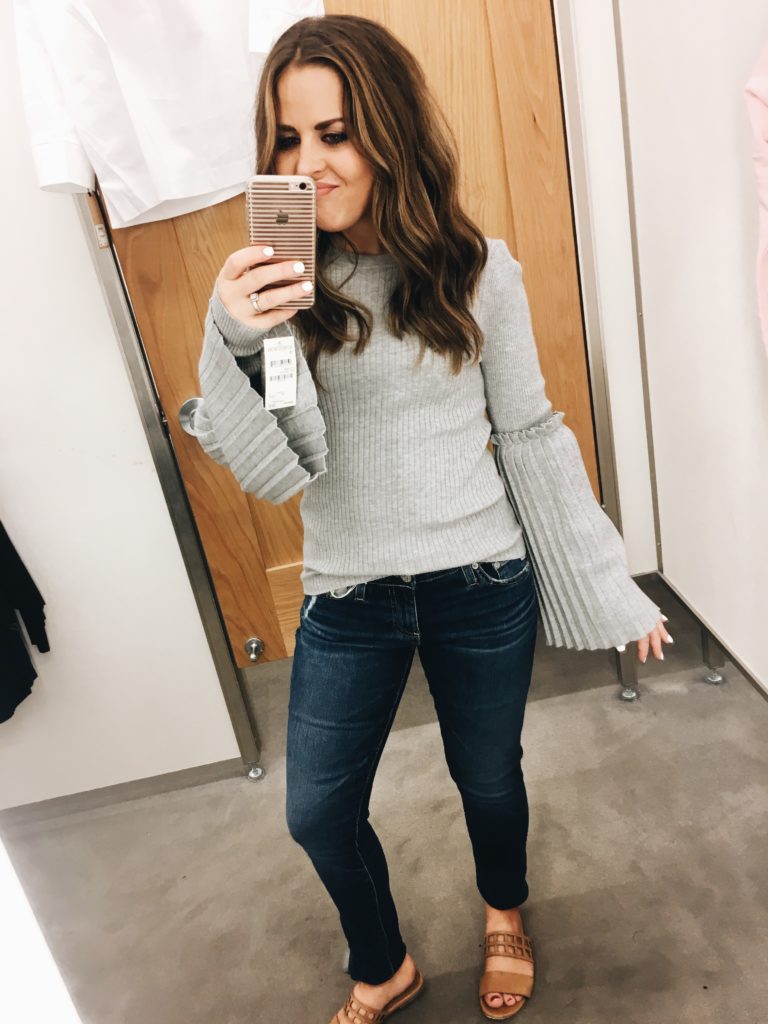 I love this sweater, but it doesn't work at all for me with my short arms.  Somebody tall go buy this!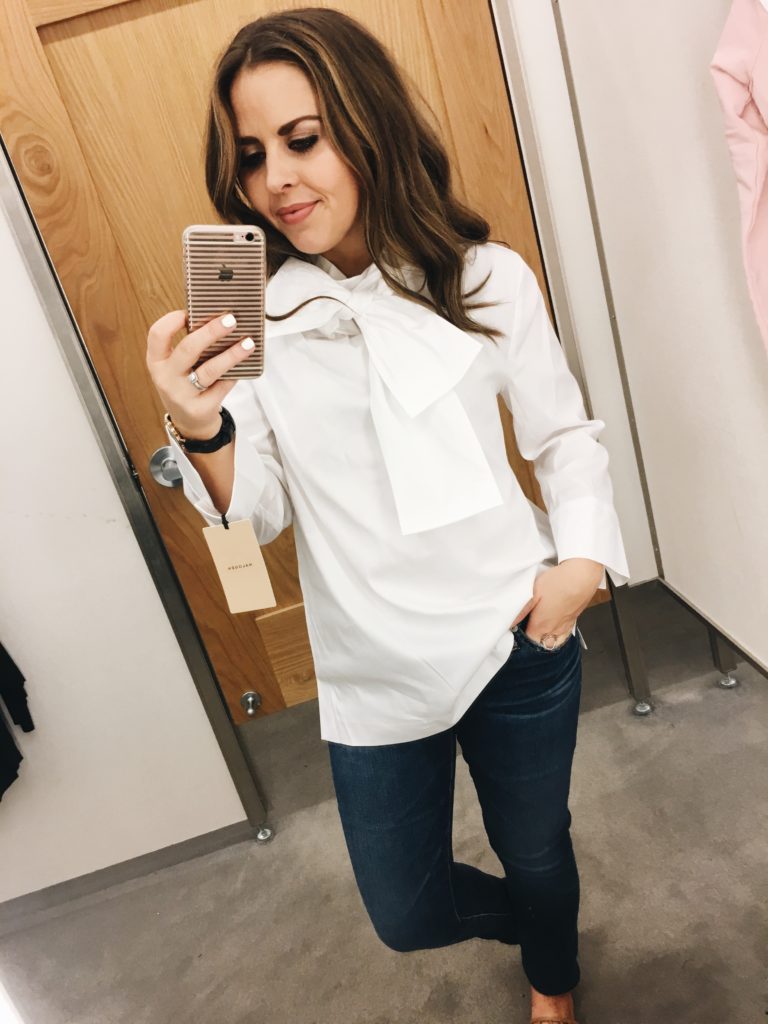 This is another one that would be so perfect in the office.  The smallest size they had in store was a small, and I definitely need it in an XXSPetite.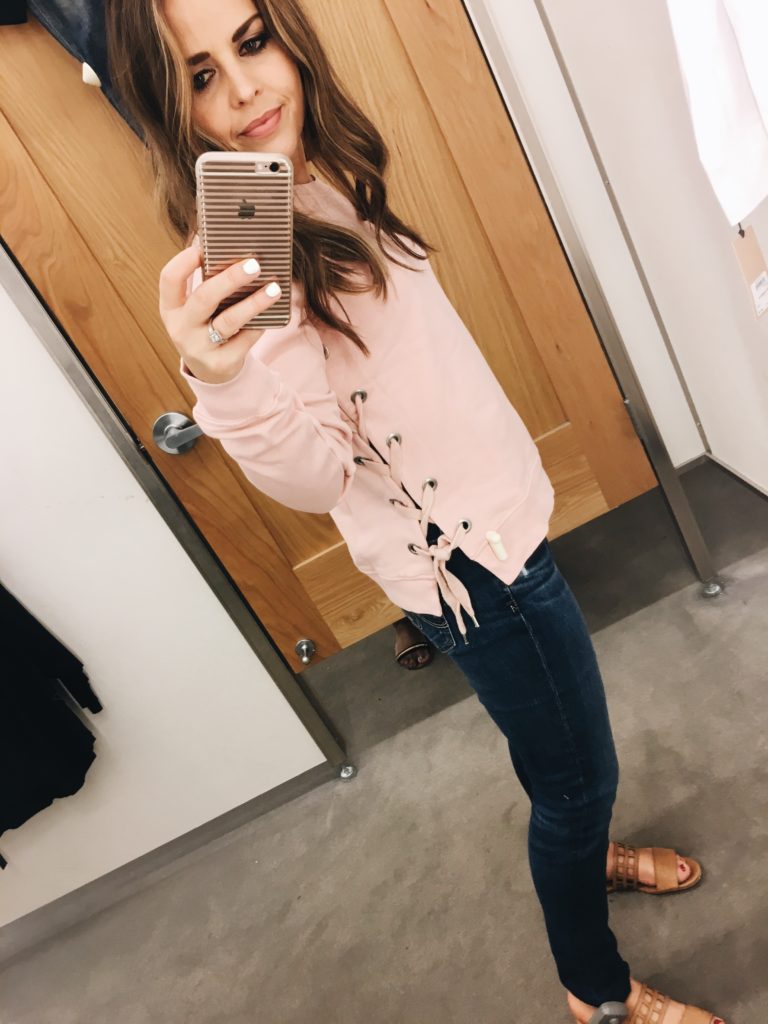 Isn't this the cutest pink lace up sweatshirt?  Fit is perfect.  I'm wearing an XXS.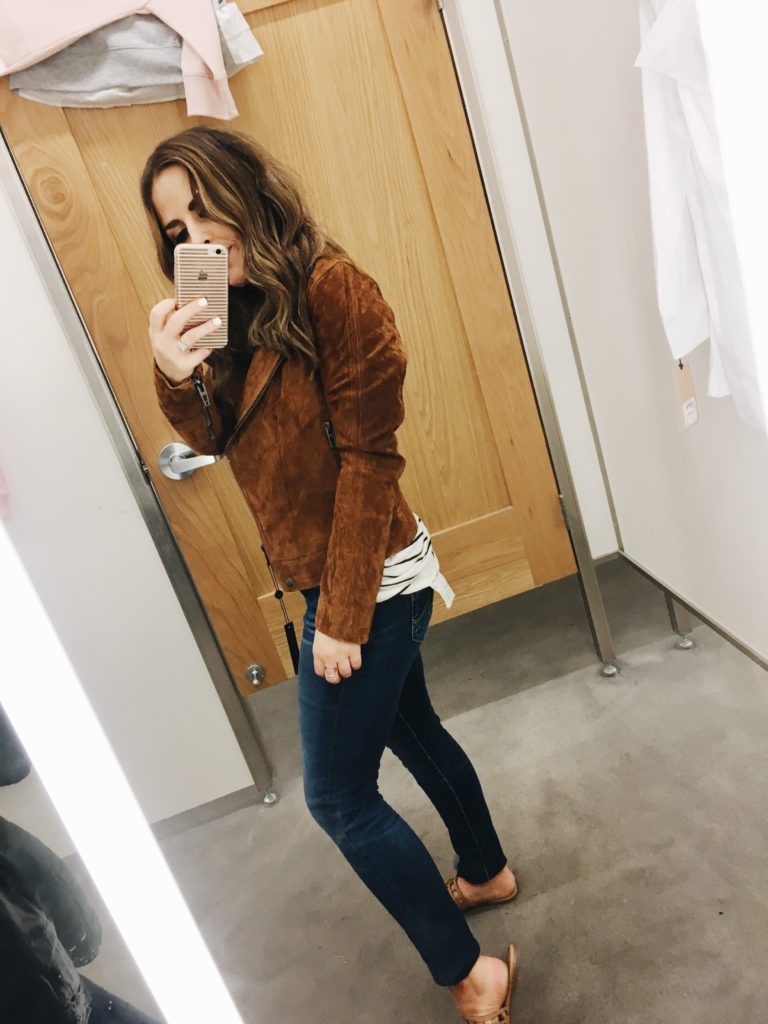 I love the fit on this jacket so much.  I stupidly didn't buy it last year, but this year I ordered it in gray.    It's definitely a fitted jacket.  So an XS fits more like XXS.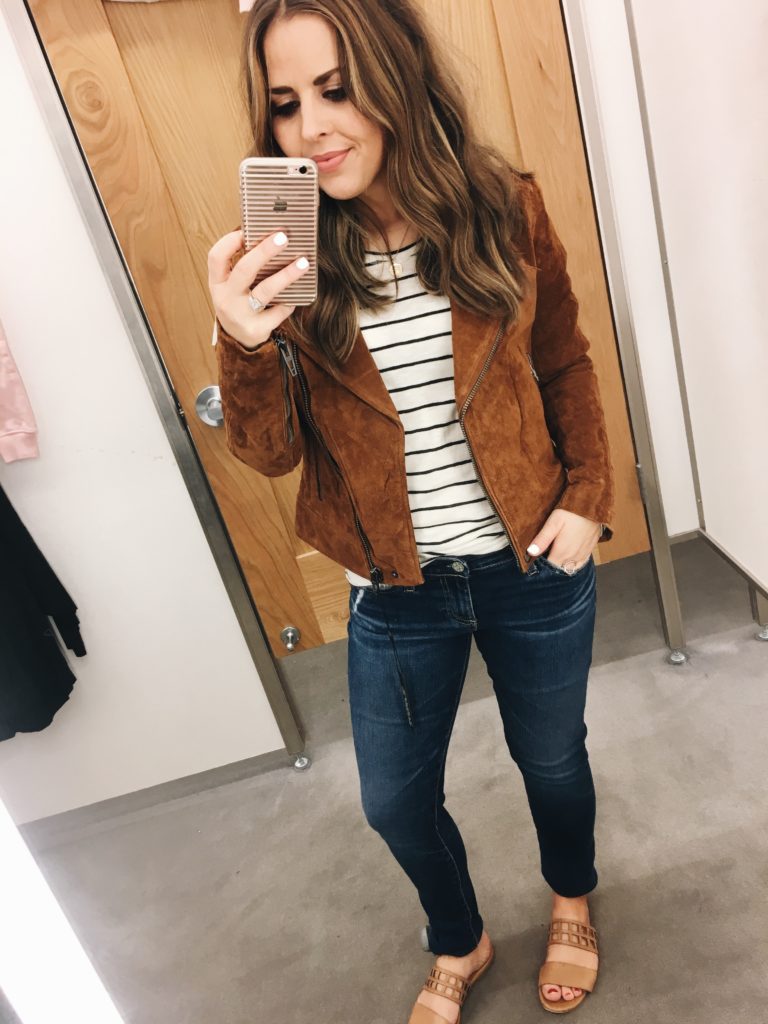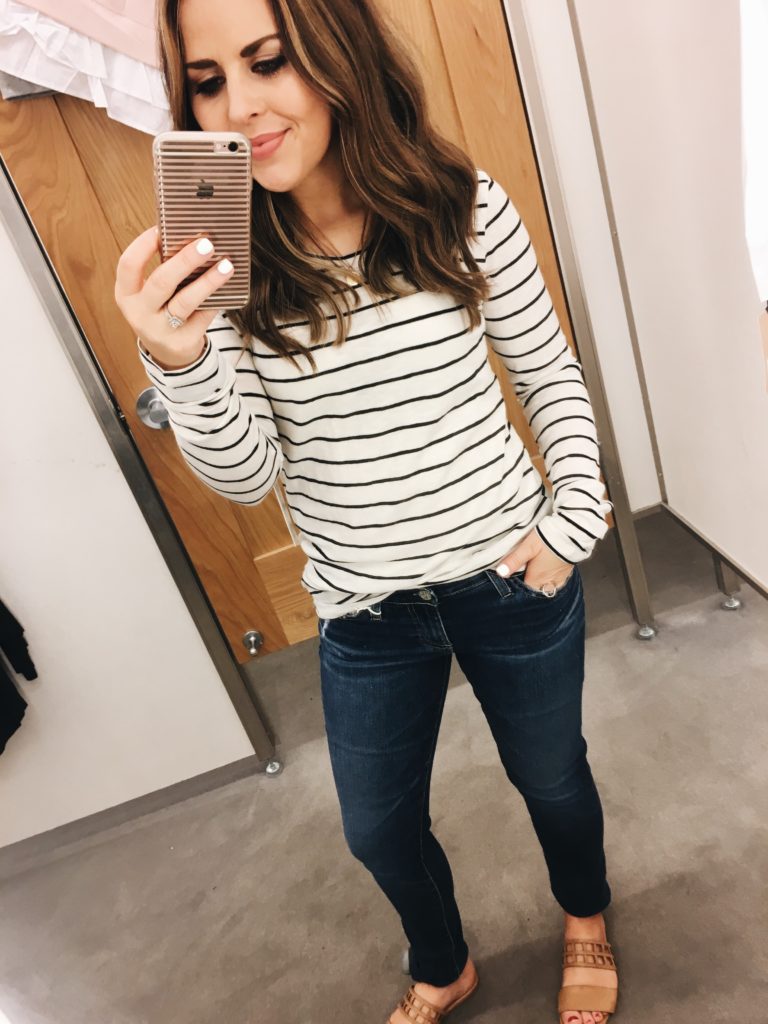 This is the best basic striped tee for fall.  Soft and great fit and price.  Love these AG jeans.  I have two pairs of them, and they are my favorites.  The price literally cannot be beat.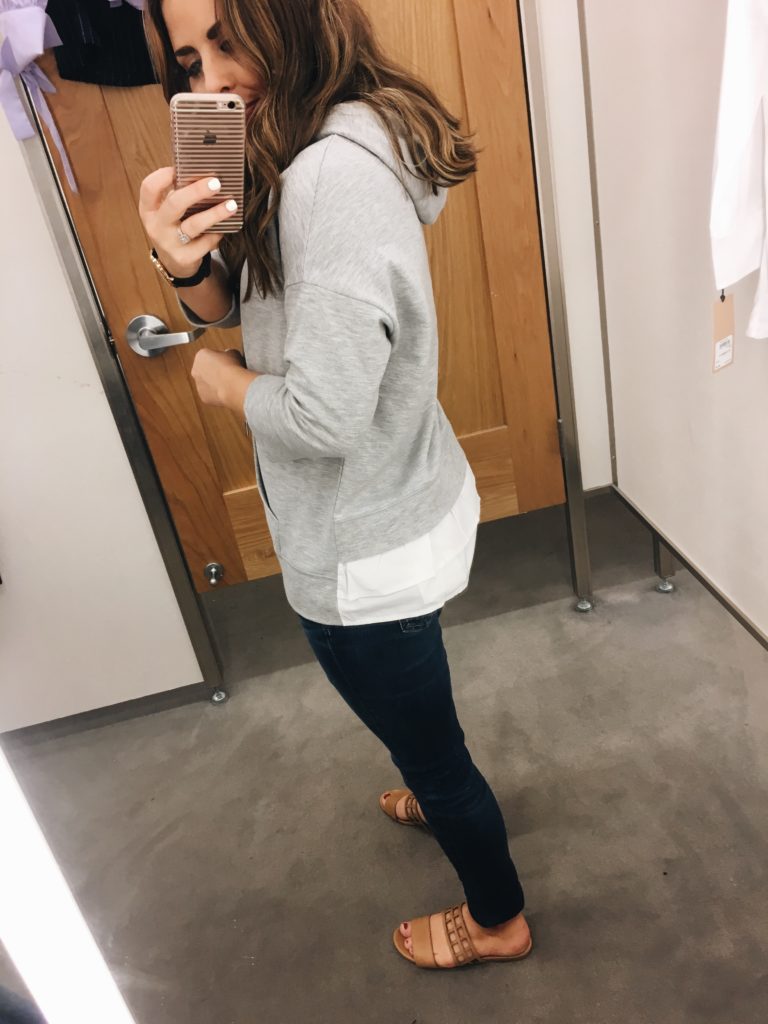 Isn't this sweatshirt cute?!  It comes in blush too.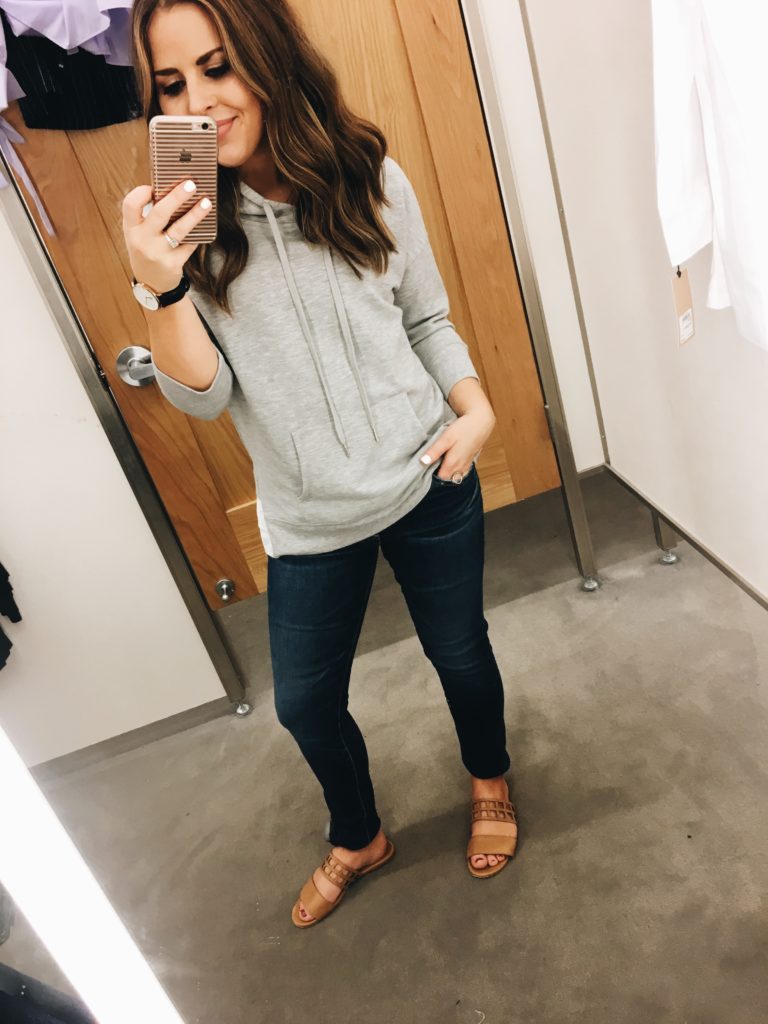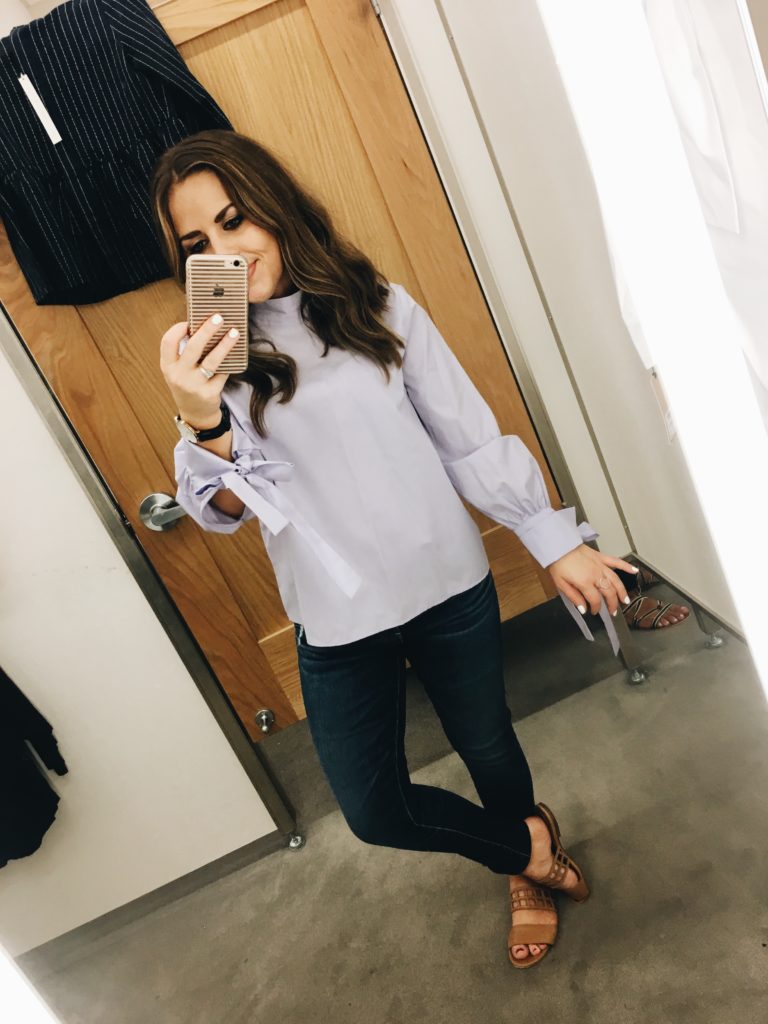 I'm not usually a purple person, but this shirt is love.  Sleeves are a little long for me, but it's still so dang cute. I'm wearing a size 2.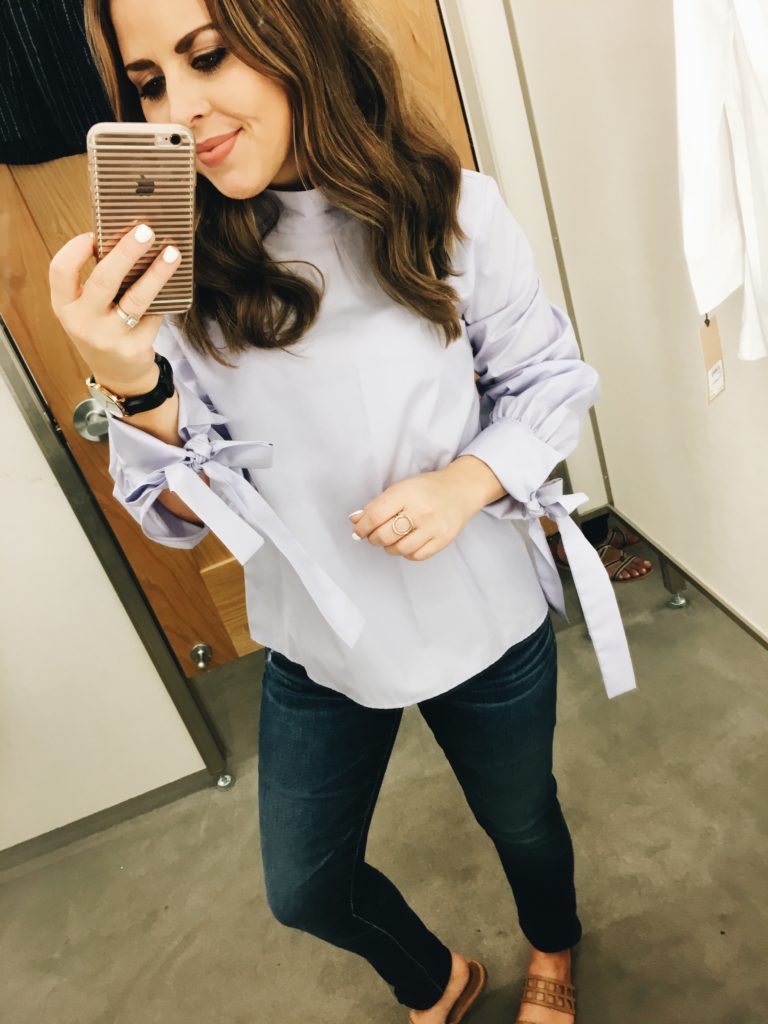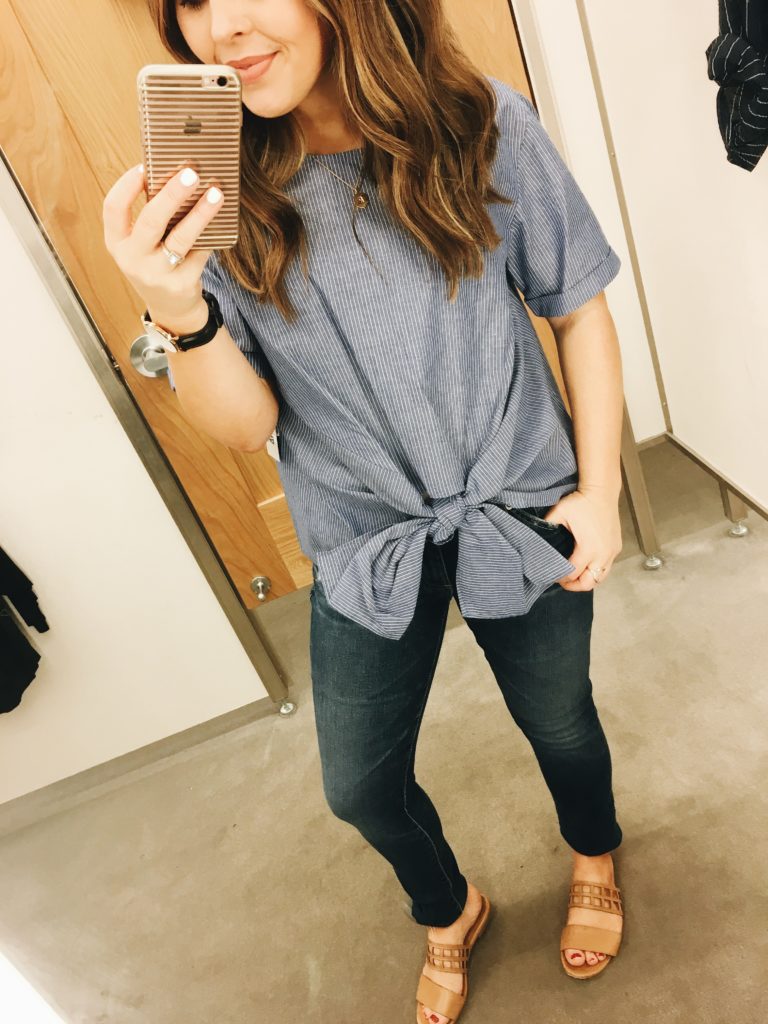 It comes in 3 colors and is only $31!  I'm wearing an XS.  I bought this blue striped one and I ordered the white one too.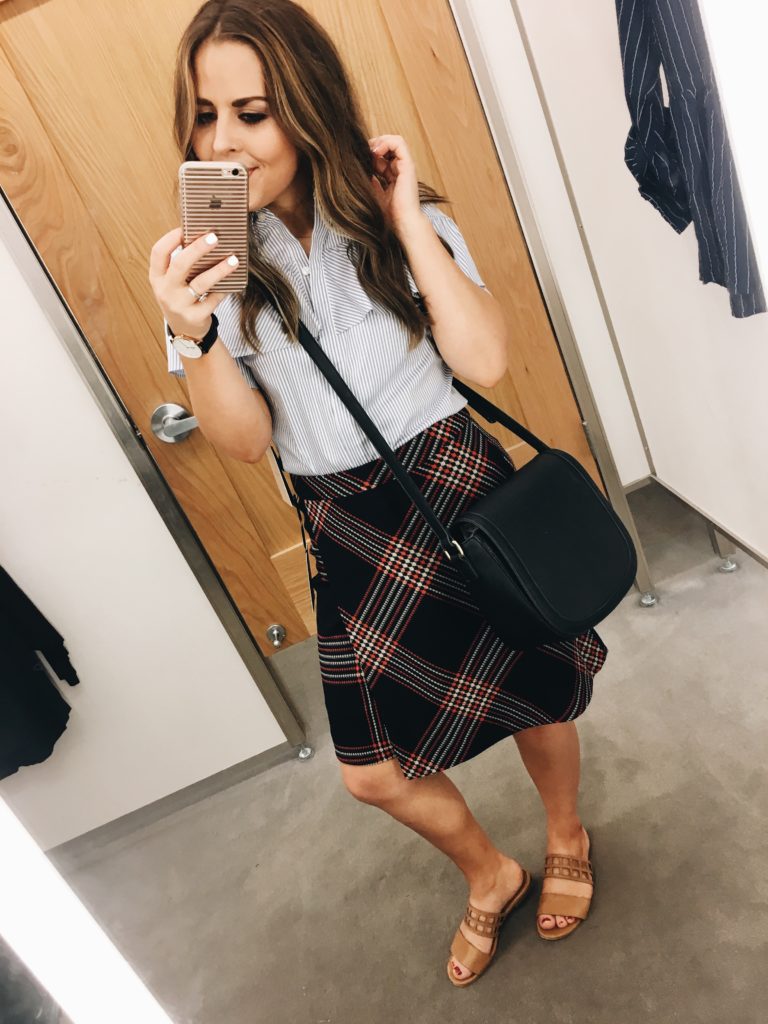 plaid skirt. navy cross body bag.
Yes to everything about this plaid skirt.  It comes in petites and it's a great price.  I'm wearing a 00P and the fit is right on point.  I love all things preppy and this skirt will be perfect in the fall with tights and boots!  I love this bag, but I can't find it online.  Definitely check in store!
Phew!  You made it!  Come back tomorrow and I'll have the rest for you!