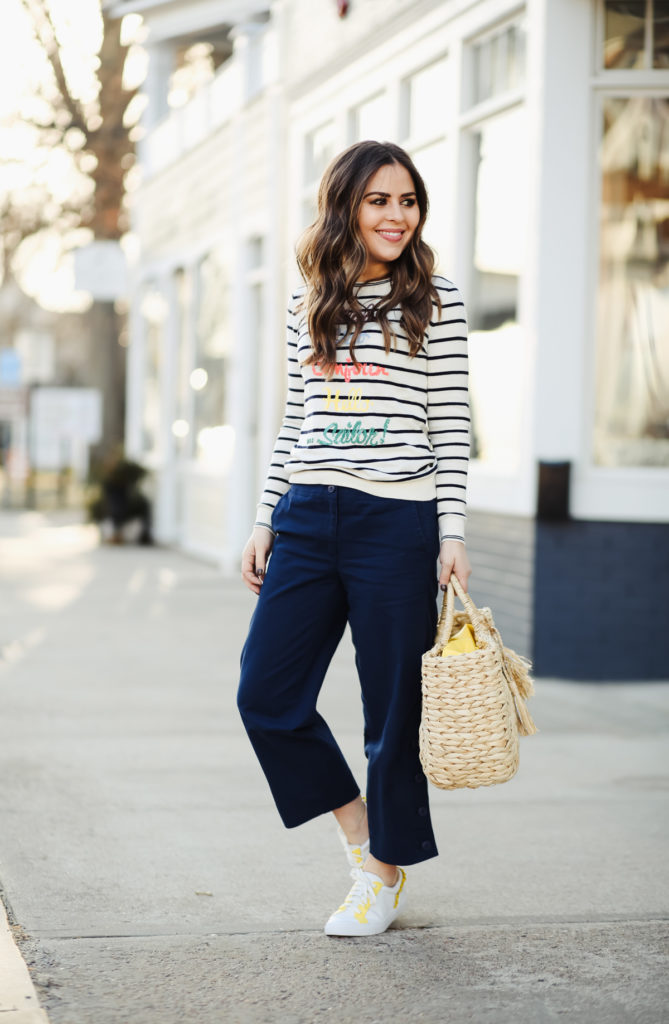 My favorite piece of clothing I owned as a child, was a little navy blue sailor dress my mom bought me in the fourth grade.  I wore that dress in my school pictures that year, my mouth a wide toothless grin and face beaming with pride forever immortalizing the dress that would go down as my childhood favorite.
I was a middle child (third of six) and the smallest of five girls which meant I lived in hand-me-down heaven.  But for some reason, my mom bought that dress brand new, and just for me.  She must have known my style preferences even before I did; how I would love that dress with it's smart white collar, how I would cherish that little red bow.   It was my first nautical item (that I remember) and it was the start of a love, that for me, has lasted more than 25 years.
It's no accident that the first piece I designed for my own line was a navy and white striped nautically inspired skirt.  Give me your Breton striped shirts, your side-button pants, I'm a nautical girl through and through.
And after all, nothing says spring quite like a great nautical piece.



When I hopped onto Talbots' website last week and saw their new arrivals for spring, chalk full of bright poppy yellows and crisp blues, stripes and sea-inspired designs, I couldn't help but let out an actual squeal of delight.  After a long, cold, dark winter, aren't we all craving a little more color? Incorporating these brighter shades, cheerful patterns, and fun textures (hello ruffle sneakers!) into my rotation, just literally lifts my mood.  We should dress to make ourselves happy, otherwise what is the point in buying clothes?  If it's just to keep us covered we might as well wear a bag.
Another reason to be happy?  Talbots has a huge petite line, positively filled with charming pieces for spring right now, the quality is impeccable and the fit is on point.  I actually approached Talbots with this collaboration, because I was so impressed with their petite line and I wanted to share it with all my awesome petite readers.  Good petite lines are hard to find and need to be shared! (We shorties have to stick together #amiright?)
more Talbots nautical favorites:



*this post was created in partnership with Talbots.
SaveSave SaveSave SaveSave
SaveSave