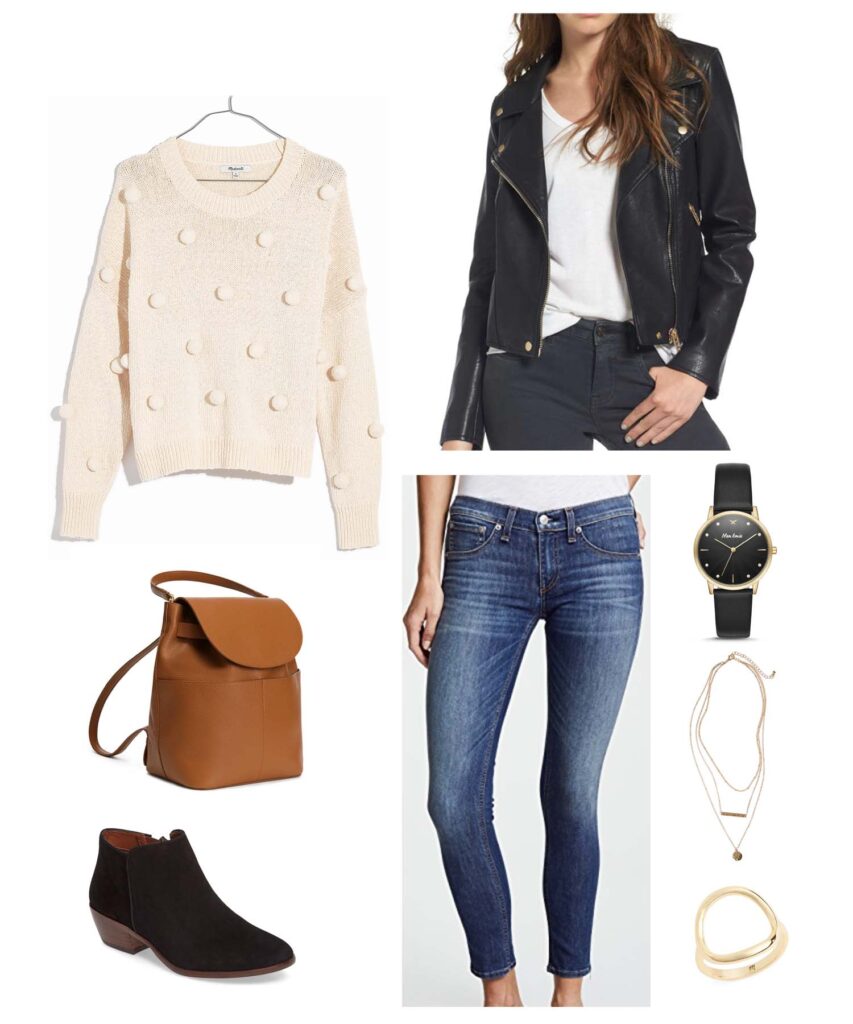 pom sweater. jeans. (great for petites) leather jacket. backpack. booties.(on sale) watch. necklace. ring.
Last night I was talking with my husband about how my style has evolved over the years.  Perhaps evolved isn't the correct word, it's more like I've refined it.  I've honed in on what really speaks to me, the clothes I really like to wear, what I reach for daily, and how I want to dress.  The older I get the more streamlined my wardrobe becomes, and I'm really happy about that.  The point of all of this is, let yourself and your style evolve with you.  It's a fun exploratory experience.
Now about this look.  I get asked all the time for good jeans recs for petite ladies.  One of my favorites is the Rag and Bone Capri skinny jean style.  Yes, it's still too long, but the fit is still really good for the rest of the leg and the denim lasts forever.  I wear mine so often and they still look new.  Plus with the unfinished hem trend, it's super easy to just snip them off to the length you need (although wait till you wash them at least twice!- I prefer 3 times.)  Also, how dang cute is this Madewell pom sweater??  I kind of love pairing something fun and whimsical with something a little more edgy like a leather jacket and booties.  The juxtaposition is fun and the neutral colors keep the look simple but chic.
Happy Wednesday everyone.  There's snow in the forecast again.  Man, I hope they don't call another snow day. :-/