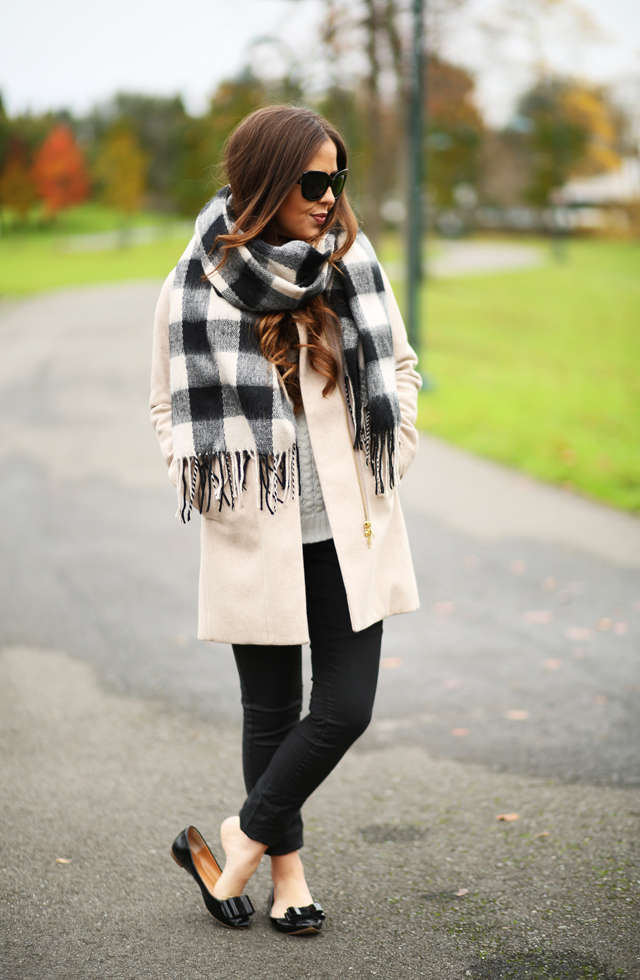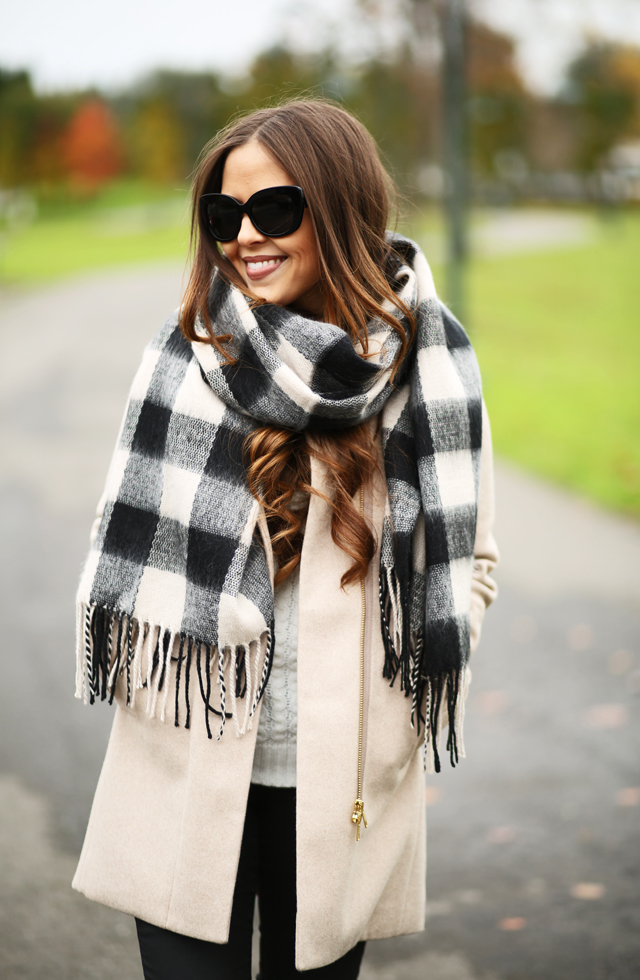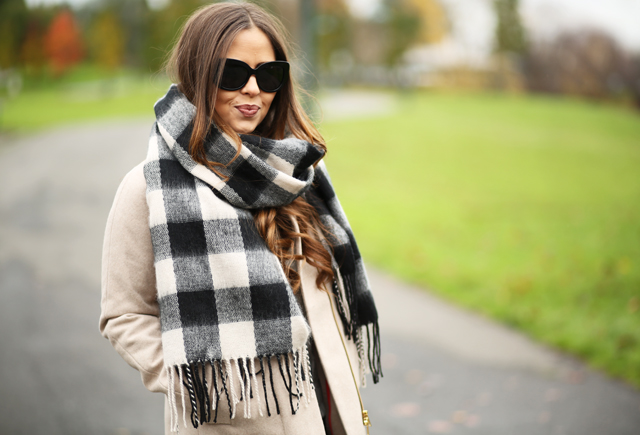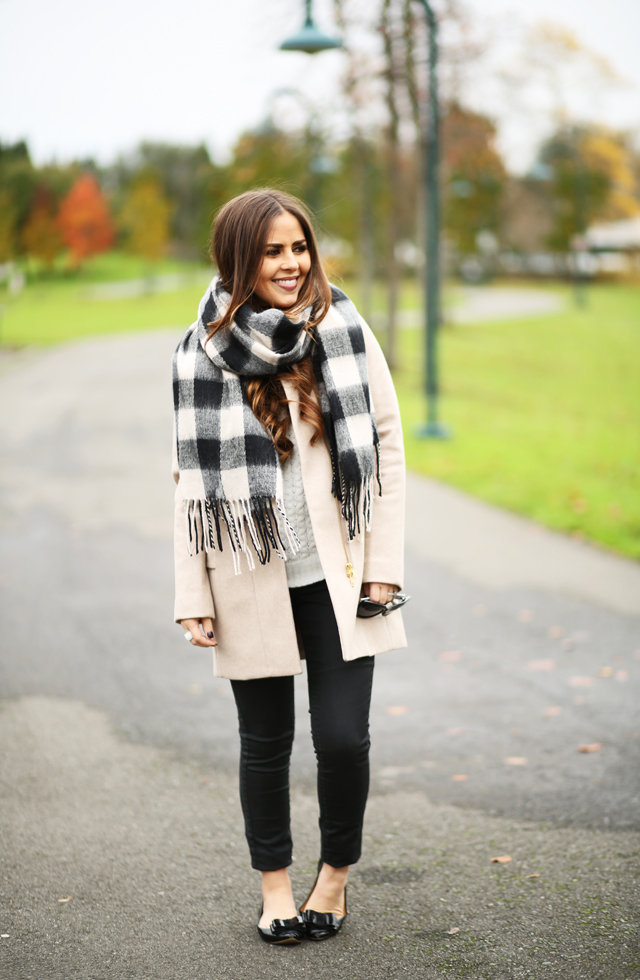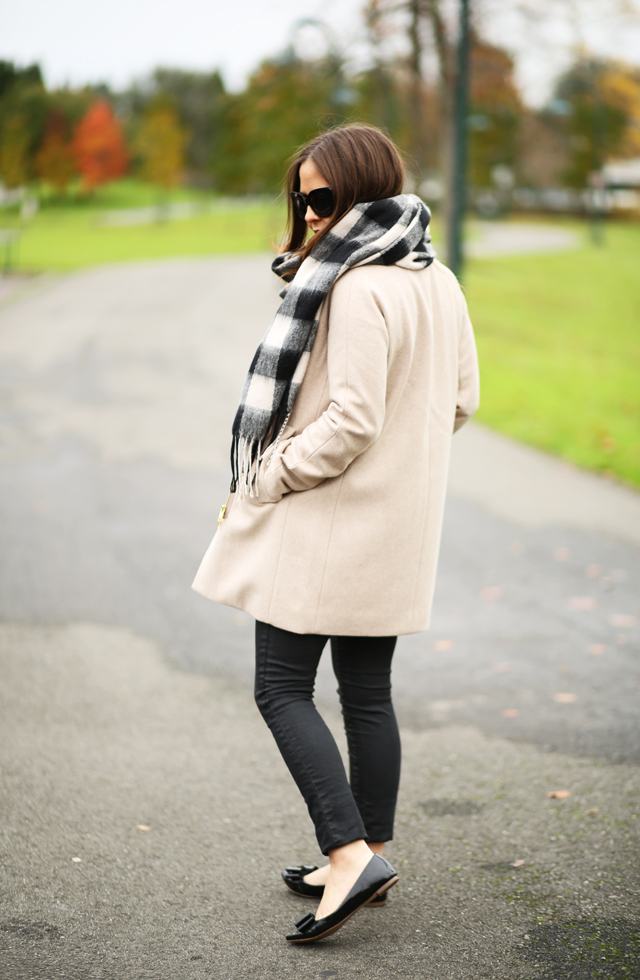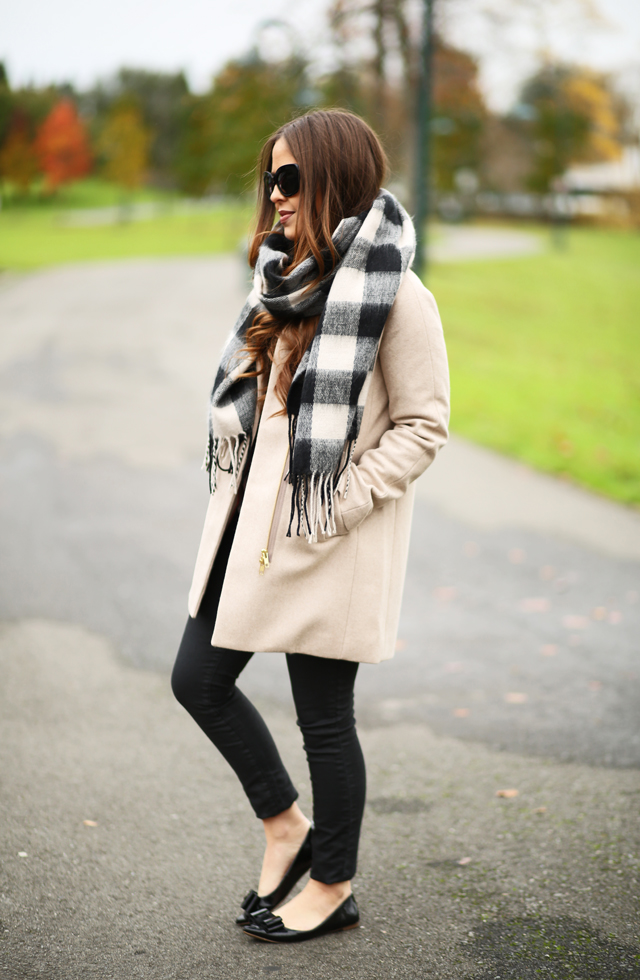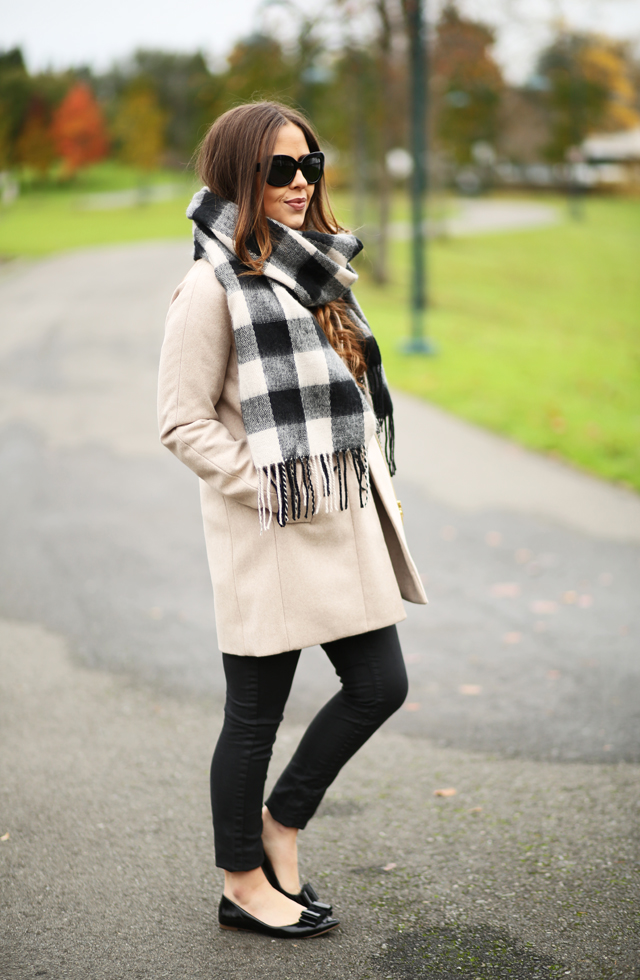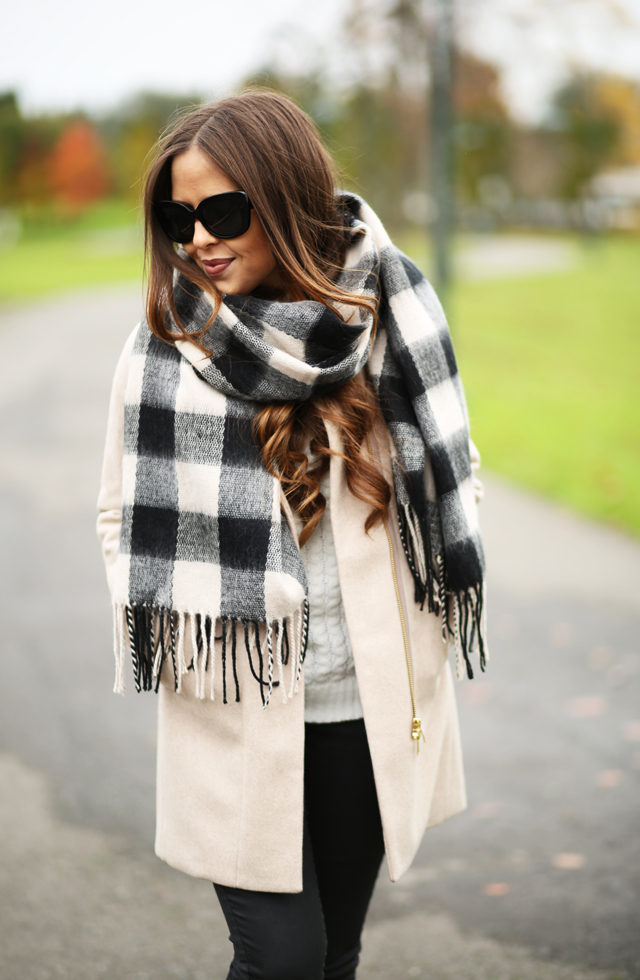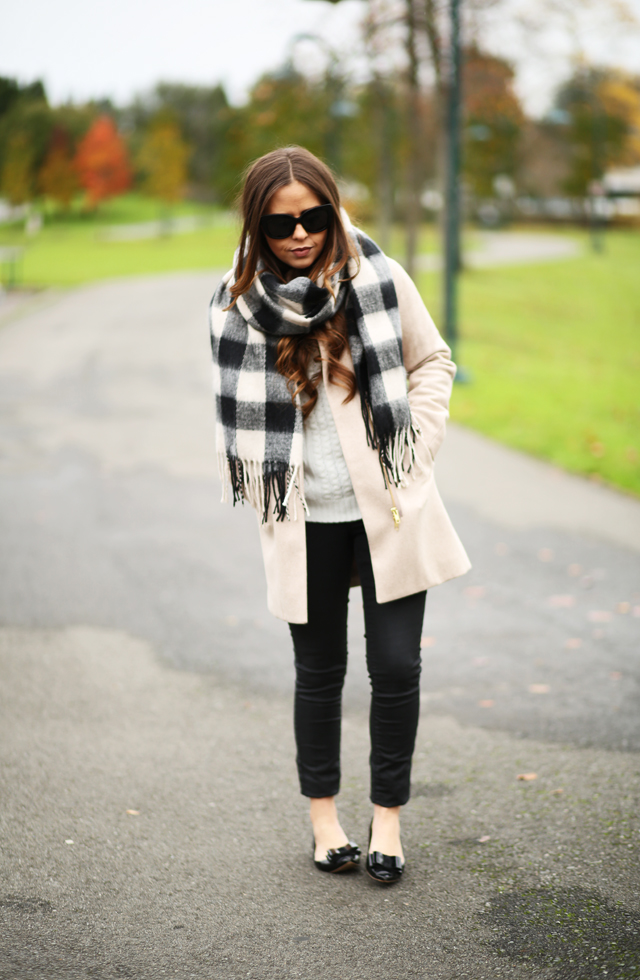 Scarf: Sixth&Alder.  Coat: JCrew Factory c/o. Coated Skinnies: Old Navy. (similar here.) Sweater: JCrew Factory. c/o. Shoes: JCrew Factory. Sunglasses: Kate Spade. (similar here and here)
---
I usually buy {at least} one new coat each winter.  In fact, it's kind of a birthday tradition of mine to get myself one.  My birthday falls in the beginning of January, you know that depressing time of year after Christmas when all the coats just happen to be marked way, way down.  So I usually take advantage of the deals and buy myself a new winter coat.  Over the years I've learned a few tricks to coat buying.  (Especially since I'm so small and finding coats that actually work for the super petite can be a real experience…)
Winter's best coats are the ones that are warm, classic, and versatile.  Since they're covering up most of what you're wearing, it helps if the coat is an outfit maker on it's own.  You can always throw on a great scarf or accessorize with a beautiful handbag to give it a little more personality, but the coat is your bread and butter.
 Fit is everything.  Every time I try to fudge on this rule I end up regretting it–and with several coats just a little too big sitting in the back of the closet…  Fit is important.  It doesn't matter how much you love it.  If it's too big, it won't work.  That being said, fear not the tailor.  Don't be afraid to take those high quality coats and invest the cost of an alteration to get a perfect fit.  I promise it's worth it.
Neutrals are your friend.  A good versatile coat can be worn all day, everyday all winter long.  Neutral coats (especially wool ones) can be dressed up or down, worn day or night.  Your cost-per-wear will be in the pennies…
Bright colors are your friend too.  Don't be afraid to be bold.  I bought myself a poppy colored coat from ASOS last winter and I still love it.  It really brightens up those oppressively gray Seattle days, and it makes such a gorgeous statement.
One word, wool.  If you want warmth without a lot of bulk, invest in a wool coat.
Don't spend a lot on the super trendy ones.  My rule of thumb is, if I'm still going to want to wear it in 3 years, it's worth a higher price tag.  If it's a passing trend, I don't spend much on it.   This goes for coats and beyond.
No go forth and coat yourself!
Find more fabulous coats below:
;-)
ps. lots of new items arrived in our boutique today including a fabulous pair of sequin pants (perfect for the holidays) and a really great red buffalo check coat.  Also this scarf is still in stock.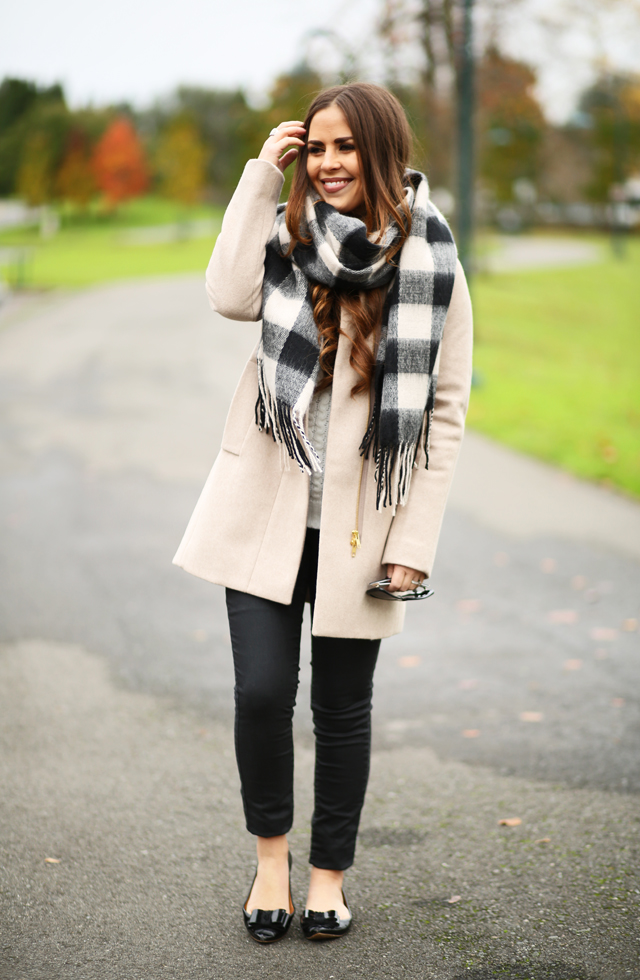 winter's best coats:
---
petite friendly coats: