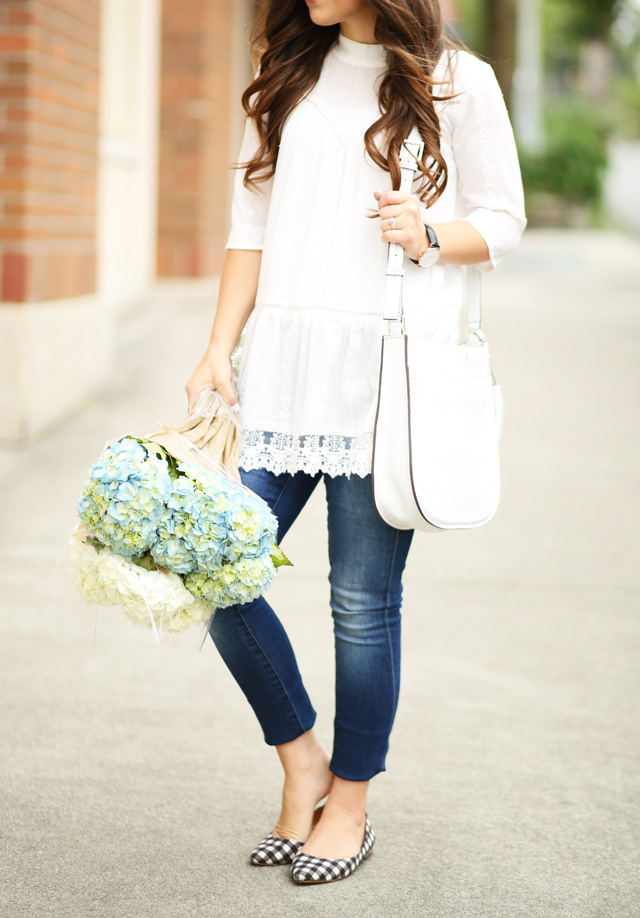 Lace Tunic: Nordstrom. (super similar dress here.) Jeans: Nordstrom.(favorite brand)  Shoes: JCrew Factory. Bag: Kate Spade. (c/o) Sunglasses: Kate Spade. (super similar here and here.)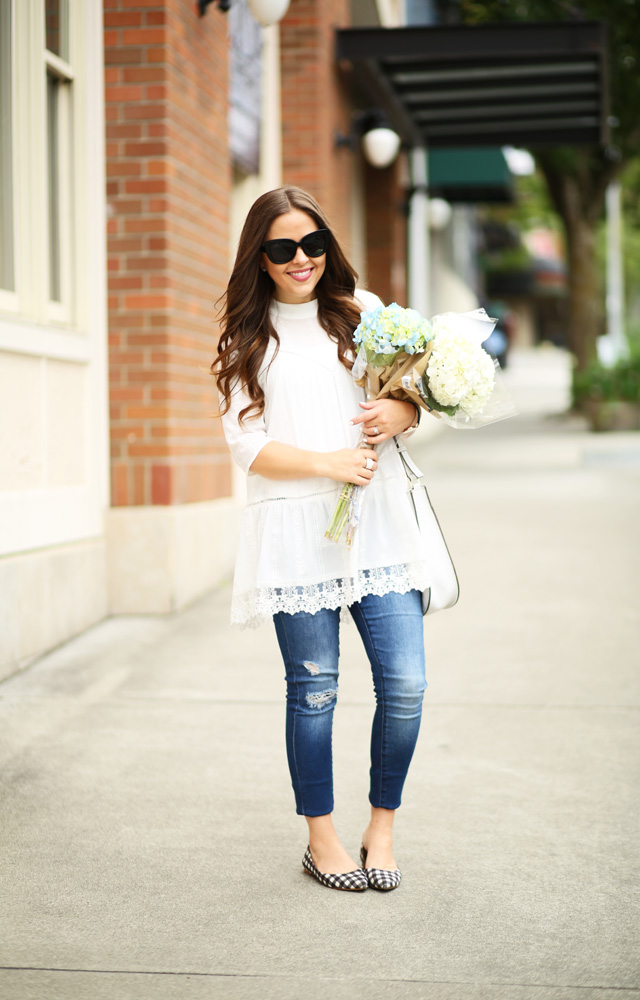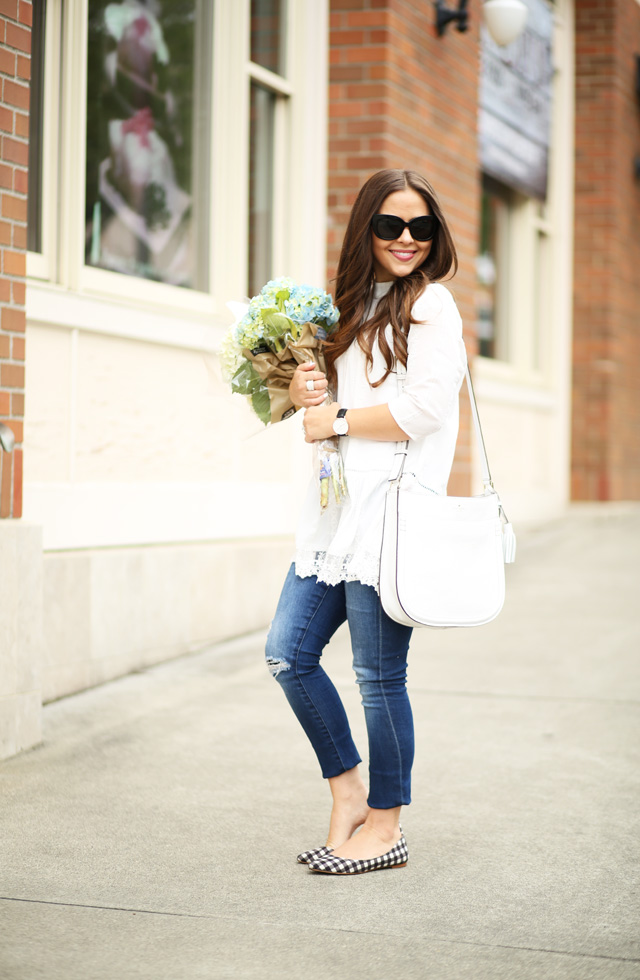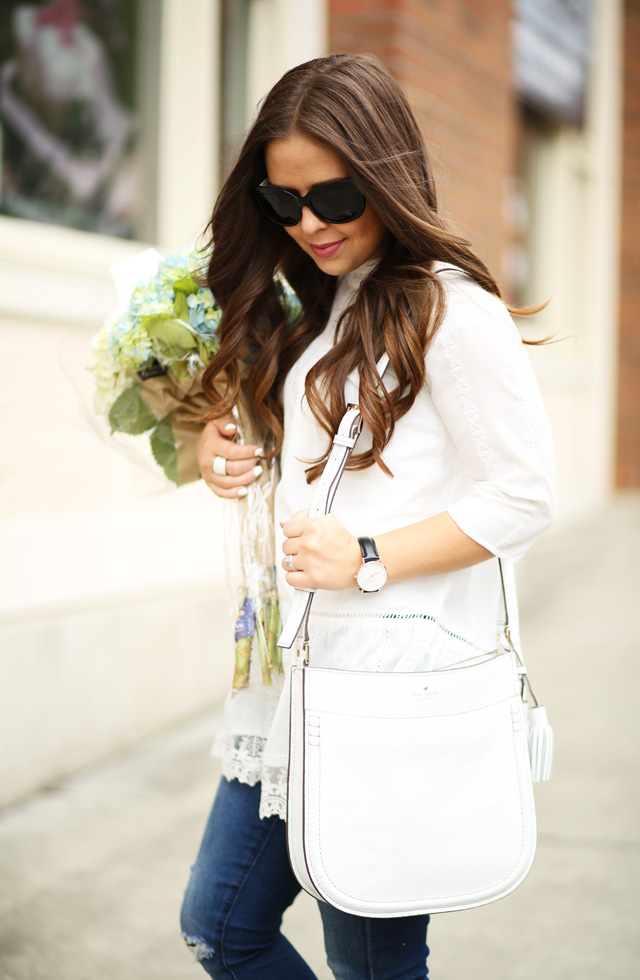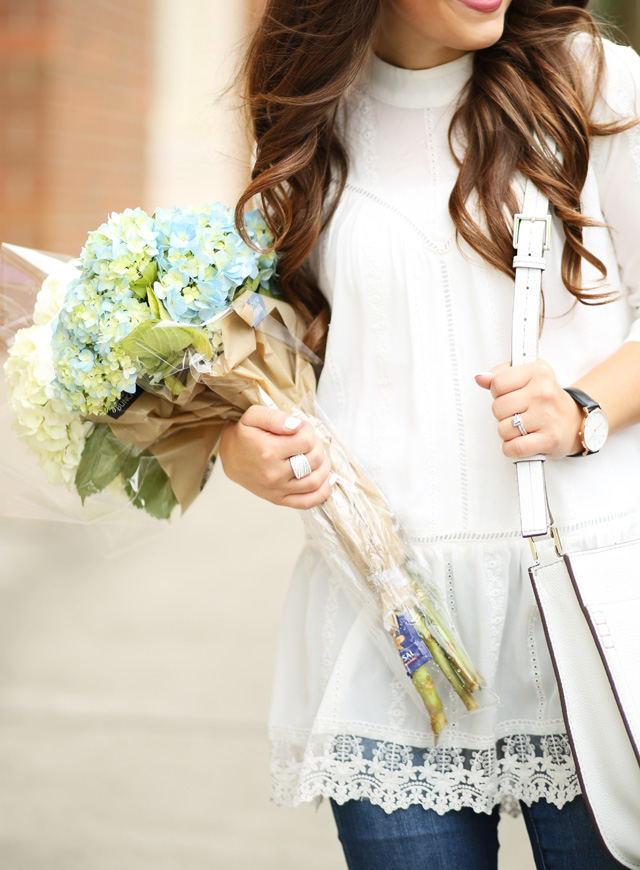 Here's what I think.  Every woman should feel great in her clothes.  Do you want to know something about me?  I've never really loved my body, for a number of reasons.  (Blah, blah we all have body issues right?)  Not to get vapid on you… But I was thinking yesterday how unfair I am to myself.  I didn't pick these short legs and flat chest, or thicker arms.  But that's what I've been given, and no matter how much I workout, these legs aren't getting any longer.  But even shorty 4'11" (almost) me deserves to feel good in my clothes, and like a grown up, even if I wasn't born with that ideal supermodel, or even just 5'6″ looks perfect in skinny jeans body.
I do.
And so do you.
Screw perfect.  If you find something you love to wear, that makes you feel lovely, then you just wear your heart out of it.  When I feel lovely, I stand a little taller (needed), I do better at whatever I'm doing (whether its meeting with a brand, or just sweeping my kitchen and feeding my kids lunch.)  Yesterday I wore this top around town while I ran errands with my kids, and do you know what?  I felt lovely in it.  It put me in such a good mood.  There's enough things to feel stressed and harried about, so I'm going to keep wearing things that make me feel lovely.  And when I find them, I'm going to share them with you.
You know, just in case you want to feel lovely too…
BTW, this top sold out so super fast, BUT(!) I found this dress and it is so similar, and completely lovely.  If you're taller than me, you can totally get the tunic with jeans look, and if you're short like me, a new knee length dress!  I bought it in the navy print because it's so pretty on and super comfy.
Also, just in case you're shopping the Nordstrom sale lately (like we all are)  I ordered something online yesterday and just went in and picked it up in store.  So quick and easy!  It's totally changing my shopping game.  I should also note, just in case you aren't aware, that Nordstrom always gives you free shipping.  (Yet another reason we all want to kiss Nordstrom…)
Also, a totally separate note:  please help me pick!
Which olive jacket should I order?
Happy Hump-day everyone.  2 more days till the weekend!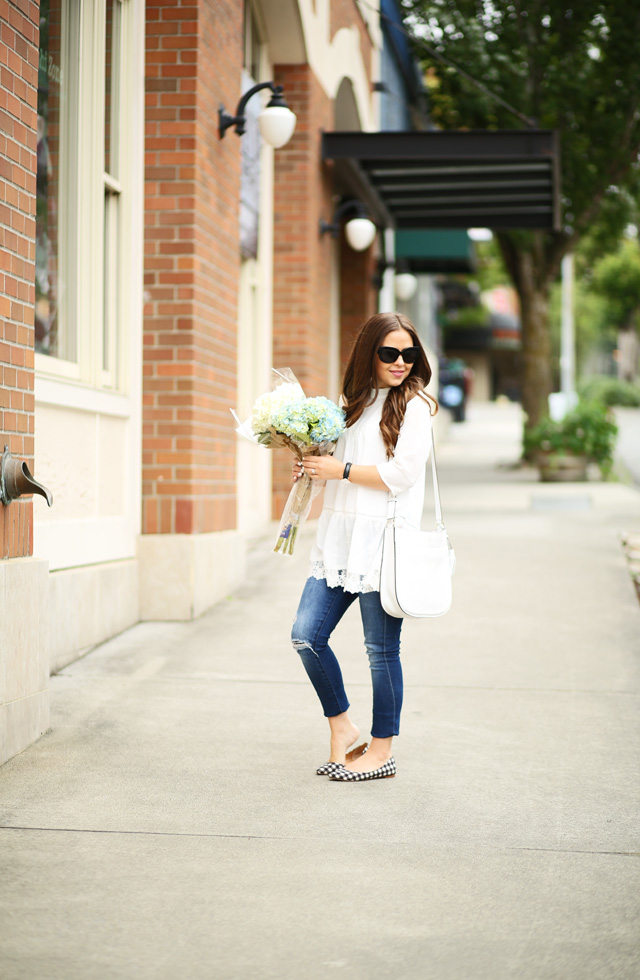 Favorite Nordstrom Anniversary sale tops: