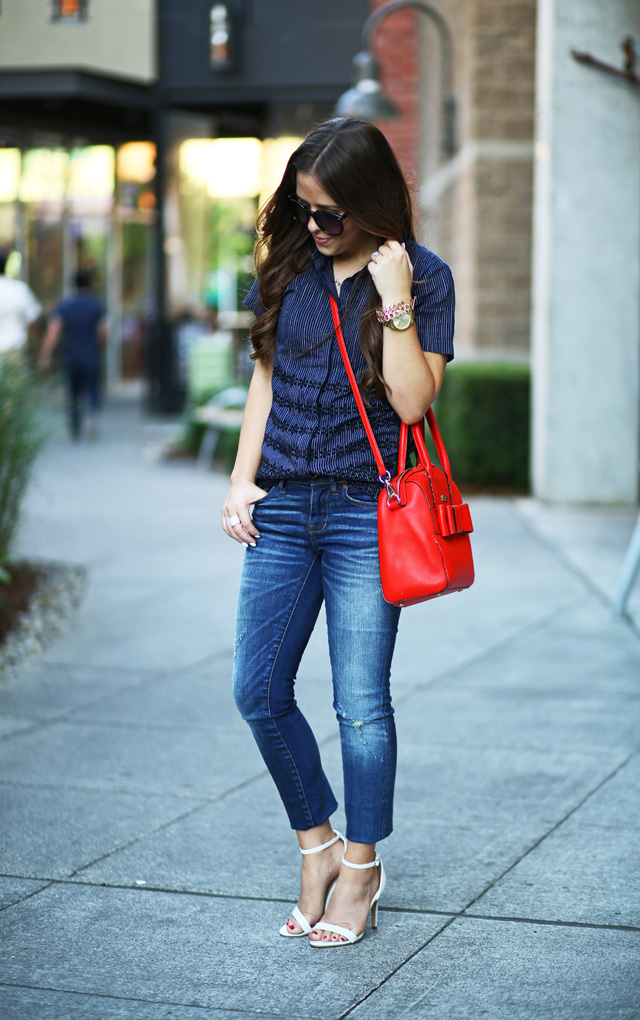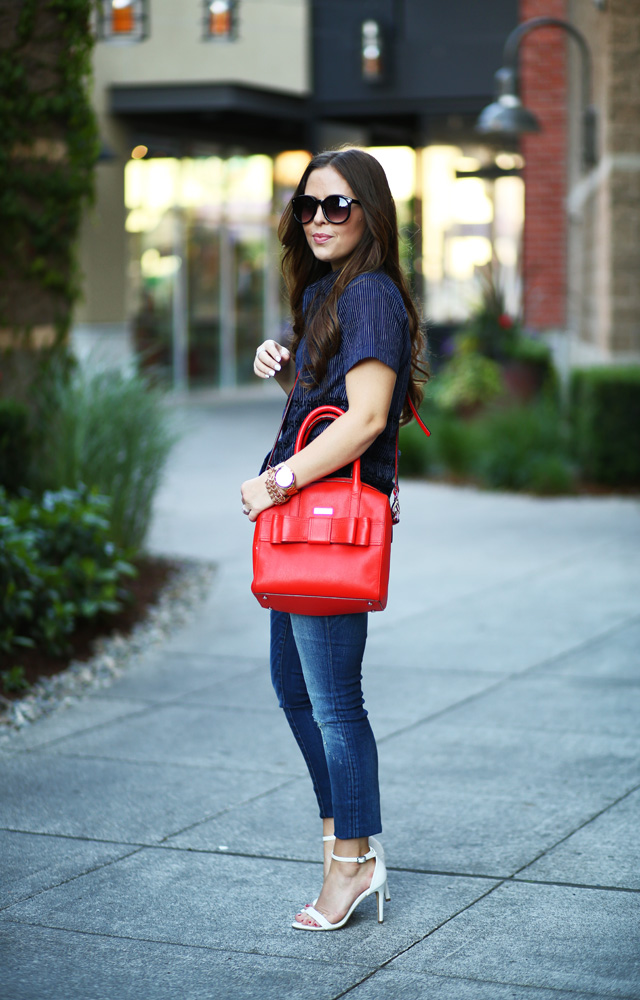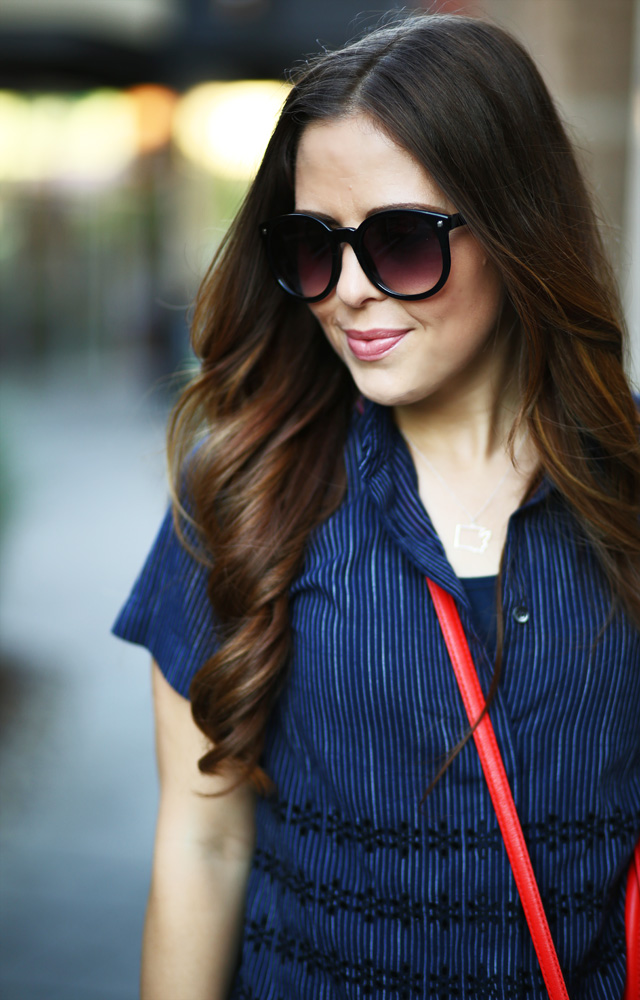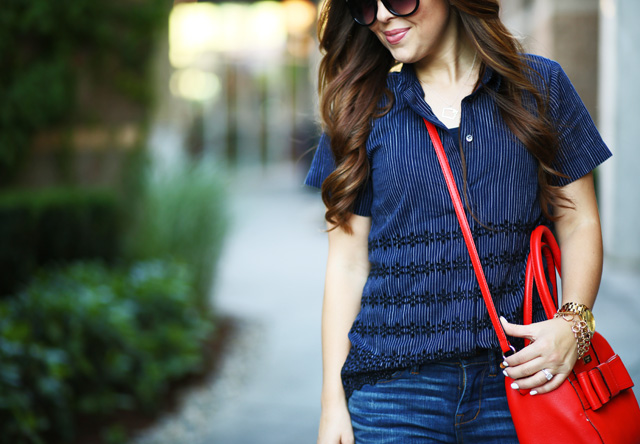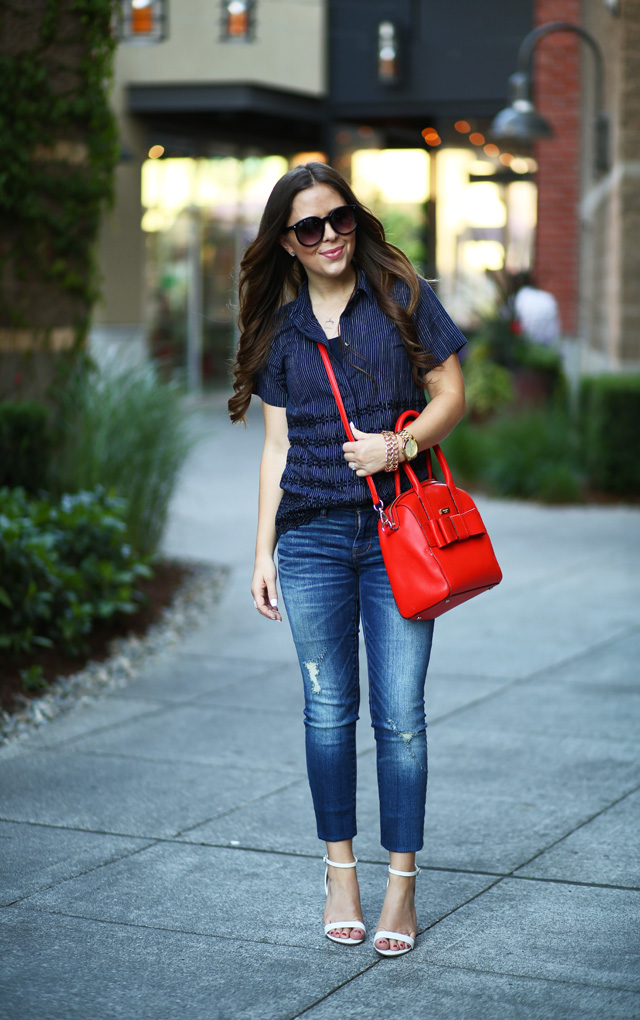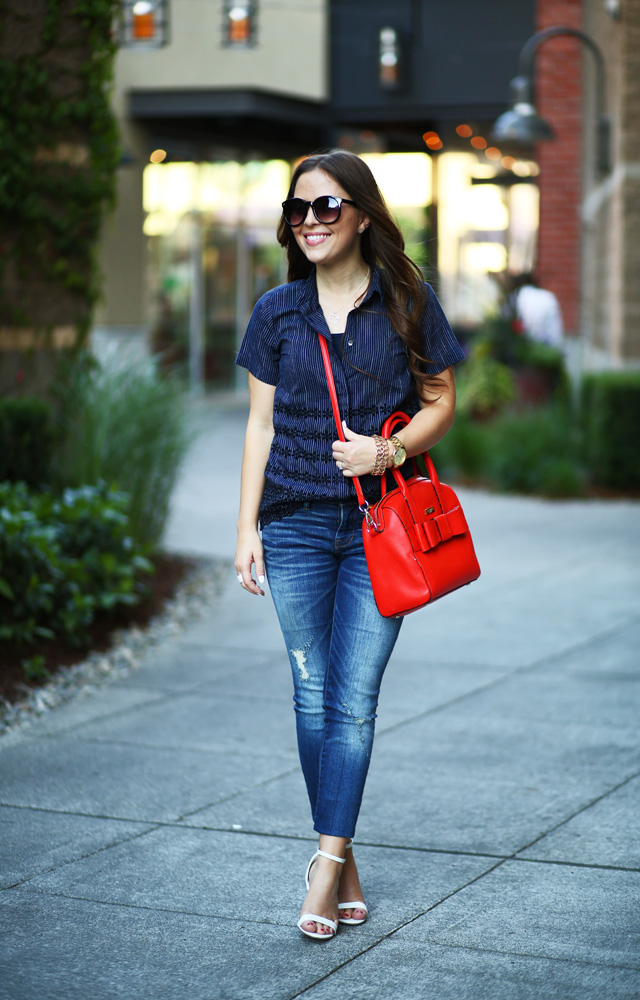 Top: Madewell. Jeans: Madewell.  Heels: ASOS.  Bag: Kate Spade. Necklace: Maya Brenner Designs. c/o Watch: Michael Kors.
You all know I love getting dolled up, but during the summer I just really love a great casual outfit.  Jeans and a tee, or a pretty breezy blouse, and I'm a happy girl.  I've been living in skinny jeans from Madewell the last few days, even with it being so hot.  I don't know what they are doing to their denim, but they somehow manage to feel both cool and so comfortable.  These strappy pumps are a recent addition to my wardrobe as well, and I'm like hello?!  Why haven't I had a pair of sandal heels in the past??  These stay on ridiculously well, are super breezy and make me feel really chic.  Their excellent price didn't hurt either…   ;-)
The 4th of July has always been my favorite holiday.  Going to the movies, watching fireworks, barbecues, swimming, and just laid back time with family and friends.  Even as I kid, I liked it best, but now as a grown up I enjoy how fun and low pressure summer's biggest holiday is.  We're BBQing tomorrow with friends, lighting off fireworks and we'll definitely be making some homemade ice cream.  And I'm hoping for a morning kayaking on Lake Washington.  This dreamy summer weather has me all kinds of happy.
What are you doing for the fourth?
In the last several years I've learned that holidays are also a good time to pick up pieces I need or (let's face it) just want for me and my family.  There are always great deals happening during a holiday weekend and you can save so much money on something you were planning to buy anyway.  Especially now that we have 4 kids and everyone is growing out of or wearing out their clothes and shoes every few months, I find holiday sales to be extra helpful–family budget wise.  I usually try to make a list of things we want or need, and then look at my calendar to see when the next big holiday is coming up.  If it's close enough, I'll wait and buy it when everything is on sale.  Being able to shop online has made the process even better in the last several years, because while I love a good shopping trip as much as the next girl, I don't really want to do that on a holiday.  I want to play with my family.   So many brands make it easy to stay organized with your shopping, and by utilizing wish lists and saving the items I'm considering buying, I can get up early on the day of, purchase the pieces I need in a jiffy and then go party.
I've compiled a list of the best holiday sales from around the web below.
Hope you all have a safe and happy 4th of July!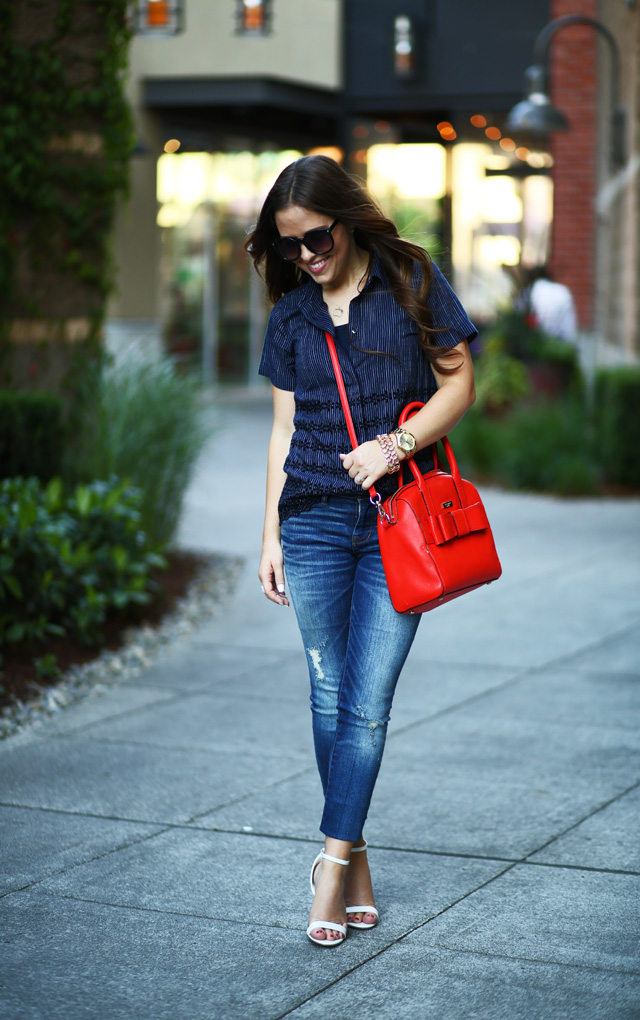 In alphabetical order:
Banana Republic// 30% off regular- priced items and an additional 50% off sale items
(use code: BRTHIRTY for 30% off, and BRGOBIG for 50% off)
BaubleBar // take 30% off sitewide
CODE: RSJULY
DATE: 7/1 – 7/5
BCBG// addtional 40% off sale
DATE: 7/2- 7/6
Forever 21// extra 30% off sale styles.  use code: EXTRA30
Furbish Studio// (awesome stuff for you and your home) 15% off the entire site
CODE: HAPPY4
DATE: 7/3-7/5
Gap: Summer Sale// Up to 50% off select styles.  extra 40% off sale styles
CODE: FOURTH
Henry & Belle // (awesome denim) 20% off sitewide
CODE: FIREWORKS
J.Crew // extra 40%-60% off final sale items
CODE: LONGWEEKEND
DATE: 7/2-7/6
JCrew Factory// everything 50% off plus an extra 20% and free shipping.
CODE: HOTSALE
Joes Jeans// up to 50% off select styles (men and women)
DATE: until 7/5
LOFT // 60% off festive favorites and sale styles.
Lookbook Store // up to 75% off
DATE: 6/29-7/5
Loren Hope // 15% off everything
CODE: HAPPY4TH
Lulu & Georgia // 15% off $250, 20% off $500, 25% off $1000
CODE: SOSWEET15 (15% off $250)
CODE: SOSWEET20 (20% off $500)
CODE: SOSWEET25 (25% off $1000)
DATE: until 7/5
Lulu Frost // 20% off sitewide
CODE: JULY4TH20
Madewell: extra 20% off sale items.
CODE: META20
Max & Chloe // 20% sitewide
CODE: STRIPES20
DATE: 6/30-7/7
My Habit // save 80% on select merchandise
DATE: 7/5
Nordstrom// Summer steals under $100.  Handbags under $200.
Old Navy // Red, White, and New Sale: Save 40% online only thru 7/4  Use code: GOLDMINE
plus thousands of for the family for $2, $4, $6, & $8
Select styles
PacSun // buy one get one free tops, shorts, and swim
DATE: 6/25-7/7.
Rebecca Minkoff // up to 60% off sale styles
Singer 22 // 20% off sitewide, includes extra 20% off sale merchandise
CODE: FREEDOM2015
DATE: 6/26- 7/7
Target //30% off outdoor favorites, also buy one, get one 50% off on all apparel, shoes, and accessories. get an additional 10% off when you use code at checkout.
CODE: JULY
Trina Turk // additional 20% off sale
shop the look: