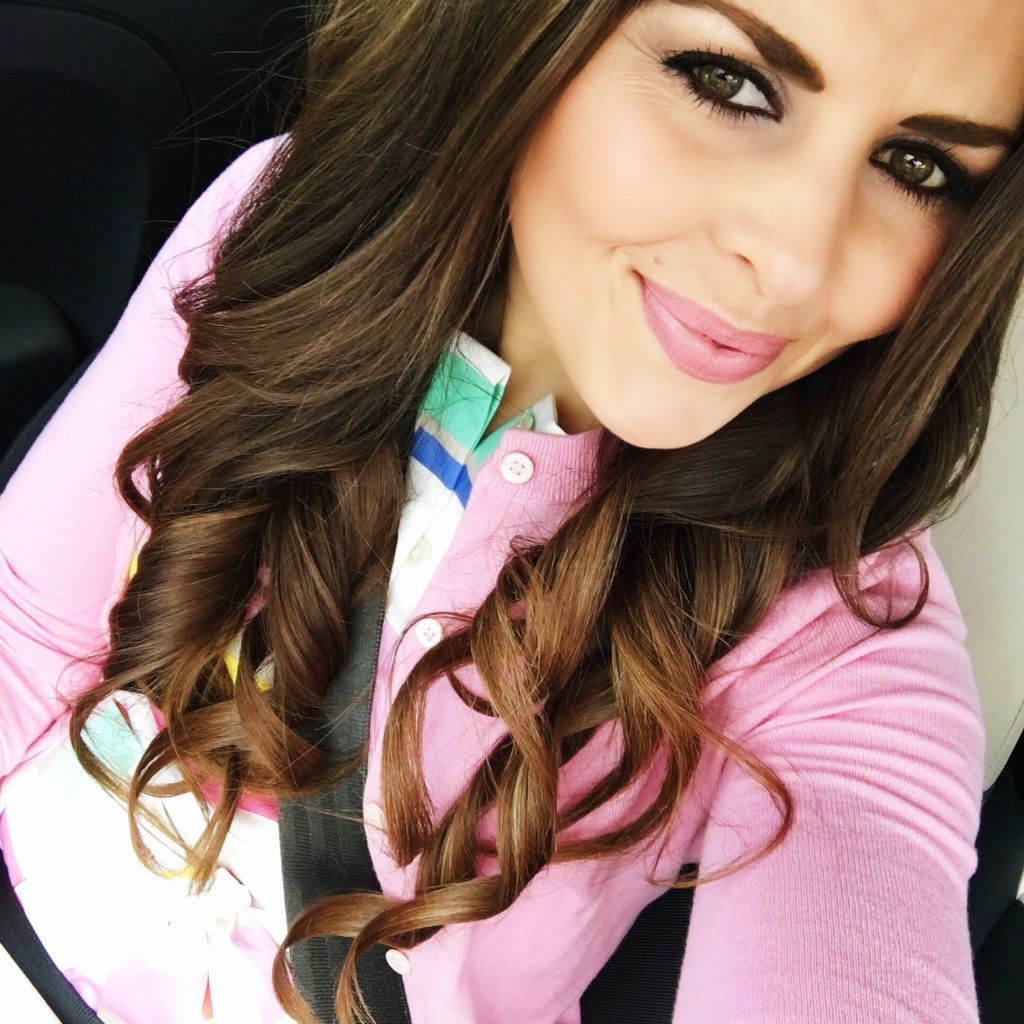 Dress. Sweater.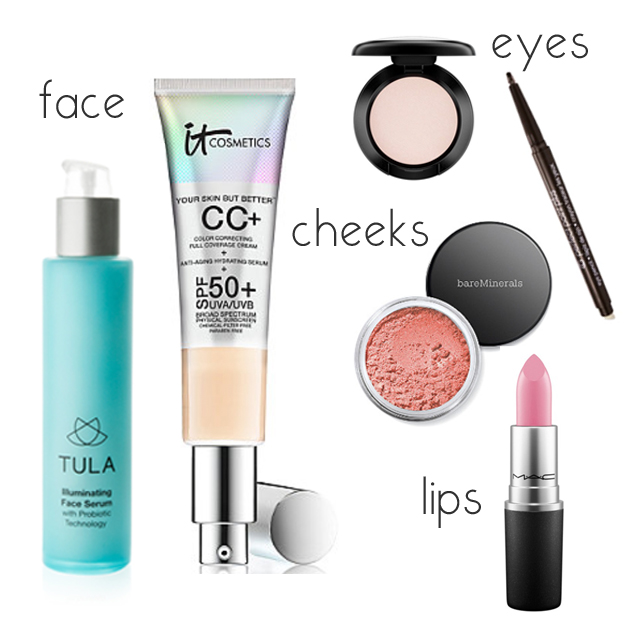 face: Tula Illuminating face serum. ItCosmetics CC Cream.  Eyes: MAC Shadow. "Shroom." Covergirl Perfect Point plus. "Espresso."  Cheeks: BareMinerals Blush. "Vintage Peach "  Lips: MAC lipstick. "Snob"
I love doing my makeup in the summer because everything is lighter and brighter and has that glowy sun-kissed feel.  Don't get me wrong, I love moody fall/winter makeup too.  I am an autumn toned girl after all, but those summer hues have just got my heart right now.
I posted this picture on instagram the other day and got a ton of questions about my summer make-up so I thought I'd share what I'm loving and wearing daily with you.
Skin:
Tula Illuminating Face Serum.  Okay, I know this isn't technically make-up but you guys.  This stuff is amazing.  It has made such a difference in my skin, as soon as I started using it, my skin got brighter and softer and just overall glowy and better.   I use it morning and night and one little pump does the trick.  After I put it on I let it soak in for about 5 minutes before putting on my moisturizer.
ItCosmetics CC Cream.  Another game changer.  Totally replaced my foundation.  The lady who told me to try it, told me I would see visible skin improvement in a few days and I was skeptical, but you guys.  It totally works.  I can't say enough good things.  And I love how light and creamy it is.  Again, one pump does the trick and I use this brush to buff it on.
Eyes:
MAC eyeshadow "Shroom": Just a great soft off white with a little bit of shimmer, but not too much shimmer, if you know what I mean.  I apply a little pro-longwear paint pot in Painterly (a nice nude color) to my eyelids first.  It helps my eye shadow and liner stay put all day.  I also use the Shroom to dust a little on the corners of my eyes, the tops of my cheeks and the tip of my nose to give my skin that kind of fresh glowy look.  (But do this super sparingly.)
Covergirl Perfect Point Plus "Espresso":  I've been using this liner for YEARS.  Every time I try a different one, I always come back to it.  It's not waterproof, but it does stay on really well.  If you're going out again in the evening you're going to need to touch it up a bit, but it will last pretty well through most of the day.  I've found when I'm using eyeliner, if its a pencil and it's waterproof it doesn't go on as well.  I like this one because it's easy to apply, and stays pretty well.
Cheeks:
Bare Minerals Blush "Vintage Peach." Just a pretty peachy pink for the top of the cheek bones and a soft summer pink glow.
Lips:
MAC Lipstick "Snob":  Since my skin tones are decidedly autumn, finding a good pink that works for me in the summer is tricky, but I love love love this one.  It's got a nice blue undertone, it goes on so well, nice and creamy, comfortable to wear (I hate sticky lipstick) and it lasts forever.  I use this liner in au naturale (just a tiny bit) before.
There you have it!  My summer makeup faves!  If you have any questions, just let me know in the comments and I'll answer them!
XO,
Cori