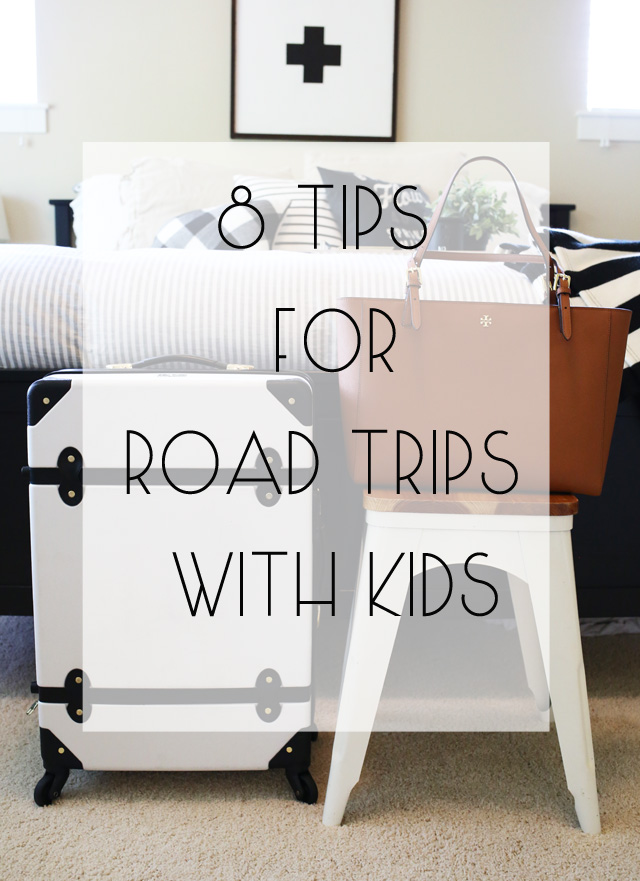 There are few things in life that I'm truly proud of, you know enough to publicly brag about it, especially when it comes to being a mom. The whole prospect of motherhood is way too humbling for that, but indulge me a moment while I toot my own horn. (toot, toot)
I am a rockstar at road-tripping with kids.
Since Labor Day is coming up in just over a week, last big travel weekend of the summer, I thought I would share my 8 tips for road trips with kids.
I've traveled a lot with my kids by myself (even just in the last two summers alone).  Last year I spent 2 weeks traveling down the Pacific Coast while Craig was in Japan for work, and this year I drove out to Utah and back twice by myself with kids.  And I can tell you that it is possible, even with a car full of children and only one adult to have a lovely time on the road.  (Bonus if there are two adults because you can trade off driving!)
I've picked up a lot of hacks along the way that make my trips go smoother, make the drive more enjoyable (novel concept I know) and virtually eliminates the phrase "Are we there yet?" from our drive.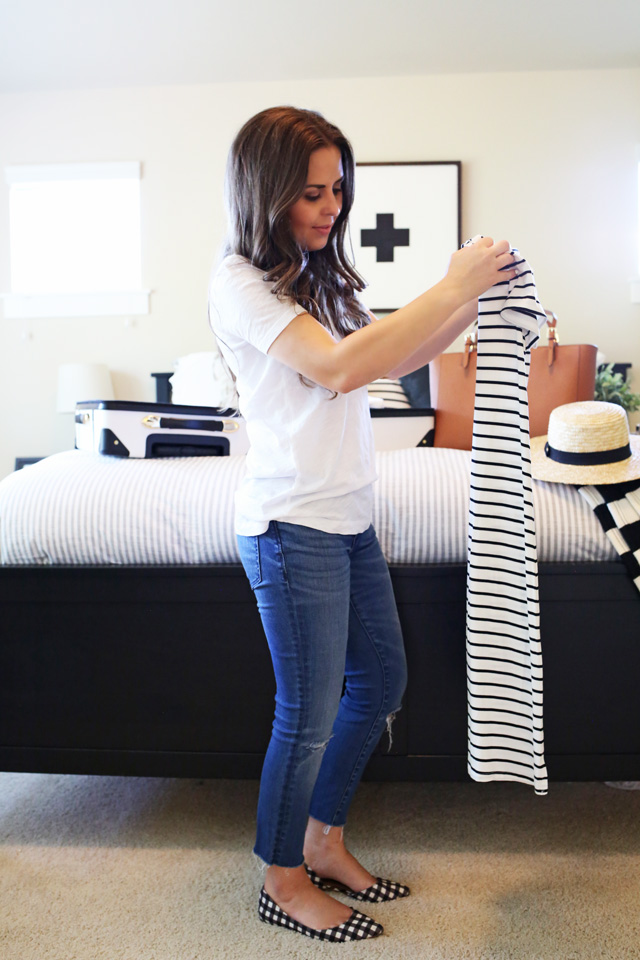 1. Pack a cooler of good snacks and healthy food.  I have a perfect small cooler and I load it up with good "car" fruit (apple slices, strawberries, grapes), yummy sandwiches, gogurts, apple sauce (in those squeezable pouches), and several water bottles.  When kids are bored in the car, they want to eat, might as well have something healthy for them to eat.  Plus fast food is so icky, and greasy and that just makes the carsickness risk go up. Nothing kills the juju on a road-trip like someone getting carsick.  Also you'll save money and time.  You won't have to stop nearly as often.  This is my favorite cooler for packing on road-trips.  The size fits everything I need and it's so convenient.
2. Get an audio book or two.  This is my biggest game changer, by far.  Seriously, please do yourself a favor and quit the car movies asap.  I pulled this out of my hat last year on a random rare moment of motherhood brilliance and it changed our road trips for-ev-er.  I used to hate having my kids just watch movies and veg for 12 hours in the car, and they'd still get bored and sick of them.  Last year, I decided to grab Anne of Green Gables on Audible and my kids (including  the boys) hung on Anne's every move as we crossed Washington, Oregon and California.  I love it because audio books keep kids' attention so much better than a movie, because they have to focus and imagine what is happening. It's mentally challenging but still fun, i.e.. they aren't vegging all day in the car.  They don't get carsick from trying to read, and they don't fight at all because they are way too busy listening for what's going to happen next.  I like to get books that are a series and then we can listen to more than one if its a long trip.  If it gets late and the kids need to sleep I always get myself an audio book to listen to as well, because it helps me stay awake so much better.  When it comes to picking books, I always pick ones I know I'm going to like as well, then we can all enjoy them together and we have tons of fun on our stops talking about the characters and what's happening.  (PS. even Ava who's three likes to listen to the audio books and she's way happier than watching a movie, so it's never too young)
Here are a few of my favorite audio books for kids:
The whole Anne of  Green Gables series.  They are so great and classic and Anne is such a great role model for kids.  Mine all adore her, even the boys think she's cool.
The Hatchet. This is one of the best books ever for kids.  Especially if they are a little more in the 7-14 range. (although Ava still says hatchet is her favorite) ;-)  The main character Brian teaches kids so much about being tough and industrial and not feeling sorry for yourself, without them realizing they're learning it.  And honestly I found it super inspiring.  Plus the kids love listening to him learn how to hunt, build a shelter, etc.
The Harry Potter series.  Do I even need to explain why?  But they are beautifully read, seriously.   Performed so well and the kids were laughing and mesmerized the entire time.  Plus I just love the British accent.
I also download a few books for me, you know when the kids are sleeping.  Here's a couple of my favorite recent books.
The Lake House.  So good.  Read really well.
The Boys in the Boat.  I just finished listening to this one last week.  I devoured it.  It's one of those books that stays with you and inspires you.  Loved how it was read/performed as well.  Edward Hermman has the best voice, doesn't he?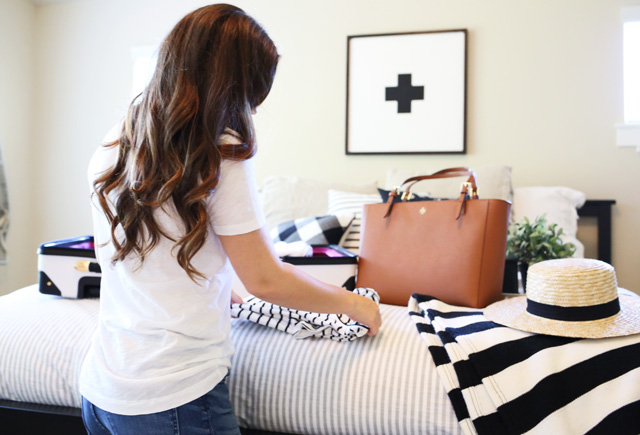 3. Wear comfy clothes, but get out of those jammies.  I maintain you feel better and act better when you get dressed.  I always wear something super comfy while driving and same thing for the kids, but not pajamas.  I have them all get up and get dressed, comb they're hair.  They feel better and so do I all day while we drive.  Sounds silly, I know.  But it's true.  I love wearing a soft dress or a maxi dress and a long sweater.  T-shirt dresses are a great bet for being comfortable on the whole drive, that knit fabric is so soft, but also feeling put together.  This is the one I wore on our last road trip.  I know it's maternity, but you seriously cannot tell.
4. Stick with water.  Avoid soda and juice, really any sugary drinks.  They just wind the kids up and lead to more bathroom stops.  I know water can get a little bland, so we like to add fruit to give it a little bit of flavor (I use these bottles and I get one for each of them.)
5. Stop halfway through and let them stretch their legs.  Gas/bathroom stops I keep super quick.  We eat our meals in the car and we are in and out of the bathroom and all gassed up in less than ten.  But I always stop about halfway through at a real rest stop and let the kids get their wiggles out.  There's usually a big lawn, and so we take a half hour to stretch out, the kids play tag and when we get back in, we all feel fresh and ready to drive again.
6. Give them some space.  Kids love having a place of their own.  So give them each a seat for the whole trip and let them get comfy, make it their own.  A pillow, blanket and some small toys  and on-the-go art sets packed into a smaller more compact backpack for them to play with, make the drive more comfortable and homey.  They'll settle right in for the long-haul.
7. A big tote bag.  I keep a big tote bag with everything I need right on the seat next to me the whole drive.  It's easy to grab when we stop for gas and without a wingman in the passenger seat, it makes it a lot easier to get to anything I might need like chapstick, sunglasses, or whatever.
8. Leave before dawn/or get enough sleep.  If you have two drivers, get up and leave well before the crack of dawn.  You'll avoid traffic, and the kids will literally sleep through 3-4 hours of the drive.  Then you just trade off when you get tired.  If you are driving alone I do not recommend this.  I recommend not worrying about what time you leave, at all.  Make sure you are good and rested before you shove off.  Then enjoy the process of getting there.  Eat your snacks, drink your fruit water and listen to your good book.  It's actually quiet relaxing…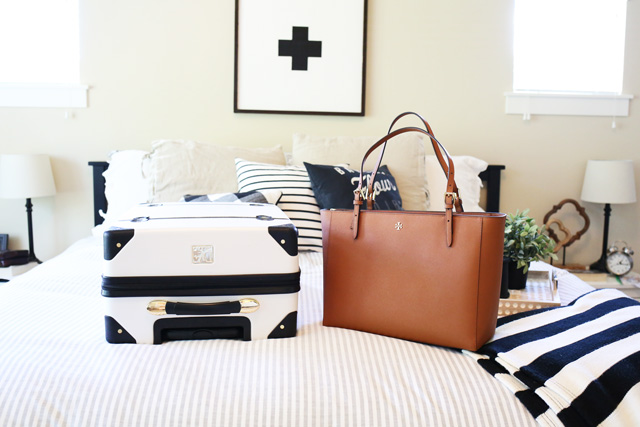 shop my outfit:
shop my bedroom decor: