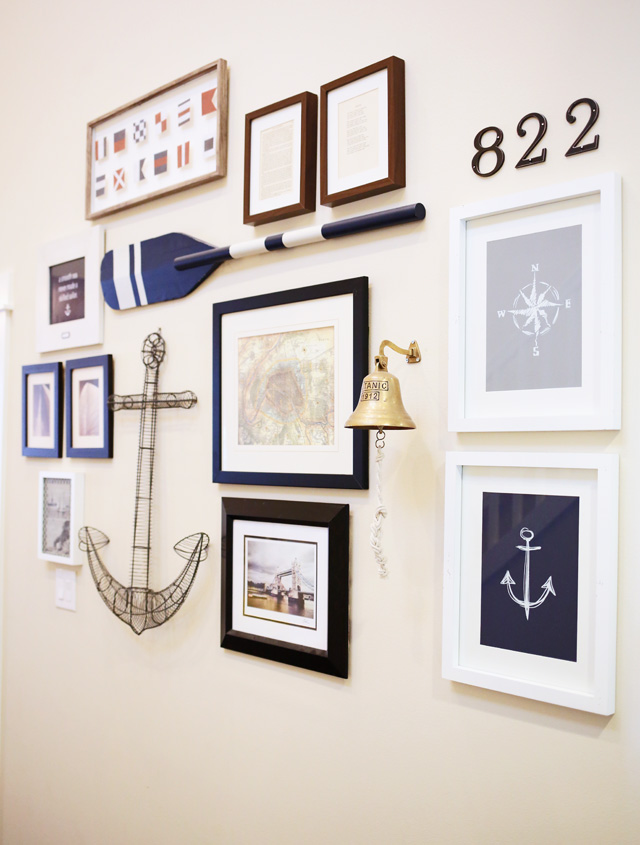 During the colder months I get the nesting itch bad.  Since it rains a lot in the PNW we spend a lot of time indoors this time of year and I suddenly have the urge to start fiddling with all the different spaces in my home.  So today I thought it would be fun to talk about one of my favorite decorating subjects, gallery walls.
The first home we owned right out of college was this little shoebox in Utah just north of Provo.  It was a cute little house with a front porch all along the front and a driveway in the back.  (I can't believe how long it's been since we lived there, it feels like a dream now.)  It was the first time I ever had a home that was my own to work on.  We put up beadboard and did some faux finishes and I learned a little about my style and what I wanted to do with my home.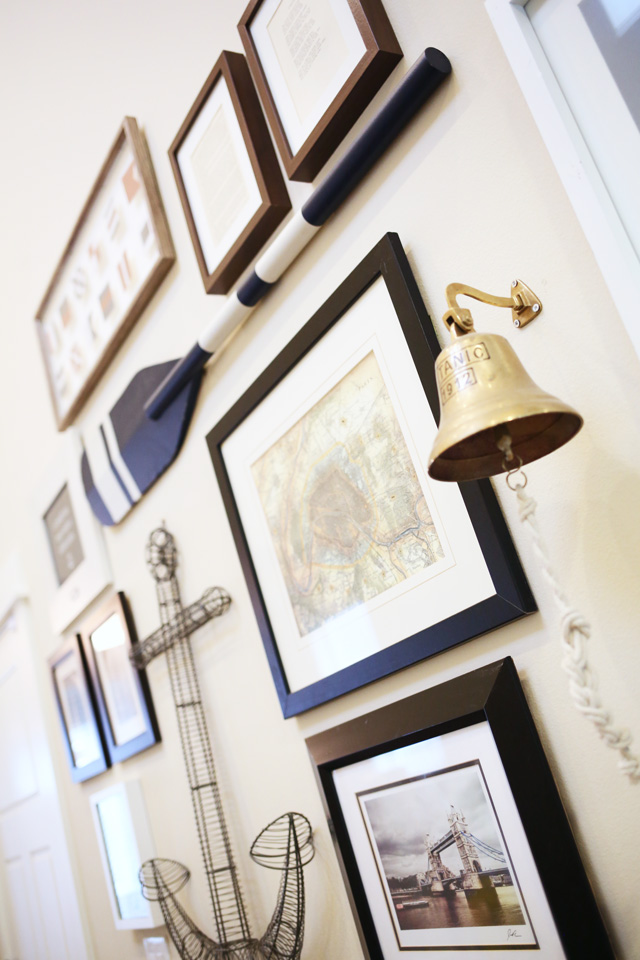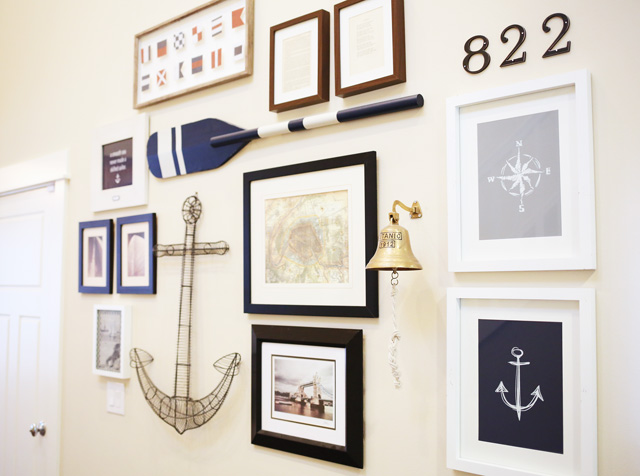 When we built our home in Arizona it was a big upgrade.  It wasn't fancy but it was a well-built home twice the size of our first one, it was brand new, and we were in love with it.  We picked out all the finishes ourselves and it's was a perfect blank slate.  It was also the first time I got a real case of decorator paranoia.  Everything was so fresh and perfect, I was afraid to make a mistake, or put a hole in the wall that I didn't like.  We also had a giant wall in the house in our great room with no windows that proved to be a real decorating dilemma.   I had no idea what to do with it.  I was large and wide and  I didn't know how to break it up, or what to put on it.  I bought a huge piece of art, (like so big it barely fit in my car) got it home, hung it up and the wall completely dwarfed it.
So I started googling (this was before Pinterest) and that is when I first discovered gallery walls.  I was smitten.  I created a file on my computer (because that's what we all did before pinterest) and started saving inspiration pictures of my favorite gallery walls.  This was my solution to the giant wall dilemma.  I just needed to design mine.
I found a bunch of images via

Pottery Barn

of their collected gallery walls and I instantly fell in love with the idea.  I've always loved Pottery Barn's approach to decorating because it really adheres to what I believe about a home; that it should feel livable for those who are in it, and that it should be decorated in a personal and meaningful way.  That was the kind of gallery wall I would create.
So I started collecting, and I've never really stopped.  This is the state of that original gallery wall today and it's always evolving.  I've added a few more
A gallery wall is a great solution for those big blank walls in your house and I love that it's an affordable option for decorating a space.  Large art can be rather pricey, but collecting smaller pieces over time is  a lot easier to do affordably.
So here are my top three tips for creating a gallery wall you'll love:
1.  Pick a theme. It can be a subject or a color but there should be something that ties each piece in your gallery wall together.  For my foyer gallery wall, I chose nautical and also navy, but it doesn't have to be so obvious, for the gallery walls in my girls rooms I went more with an idea/color scheme.  For example, Hannah's gallery wall is whimsical with a hint of spunk and it's mint and pink shades.  Ava's is more dreamy, with soft blush and a little gray.  I'm not a person who loves my gallery wall frames to be too matchy-matchy, I like it when there's an eclectic mix, but I do think they need to be tied together by a common theme, or else it just starts looking messy.

2.  Make it personal.

 I believe that the best gallery walls are the ones that are meaningful.  It shouldn't have a came-out-of-the-box feel.  The coolest gallery walls have a more curated feel.  Meaningful pieces collected over time.  It takes a little longer to create, but it works out so much better.  I chose this theme because I've always loved all things nautical, and also because Seattle has a huge boat culture with the sound.  My husband also learned out to sail this year so it's even more meaningful now.  I've collected sailing art over the years, maps from places we've been or want to go, hung up numbers for our anniversary, and framed pages from an old sailing book I found in an antique shop years ago.
My "a smooth sea" inspirational quote is one of my favorite parts of the wall.  I made it in 2014 when I went through my big battle with anxiety after losing my baby and a bunch of other personal struggles that happened.  I would repeat it to myself every morning and throughout the day as a reminder to keep going and that what I was battling would make me a stronger more capable person in the end.  Now when I see it, I feel so happy and proud of how far I've come, and also it's a great reminder on days when I want to quite life.  My gallery wall brings me a lot of joy because it has so much meaning and so many memories tied up in it. Each piece has earned it's place on the wall.  Collect art and pieces that speak to you and feel meaningful.  My favorite places to shop for gallery wall art are

Minted

, and

Pottery Barn

, and I love

Etsy

for quote art.


3.  Add some texture.

 I think the best gallery walls have a little added texture.  Adding pieces that are more than just a framed piece of art can add so much visual interest to the collection.  I love finding these kinds of pieces at local antique stores or online.  For this gallery wall, I've got an oar, a metal anchor, a ship bell I inherited from my mom (who got it from my grandpa) and some metal numbers.  I also love adding metal letters and pieces with interesting shapes, like these

antique snowshoes

or

skis

from

Pottery Barn.


Bonus tip.  I lay all my pieces out on a big open spot on the floor and arrange/rearrange them until I get a grouping I like.  Then I snap a picture to see if that grouping really works. (The camera never lies)   I never do the whole paper on the wall thing, partly because my shapes aren't uniform enough for that to really work, and partly because it's a time consuming pain and I find that just eyeballing it and hanging them one at a time right off the floor works way better for me.  I only occasionally need to add an extra hole and that doesn't really bother me.