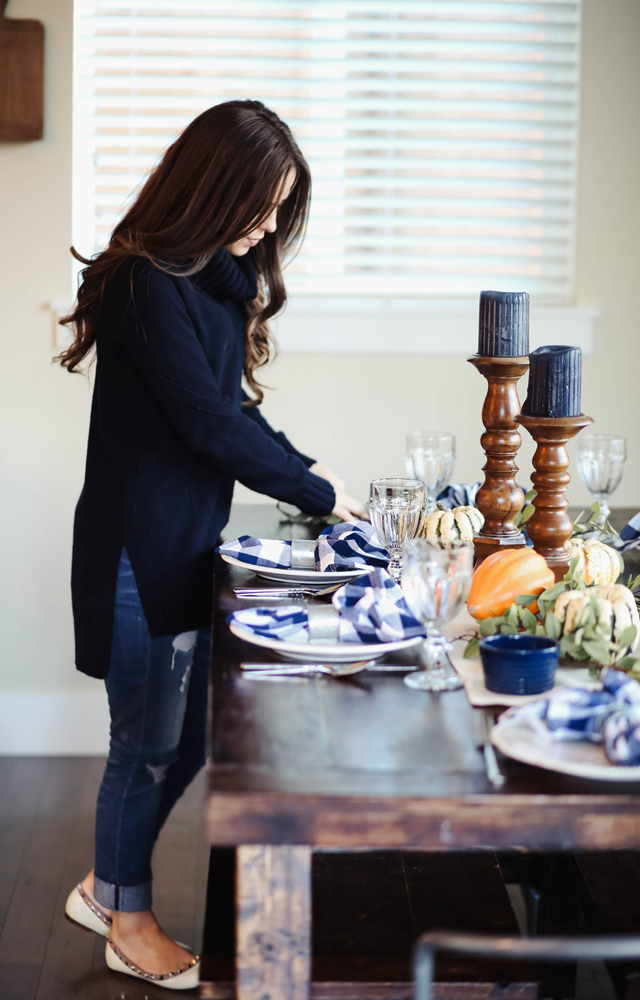 Sweater. Jeans. Flats.

One of my favorite parts of the holiday season is setting the table for dinners.  My mom always set beautiful tables, and I try (try is the key word) to live up to that.  It made the meals so special and setting a pretty holiday table brings me an immense amount of joy.  And none as much as my Thanksgiving table, when it is all about the meal, and gathering together to be thankful for what we have.

This year I'm going with a farmhouse inspired theme, incorporating a

little navy gingham

and warm wood tones with a

bay leaf garland

for a little added green and real mini pumpkins and squash to finish it off.  In theory I love big centerpieces, but the reality is, they make conversation around the table nearly impossible, and I'd rather my family see each other while we eat, so I usually go with something a little more low profile, like these

simple candlesticks

.
It's my dream to one day buy an old farmhouse and fix it up.  You know, chickens, horses, a garden and all that… and I have to admit that it was the inspiration behind this year's table.
So take a look, and I hope this inspires you to do something pretty with your thanksgiving table.  And remember, it doesn't have to be fancy to feel special.
(don't forget to join me on my "24 days of Gratitude" challenge by subscribing on the right.)

more farmhouse favorites: