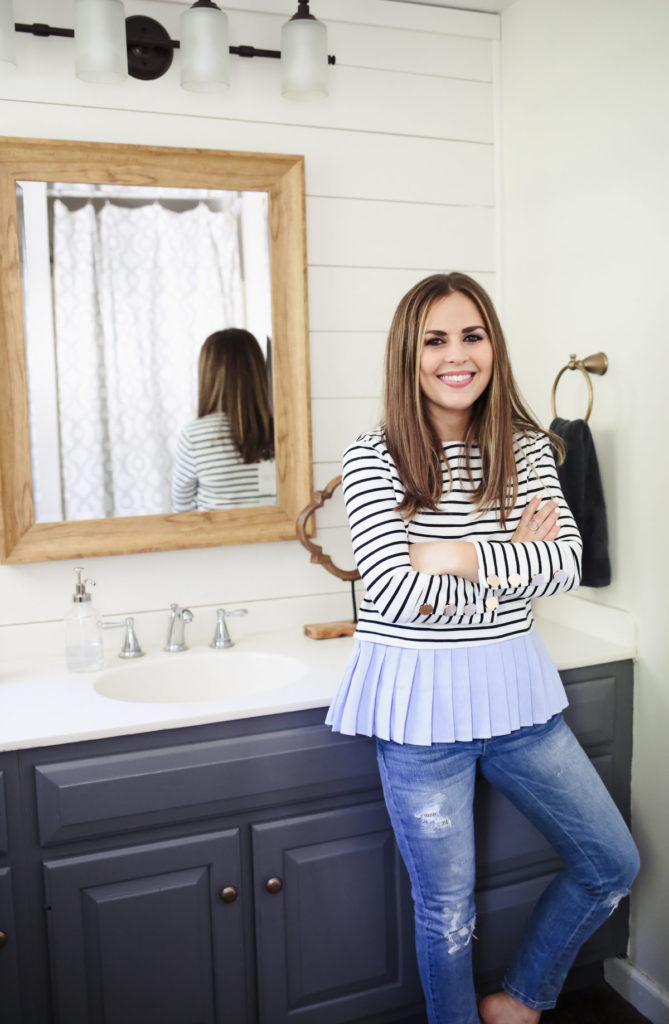 I am so excited to be sharing our little mini bathroom makeover with you today!  But first, let me tell you something that happened approximately 2 days after moving into our farmhouse back in March.  I basically had a mini-freakout.  I was suddenly, painfully aware of exactly all the different projects that needed to be done, and I got completely overwhelmed by it.  Ironically, when we walked through our farmhouse, I was thrilled that it was so lovely and livable and that it didn't NEED anything done, everything could be fun and cosmetic, done in our own time and budget, etc.    And that's still true.  It's a great house.  But all those little projects that I had been dreaming about since we put our offer on it, suddenly felt overwhelming.  I wanted to do them all, and I wanted them done perfectly.

So what happened is, I calmed myself down a little, decided on a room I would start with, and then promptly made zero progress for almost 2 months.
Wanna know why?  Because, every time I thought of doing anything to any room, it was like opening pandora's box.  Take this kid's bathroom for example:
I knew that I wanted to change this room when we walked through the house.  The cabinets were dated, the tiny shower could really use to be replaced, and the floors are the original wide-board wood, and while I love them in every other part of the house, I don't like having wood floors in the bathroom…  (Indoor plumbing wasn't really a thing in 1790 though, so we can forgive the original owner for that…)  I really wanted to give this room a refresh, but every time I thought about it I'd go to myself, "okay, so we need new tile floors, and then rip out the old shower, retile, probably replace the whole vanity, shiplap the walls, new light fixtures, etc. etc."  And suddenly the little refresh was a big expensive project.  And it definitely isn't the first priority on my project list, either.  So it sat with me glaring judgmentally at it every single day as I walked past it on the way to the laundry room, knowing full well that I wasn't going to touch it for a very long time.
Let me tell you something that I'm learning about life: perfect is the enemy of progress.
I can be a bit of a perfectionist, and I realized several months ago that this was the thing holding me back the most in my life.  It held me back in my home (I don't want todo anything until I can do it all perfectly), in my business (I can't put that post up until it's perfect), and even in my relationships.  Perfect is the enemy of progress.  That's what I tell myself now, every time I let the fear of not being perfect hold me back from moving forward with, well anything.  (Bet you didn't think I'd go that deep on a little bathroom makeover, did you?)

So let me tell you what happened with this bathroom.  One rainy Friday afternoon, I just walked in the bathroom and looked at it, and a light went on in my head.  "I could give this whole room a completely fresh look and I could do it all for about a hundred bucks.  Yeah, the ugly shower would still be there, but that's what shower curtains are for, and the floors would still be wood, but nothing a little jute rug couldn't freshen up.  I could even see the exact color charcoal gray I wanted to paint the cabinets, and I bet that hardware would look so much fresher if I sprayed it an antique bronze."  So I got Ava in the car and we drove down to the charming little hardware and feed store down the road from our house, and I bought some Benjamin Moore paint and a can of antique bronze spray paint.
That Saturday morning the kids and I got to work.  First we white washed the whole bathroom, in a pretty antique white paint, and then I got to work on the cabinets.  I used the

Advanced line of paint by Benjamin Moore

in the color Kendal Charcoal.  You guys, I am obsessed with this paint.  Like, obsessed.  It's magic paint.  According to the paint guy at the hardware store, I didn't need to sand or prime before using it (I took his word and ran for the door; as I basically despise sanding and priming), and all I needed to do was make sure the cupboards were really clean.  This paint goes on really well (like I almost didn't need a second coat) and has a longer open time so the paint settles and you don't get any annoying brush strokes.  It's also water based so clean up is just as easy as any other paint.  So the whole vanity got a total makeover with just a can of paint, and a good brush in an afternoon. So far, it's held up beautifully with 4 kids using is constantly all day, everyday.  I am thrilled with the results.
After painting the cabinets and spraying the hardware and hand towel holder, I procrastinated putting the shiplap up for a good 3 weeks, but then I did that little project and painted it white, then replaced the old light with

this lovely one from IKEA

, which was only $50.  I replaced the mirror with a smaller natural wood one, and voila!  It looks like a whole new bathroom.  I scrounged around the house for some decor pieces (I'm a big fan of shopping my own house and constantly rearranging my decor).  I still plan to hang some metal planters with greenery on either side of the mirror, but I haven't gotten them yet.  And I would eventually like to pull out the floor and put some tile in, redo the shower with subway tile, etc, etc.  But it's now a room I'll be happy with for years.

And here's another word on progress.  I almost didn't share this post with you today, because I still haven't put up the planters and I wanted to wait until it was "more done."  But then I told myself, progress, and here we are.
I will list out everything I used for the mini bathroom makeover below.  I had the extra shiplap and the mirror laying around, so I think the whole project maybe cost me $120.  Which isn't even a small grocery run for our family, so, not bad right?  How many things can you spend only $120 on and get years of enjoyment?
So if you've got something you want to do or change in your life and you feel like you have a lack of resources to do it (time, money, etc), look around and get a little resourceful.  There's always something you can do to improve your surroundings.
xo-Cori
ps. If you have any questions at all, feel free to ask them in the comments and I'll make sure and answer.

Mirror- Home Goods