Every Sunday, after our 3 hours of worship at church, we come home and the first thing I do is change into my comfiest sweats, make myself a cup of cocoa, and head up to my room to curl up on my bed with whatever book I am currently reading.  It's my favorite time of the week.  My bedroom is a bright, cozy space filled with the spirit of hygge and it's one of my favorite places to be in our home. Today I'm going to share the joy of hygge and give you 6 ways to create a cozy winter bedroom.
For those of you who may be wondering what the heck hygge is, let's touch on the concept of it.  (And I'd be willing to bet you've already been living it without knowing it.)

Hygge is the Danish art of all things cozy.  Think: curling up with a cup cocoa and a book, Grandma's chicken pot pie, or a roaring fire on a rainy day.  It is all about being cozy and enjoying the simple pleasures in life, really enjoying them.  To put it in perspective, the concept of hygge is to the Danish what freedom is to Americans.  Which leads me to believe that I must have some Danish blood running through my veins because I've been unconsciously subscribing to it my entire life.  It comes as naturally to me as breathing.  It's why I love baking bread, curling up with a book, building a big fire, or just savoring a rainy day.  It's left its mark on almost every aesthetic decision I've made in my life and touches every corner of my home.  It's less about things and more about creating a feeling.  I've always wanted my home to feel warm and welcoming, natural and homey.  Today I want to talk about creating the feeling in your bedroom, and why it's so important.

For a lot of our marriage, creating a bedroom that we loved, was low on my priority list.  I mean, no one comes in your bedroom.  You don't welcome guests there, it's not a high traction area of your house, and the main purpose for which it was created involves you being unconscious.  And yet thoughtfully creating this space, is one of the best things you can do for yourself.  Taking time to create a space you love and love to be in is a bit like investing in yourself, it's hard to explain or justify (at least to yourself) but the benefits to your peace of mind are immeasurable.
Everyone needs time to unwind, and your bedroom should serve as the sanctuary for you to do just that.  This is especially true for me.  My work, as a mother and in my business is all done from home, so the second I step outside my bedroom door, I'm on the clock.  I see all the things that need to be done, all the laundry and dishes, and floors that need to be washed, meals that need to be prepared; I remember all the emails, invoices, and projects calling for my attention.  But in my bedroom I feel calm and cozy, I can let myself slow down for a bid, curl up with a book, enjoy a cup of cocoa, and breathe in the feeling of hygge.
Here are 6 ways to create hygge in your bedroom this winter.

Tidy and decorate your room.  I don't know anyone who doesn't feel at least a little stressed in a messy space, so tidy up your room and keep the laundry out of there until you are actually ready to put it away. (ie. don't let it pile up.)  Take the time to put a personal touch on your room.  Pick a design aesthetic you're going for and do something (even if it's small and simple) to make the room a space you love.  The style of our home is modern farmhouse, so I recently switched up our bed for

this classic iron bed from Overstock

, and we got a new cozy mattress from Tomorrow last fall, that makes me even more excited to tuck in every night.  The updates don't need to be expensive, but they should spark joy in you.  We hung shiplap last month and I painted it a bright white to lighten up the space.  We've also added touches of greenery as well as vintage items we've collected, and other pieces of art and photographs of happy memories.  The prerequisite for anything being admitted to the space is that it has to spark joy.

Add some flannel bedding.  Switch out your summer sheets for winter flannel ones.  We also add a second down comforter with a cozy flannel duvet in a buffalo check.  Flannel sheets are so much warmer and my husband and I literally can't wait to jump into our cozy bed every night.

Create a reading nook.  A chair, or even a bench next to the window where there's good lighting is the perfect invite to stop and enjoy that book you've been meaning to read.  Plus, reading every day is so good for you!

Add throws throughout the room.  I'm famous among my kids for having throws everywhere around our house.  My motto is there should always be a blanket within reach.  We've got baskets and ottomans filled with throws in just about every room in the house. (Except the kitchen, haha.)  A throw draped over the end of the bed, a chair or even a bench creates a hygge feeling in the room and is easy to grab whenever you want to get cozy.

Light a candle or two (or three).  There's nothing like the flickering light and the yummy smell of a good candle.  Such a simple thing that brings so much pleasure.

Keep books in your room.  I like to have books peppered around the room.  It feels like an invitation to just sit down and read and creates a home, lived-in feel.  I love adding vintage books (which you can find at most antique shops or even thrift stores.)
I hope these ideas help you to create your own feeling of hygge in your bedroom, and home.  Now grab a cup of cocoa and get cozy…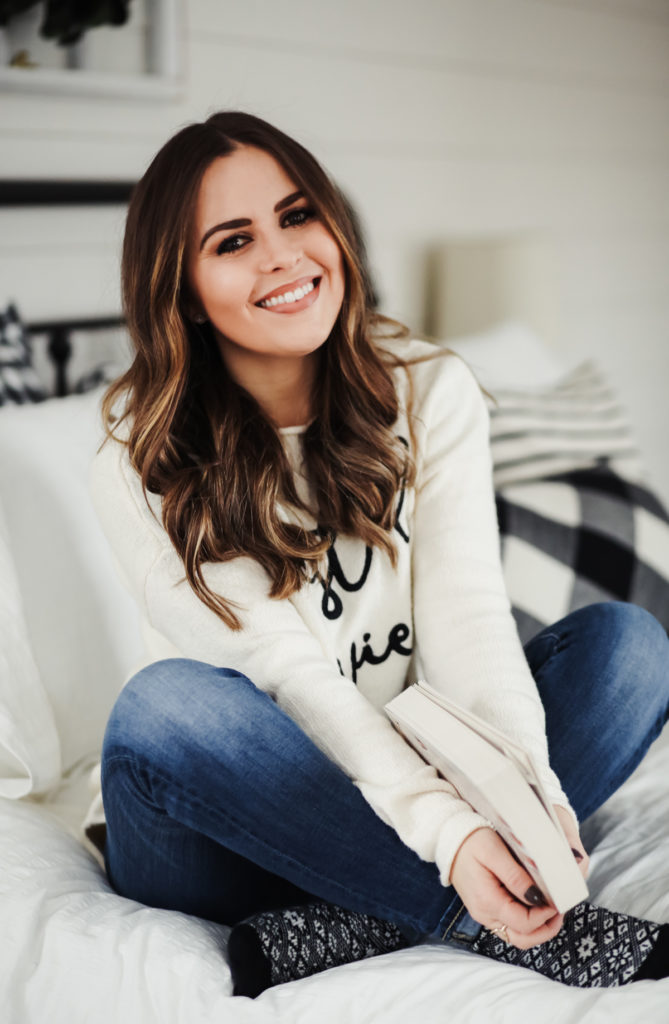 *created in partnership with Overstock.com
SaveSave
SaveSave
SaveSave
SaveSave
SaveSaveSaveSaveSaveSaveSaveSave
SaveSaveSaveSave
SaveSave