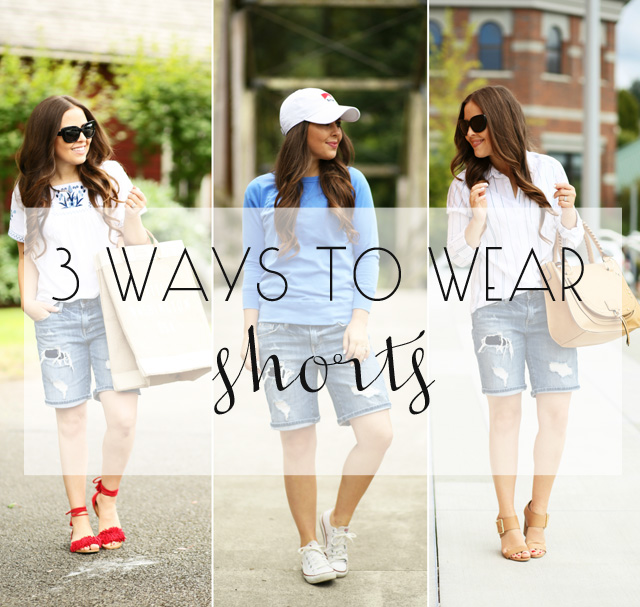 Okay guys.  This post is a long time coming.  I've shared in the past that I am not a lover of shorts on my body.  They're just not super flattering on my stubby legs, and it doesn't get hot enough very often in the Pacific Northwest to make me want to brave a style that I feel doesn't flatter me.   But I've had lots of messages from ladies living in hotter climates that wanted some ideas for styling shorts, so I thought I would get to work finding a style I liked that I felt worked for us shorter girls, and then figure out a few ways to style them.   It was actually quite fun.
I've tried these J.Crew Factory shorts in the past, which I love in theory.  They look so cute on taller longer legged girls, but just not on me.  Then I discovered these boyfriend shorts and oh my goodness, guys.  (I should have known the boyfriend style would never fail me.) I am obsessed.  Once I found the right shorts, styling them was a cinch.  I had a ton of different ideas, but I decided to show you my three favorite ways to style these great distressed boyfriend shorts.
So here we go, 3 ways to wear shorts.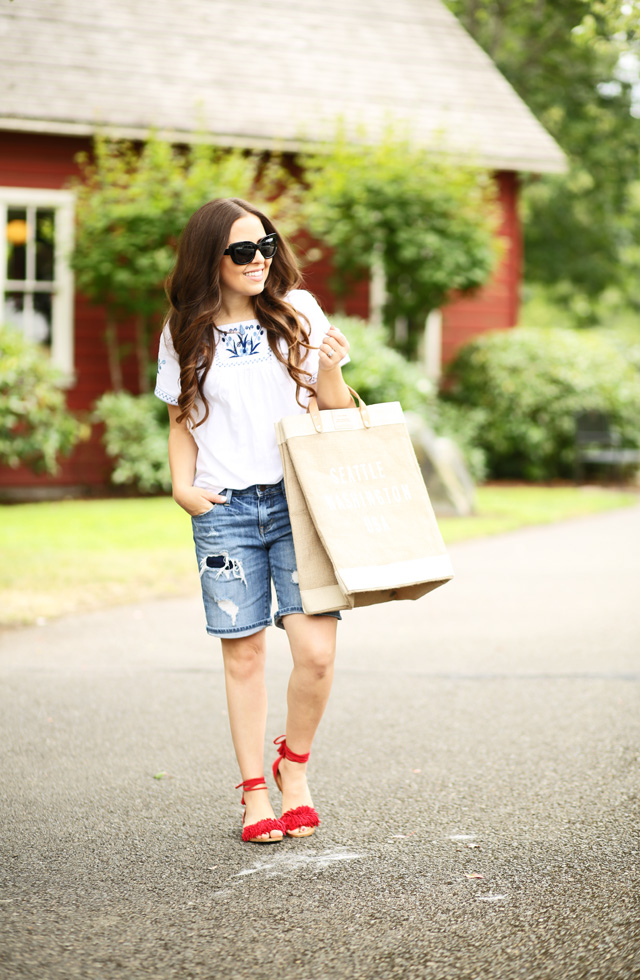 Shorts: Nordstrom. Top: Madewell. (similar here and here.) Shoes: Steve Madden.  Bag: Nordstrom. Sunglasses: Kate Spade.
First, I went a little boho for a day at the farmers market so I paired the shorts with my favorite peasant top, these fun red fringed sandals and this Apolis tote that I am seriously obsessed with.  It was perfect for a casual day.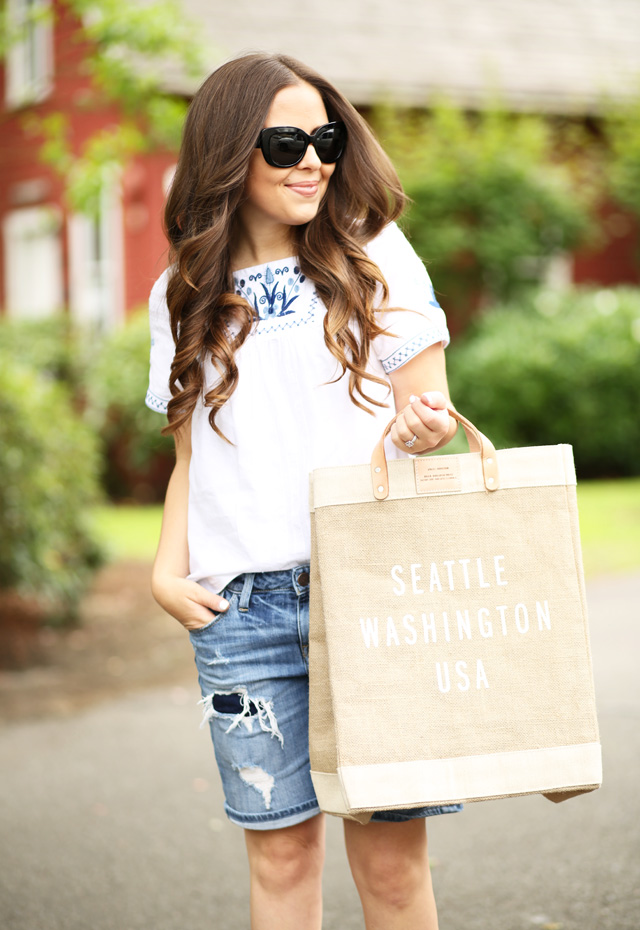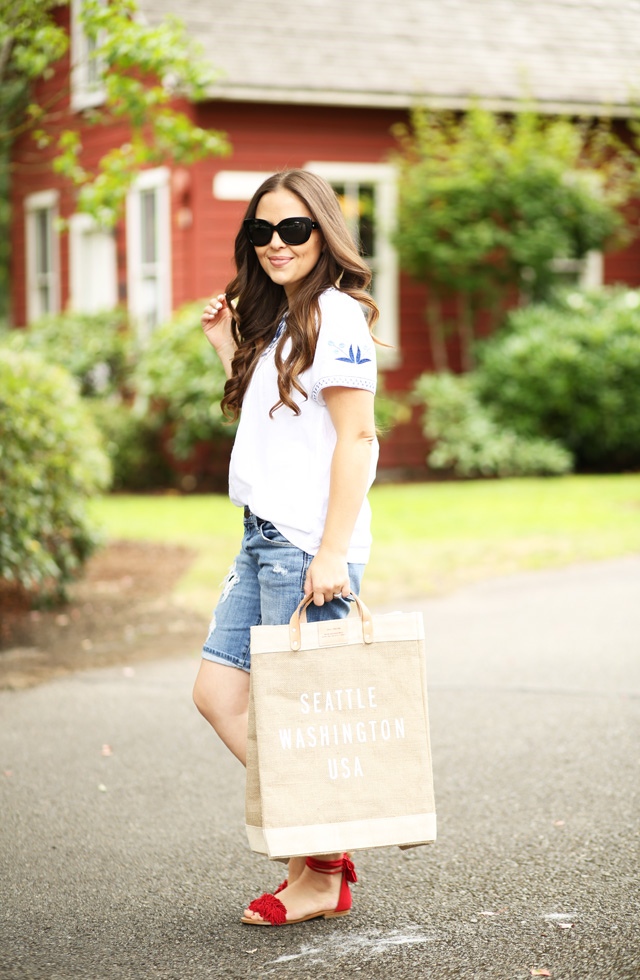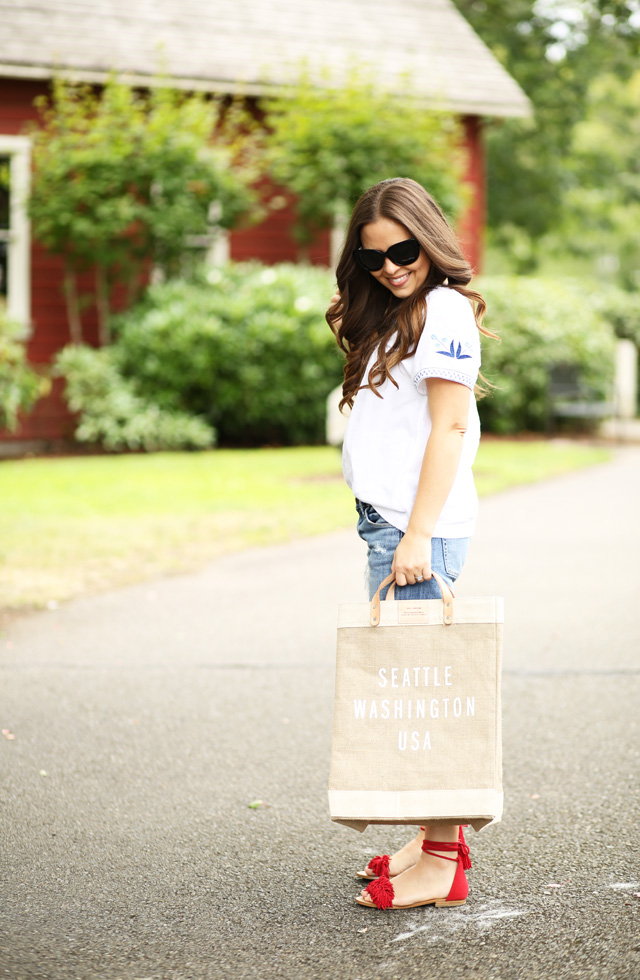 Top: Nordstrom. (on sale) Shorts: Nordstrom. Wedges: Steve Madden. (similar here.) Bag: Nordstrom.(similar here.) Sunglasses: Kate Spade.
Second, I paired them with a pretty striped button up (on sale) and a pair of neutral wedges.  If you want to look taller and still wear shorts, my best piece of advice would be a comfy pair of wedges in a nude shade.  The heel and color both help to make your legs look longer, plus everyone feels a little more fab in heels.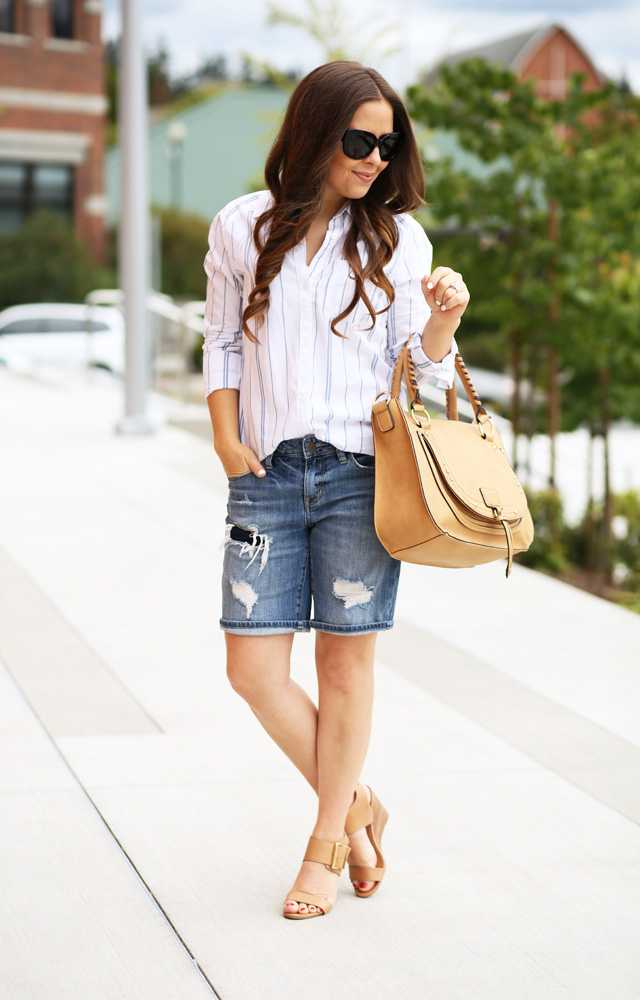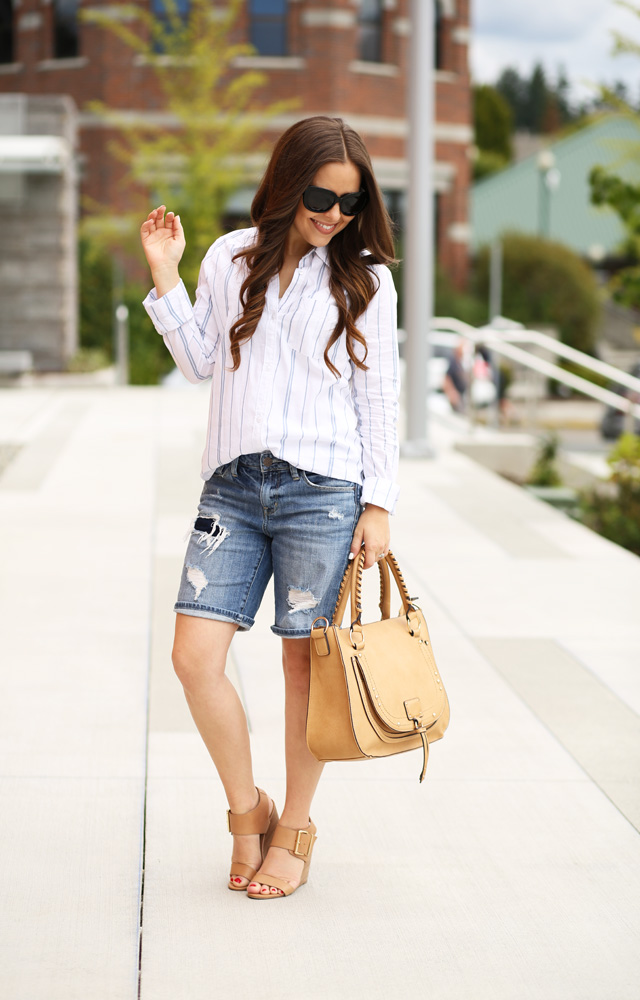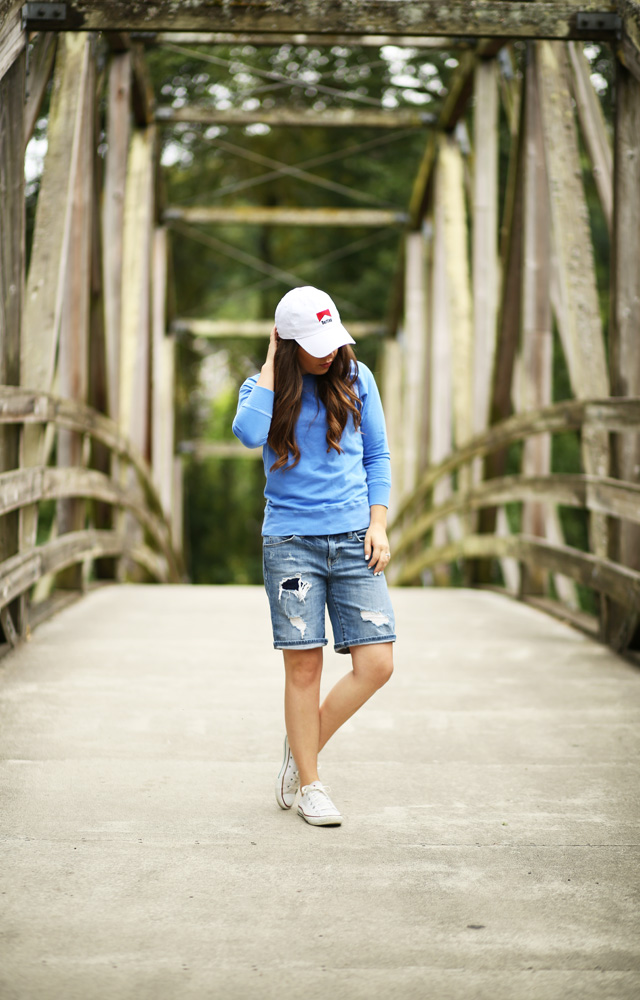 Shorts: Nordstrom. Sweatshirt: JCrew. Shoes: Nordstrom. Hat: Nordstrom. (similar.)
And third, I went with a fun sporty look for a day crabbing with my family.  I will never quit my Chuck Taylors and I love how they look paired with these fun boyfriend shorts.  I know this sweatshirt doesn't look super summer friendly but it's very lightweight and really soft.  It's pretty perfect for PNW summers where it doesn't typically get over 80, but it would be great for summer evenings even in a warmer climate.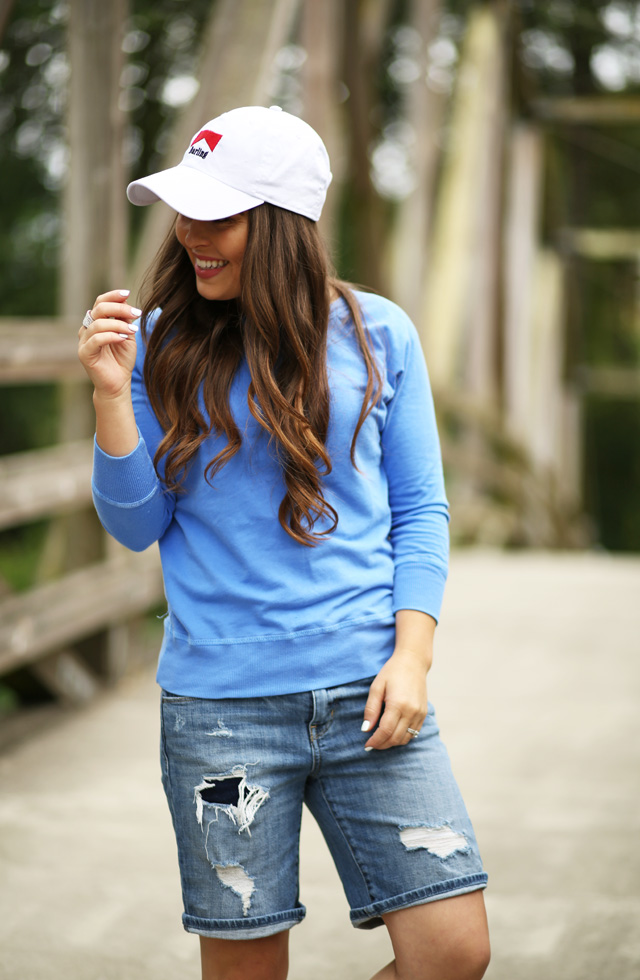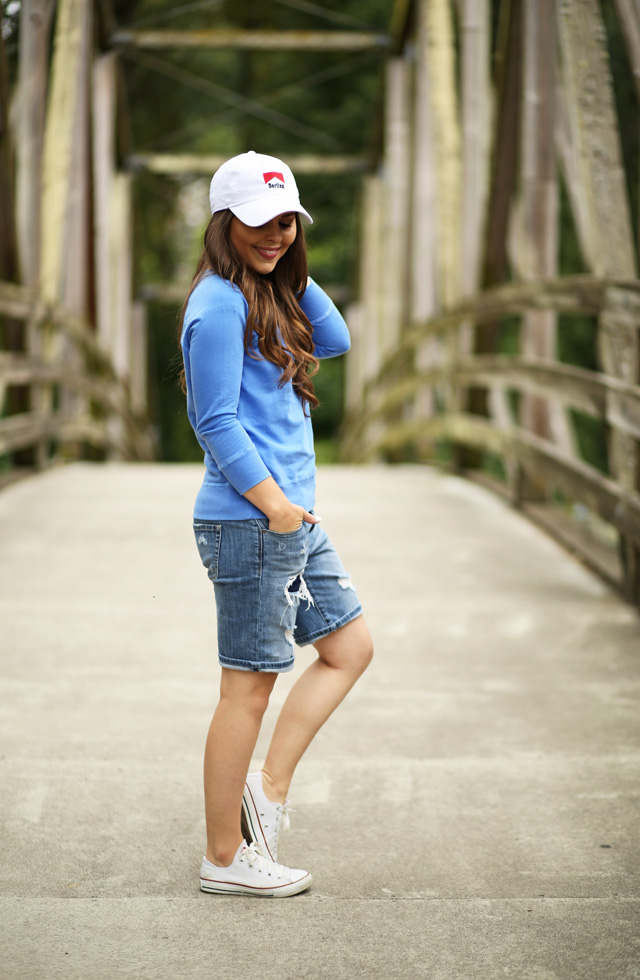 So there you have it!  Don't forget that the Nordstrom Anniversary sale is still going, and you can shop it until August 8th. ;-)