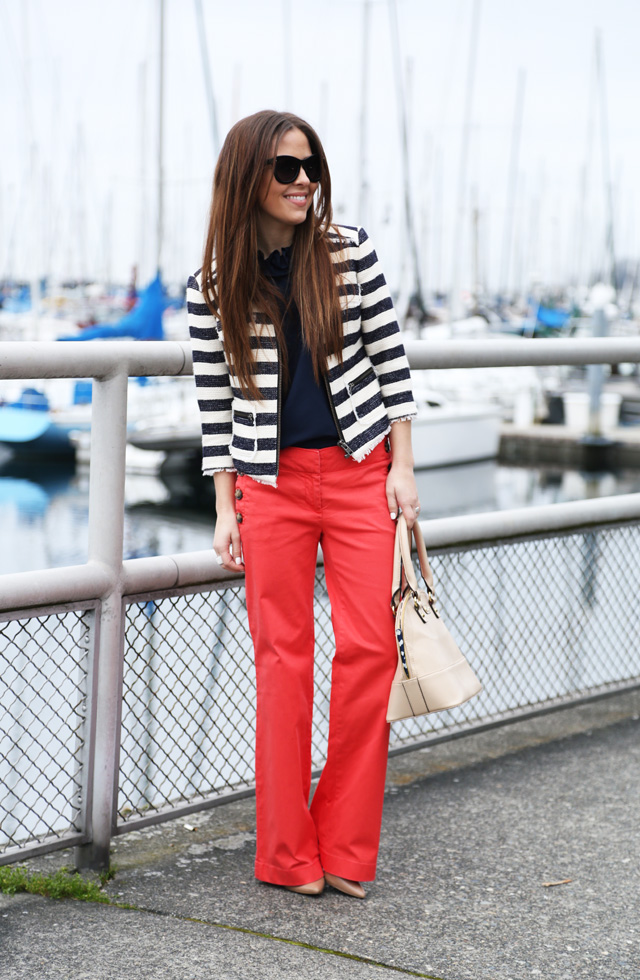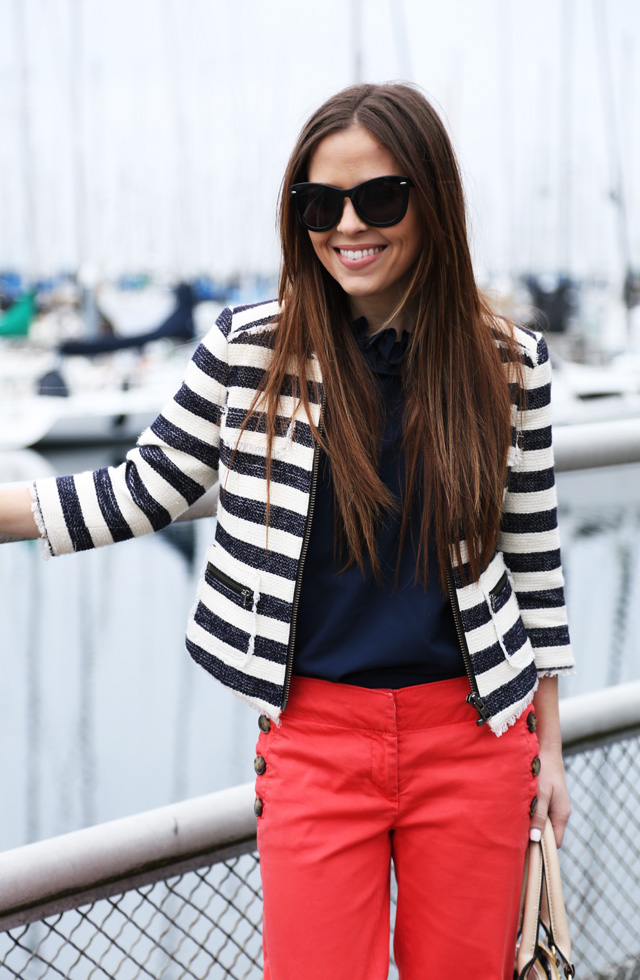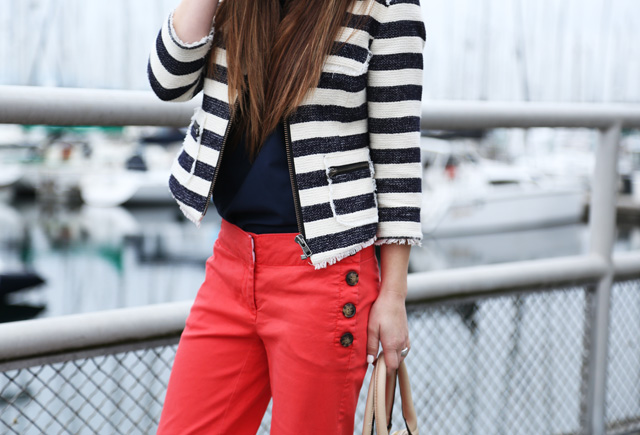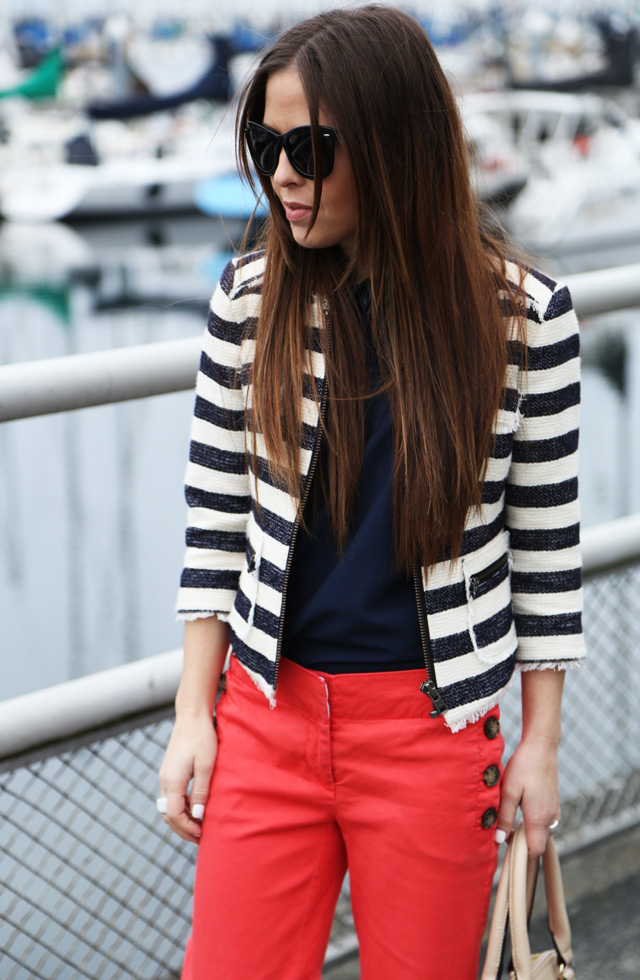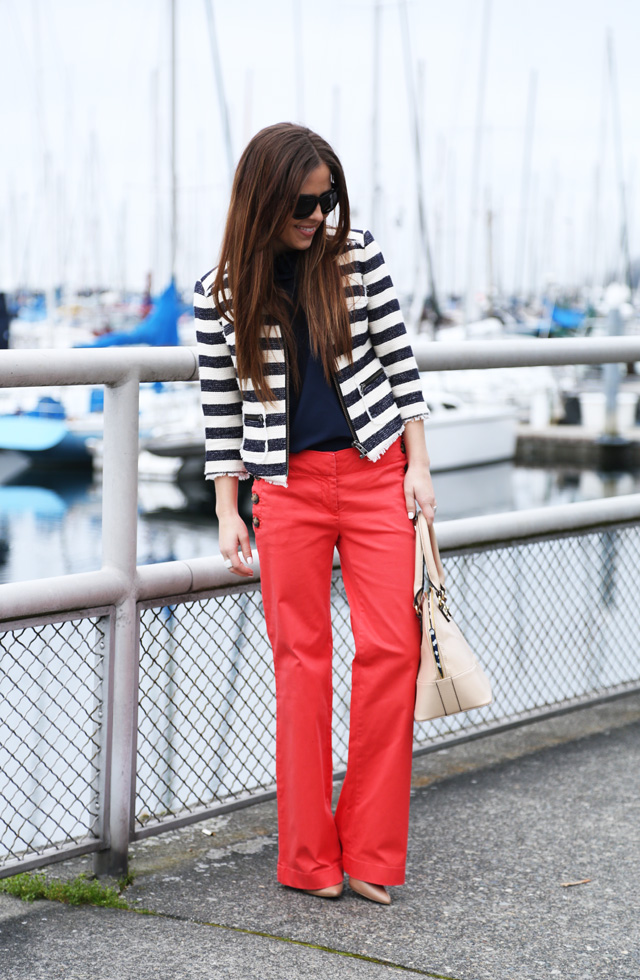 Striped jacket: Nordstrom (almost identical one here. similar one here.) Pants: Loft. similar here. (awesome wide-legs here, here and here.) Top: Forever21 (similar here and here.) Shoes: Enzo Angiolini. (similar here.) Bag: similar here.
I tend to drift towards nautical styles, and by drift I mean swing full force.  I love all thing nautical.  Last weekend we took the kids to the beach and then went and had dinner at Ivars on the water.  If you ever visit Seattle, this is a must-do.  There are several Ivars on the water here, but my two favorites are on the Seattle waterfront near the aquarium and on the dock at Gene Coulon park on Lake Washington.  One of my favorite things about Seattle is all the boats. I love riding the ferries, visiting the docks and just being near the water, watching the sailboats come in and go out.  A few weeks ago we were at the beach on a Saturday and there was a man kite boarding out on the water as the sun set.  It was magic.  The Pacific Northwest is magic.  Seattle is magic.
 I've thought a lot over the last few months, about why things were so hard in 2013, and for the first half of 2014.   I felt like all the joy had been stolen from my life.  When we lived in Seattle the first time, I felt like I was on top of the world.  I loved it here and life was so, so good with our little family.  Then we moved and things just started going wrong.  I could never feel home again in Arizona, no matter how hard I tried, and I felt lost there.  One thing after another seemed to go off kilter, and then we moved and we lost our little Ruby, and my parents decided to get divorced and all those foundational things you don't even realize you're leaning on, and taking for granted, like how you think your body is under your control, and in so many ways it just isn't, or that your parents will just always be married and then suddenly, they aren't.  It's weird.  I locked all these sadnesses up in my heart and didn't let anyone see them, I'm not sure why.  Maybe because I'm naturally kind of private, or maybe I felt too exposed already.  I felt like the slightest wind would blow me over and I really didn't want to fall down.  I learned too that I had let grudges fester inside of me drive a wedge in my soul, I learned that I needed to forgive.  God was teaching me humility, and faith and forgiveness.  And I think that God wanted to make it really clear to us that He wanted us back here in Seattle.  That's what it feels like anyway.  I can see a lot better now that he's had a plan for us all along, and I wish I was better at trusting it from the start.  I wish I was better at trusting it now, and not letting myself get anxious, about– well, everything all the time.    But that is something I still need to learn.
I bought these pants last summer and I can't tell you how many times I've patted myself on the back for doing so.  I really love them, they are so fun to wear.  Loft has so many gorgeous pieces in this fabulous tomato color right now.  I love this polka dot blouse so much, and I think it would pair so perfectly with these pants.  I've also included some awesome widleg pants below.  It's such a great slimming silhouette, and it looks great on just about anyone.
Also, I was at the mall yesterday returning something at Nordstrom, and I just happened to pop into Loft, (and by that I mean,  I walked across half the mall with the express purpose of going to Loft) and you guys, their relaxed skinny jeans are to-die for.  They deserve a blog post all to themselves, but seriously they are what boyfriend jean dreams are made of.  The fit is so good, and the slouch, perfect.  I bought this pair, because I could not resist the jeweled pockets, and the fit and wash are perfect.  Also, I feel like I should let you all know that all the jeans at Loft are $25 off right now so…
Happy Thursday!