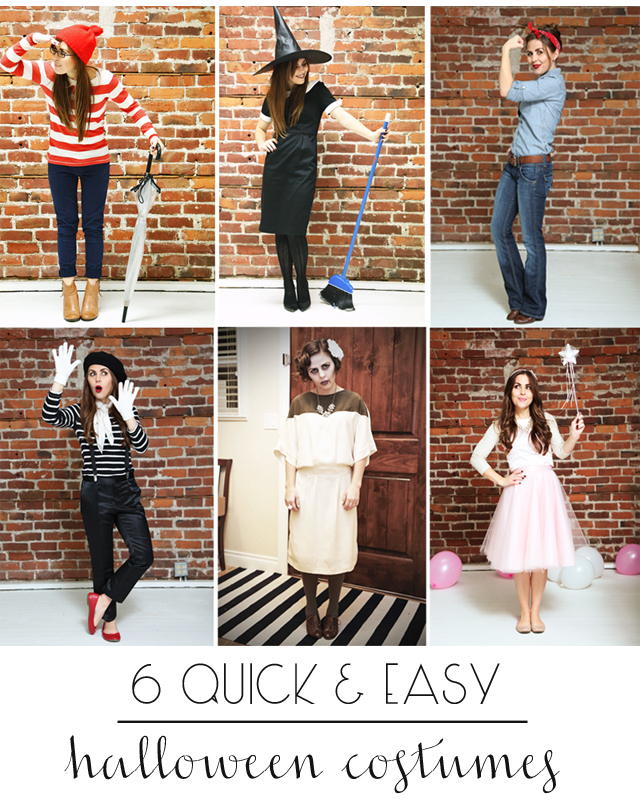 Anyone who grew up with me knows that I've always been a huge Halloween freak.  I always loved dressing up, decorating, trick or treating and just all the fun a festive stuff that leads up to October's holiday.
When I was younger my costumes were very intricate, (one year I was a full on Geisha girl- white painted face, black wig and all) but now that I'm a mom and have way less time since there are 4 kids to make costumes for, I'm all about the quick and easy halloween costumes that are still fun and festive.
The key to creating a great but easy Halloween costume, is coming up with ideas that use pieces you mostly already have or can easily find and then wear again later.
Things like a little black dress, a striped shirt or a good pair of jeans that you can turn into an awesome costume.  It's a match made in busy mom heaven…
Here are my top six quick and easy Halloween costumes: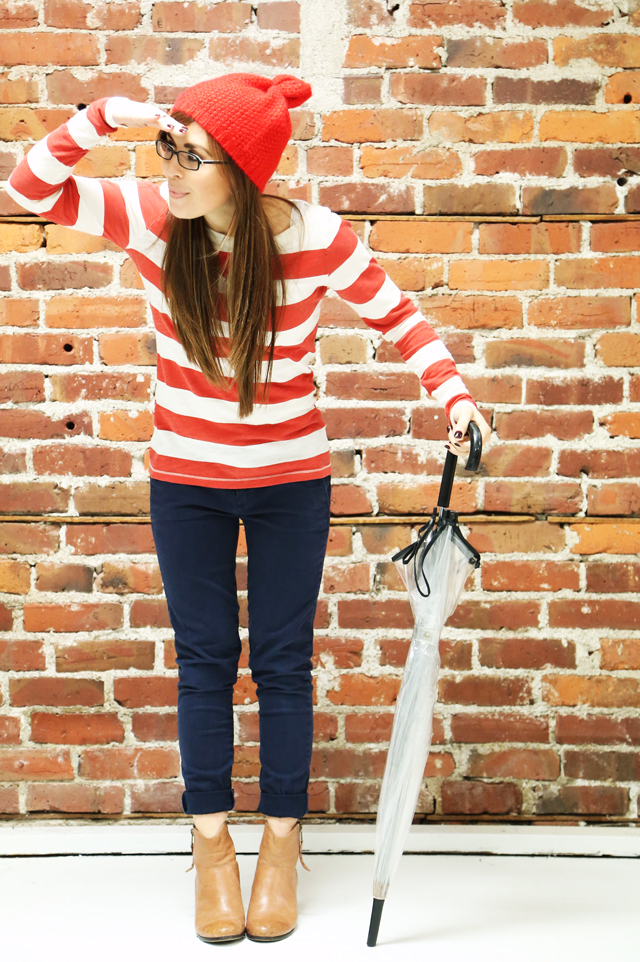 Where's Waldo.
I'm sorry but if you were a kid in the 90's then you've got to love Where's Waldo.  And you really couldn't ask for an easier costume.  This one is so fun, and all you really need is a red striped shirt, a red pom beanie, a pair of glasses and a cane or umbrella.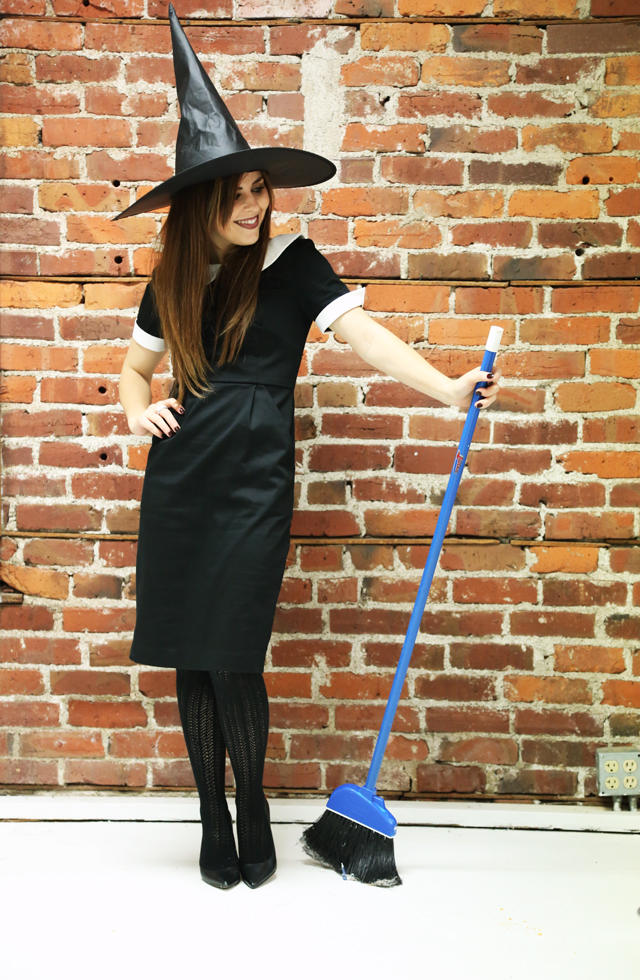 Little Black Dress Witch.
I was at a halloween party this weekend and someone said, every woman needs a go-to witch hat for when you're in a costume pinch.  Not sure if it was a little freudian slip, or what, but it's also rather true.  Instant ready made costume.  And also it's the easiest, chicest costume ever because all you really need (besides said hat) is a chic little black dress and some fun tights.  And double bonus, if you plan it right, you can snag a new LBD and then it can double as your holiday party dress.  Voila!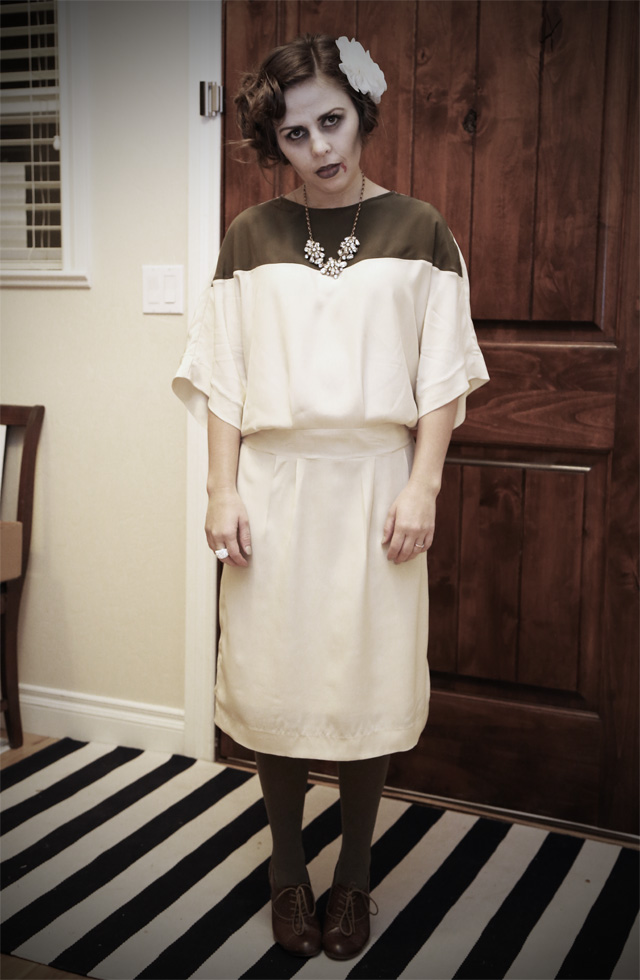 Old Fashioned Zombie.
The truth is that you can put anything behind zombie and make it a costume with a little undead makeup contouring: zombie soccer player, zombie librarian, zombie mom (oh wait, that's me).  But doing this old fashioned zombie costume was one of my favorite ever.  The vintage inspired clothes were such a fun twist on a basic costume and we did it with the whole family which was extra fun because my kids got really into character.  (Hannah was a zombie flapper girl, the boys were zombie newsies, Ava was zombie Rosie the Riveter… you see?  So fun.)  This one is simple as well because all you really need is a vintage style dress and some creative hair and makeup.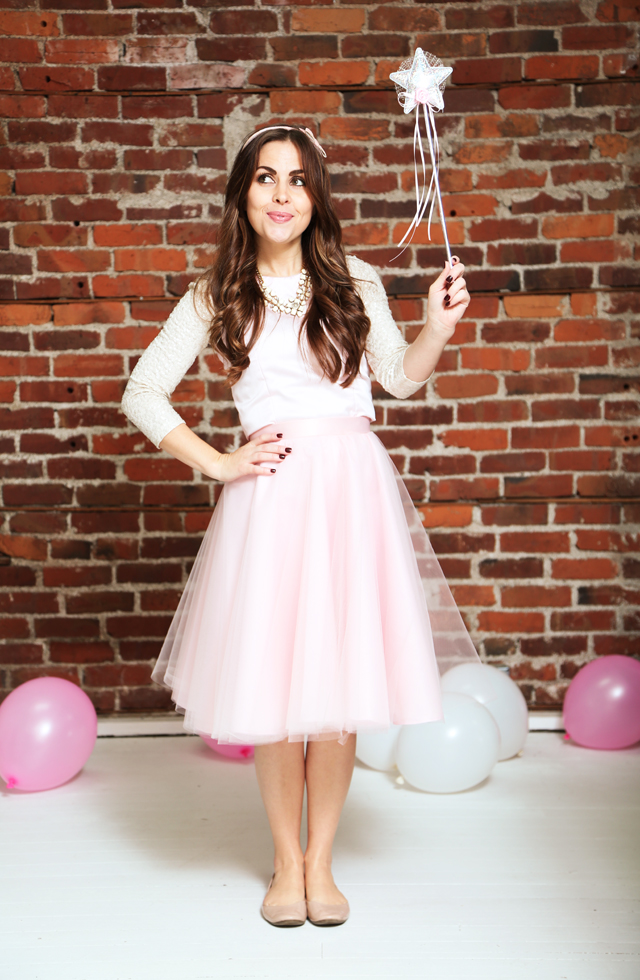 Glenda the Good Witch.
A costume that calls for a pink tulle skirt?  Sign me up. I did this with Ava as Dorothy and it was really cute.    Such a fun excuse to wear one of my favorite pieces from my closet.  This also works well for ballerina, fairy,  princess and basically fulfilling childhood fantasies in general.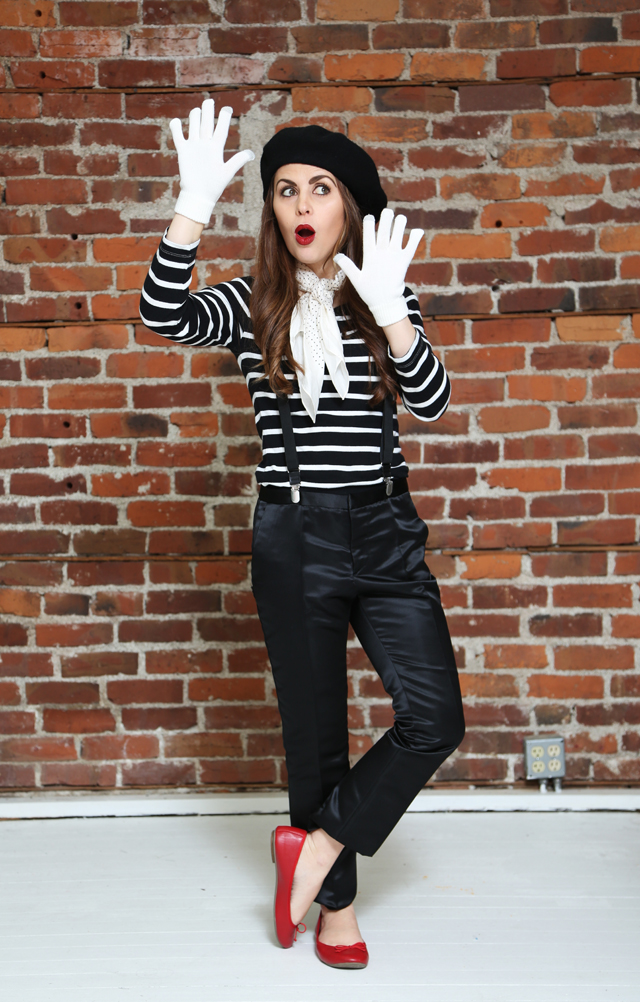 French Mime.
The french mime is one of my favorite costumes.  It literally incorporates a bunch of my favorite wardrobe basics, a black striped shirt, red ballet flats, and classic slacks.  Also, it allows me to fulfill my 5th grade dream of wearing a beret in public.  (I've talked about my beret obsession as a kid haven't I?)  A little red lipstick (this is my favorite in Russian Red) some white gloves, suspenders, a neck kerchief, and a little personality.  You're good to go.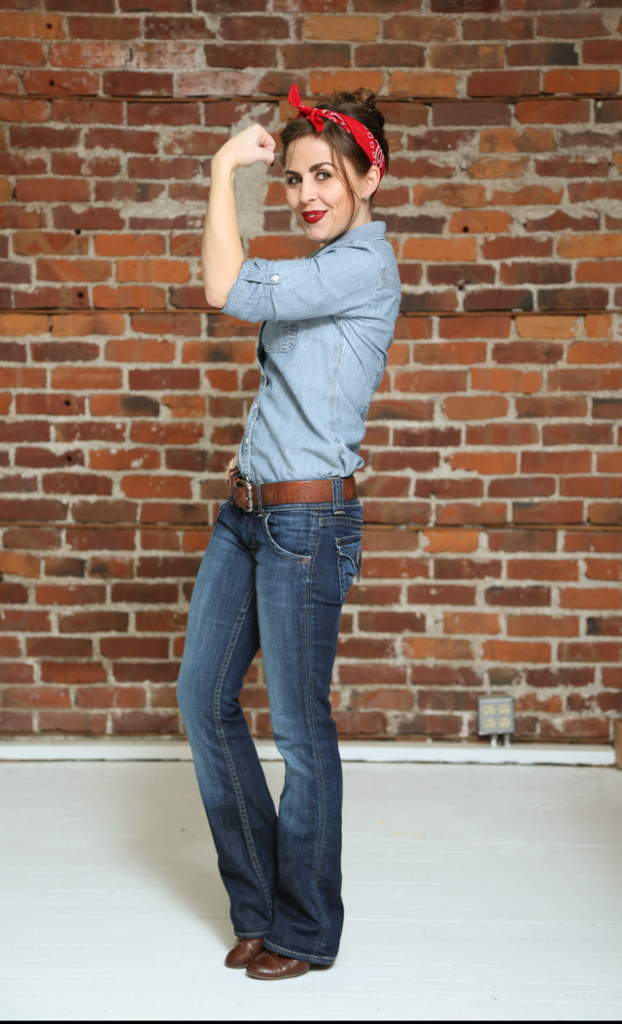 Rosie the Riveter.
Talk about a ready made costume.  If you don't have a good chambray in your closet yet, then we've got bigger problems than what you're going to be for Halloween… ;-)  Seriously though, all this calls for is good denim and a red bandana.  If you're looking for an excuse to buy a good pair of bootcut jeans, these Hudsons are the way to go, and I've had this exact chambray shirt for like 4 years and it's the best one ever.  A little red lip and some boots finishes the job.