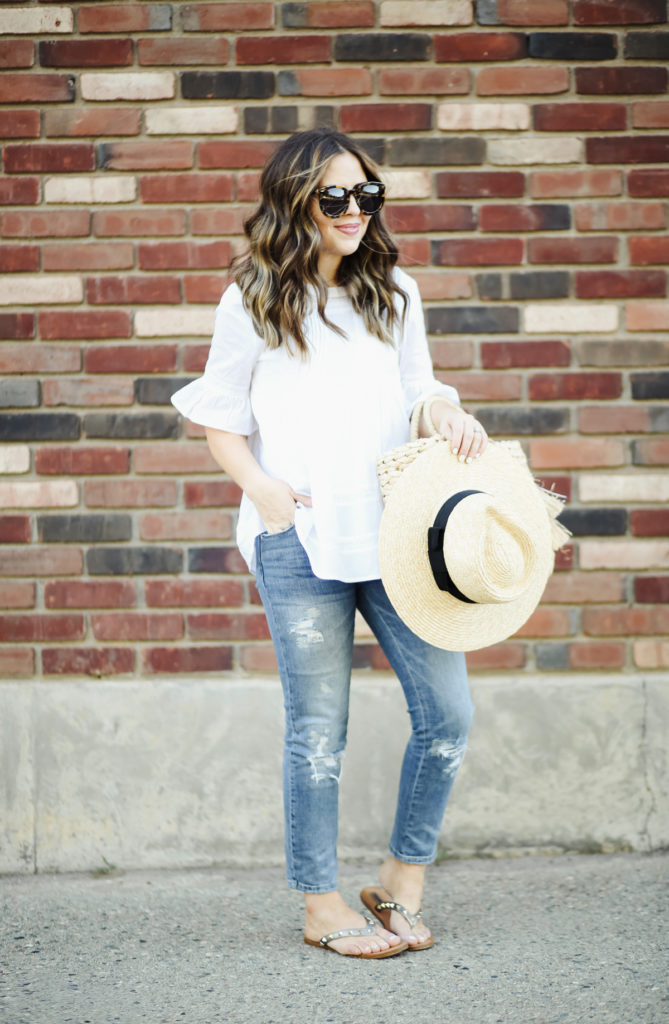 Road trips have been part of our summers pretty much since our family got started.  We've almost always lived far away from family so driving for visits was a yearly thing.  Now that we're on the East Coast, we're not really in driving distance of our family (unless we want to drive for several days straight) but we have lots of New England road trips planned for the next few years, and I am so excited to explore our new home.  Packing for travel can be such a headache, especially when you're packing for 6 not just 1, and I like to think of myself as a packing ninja now.  Because when you have to fit clothes for that many people in 1 car, it is ALL about efficiency.  Enter: capsule packing.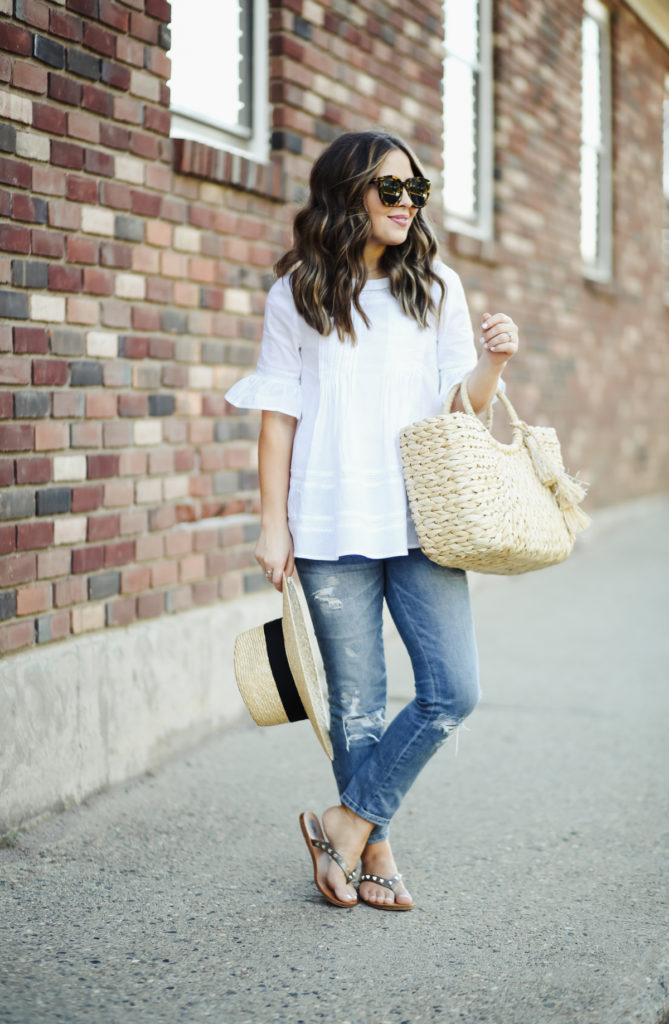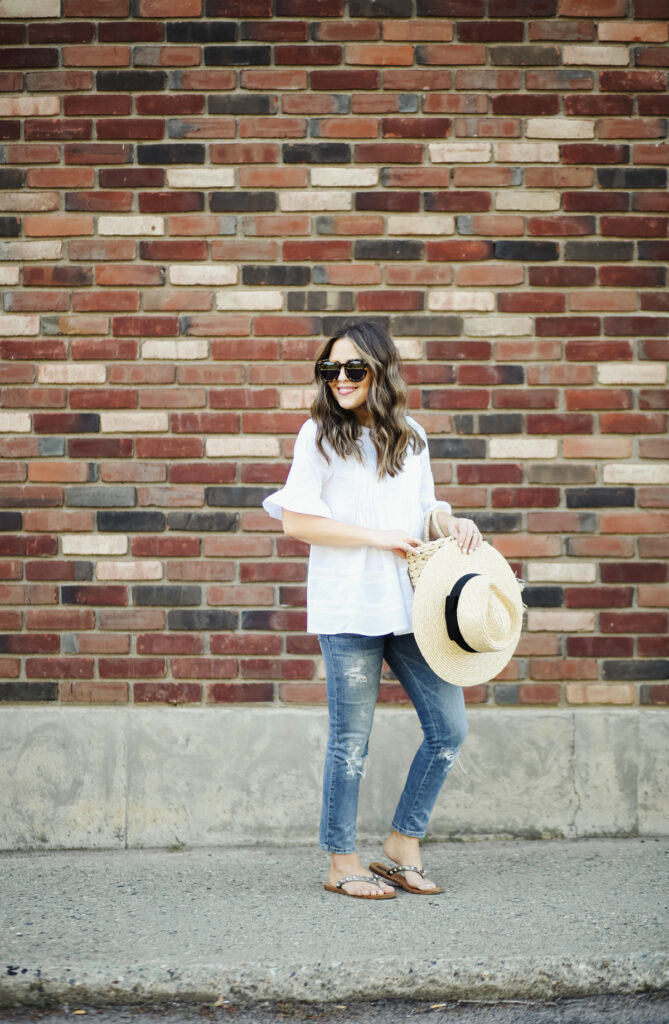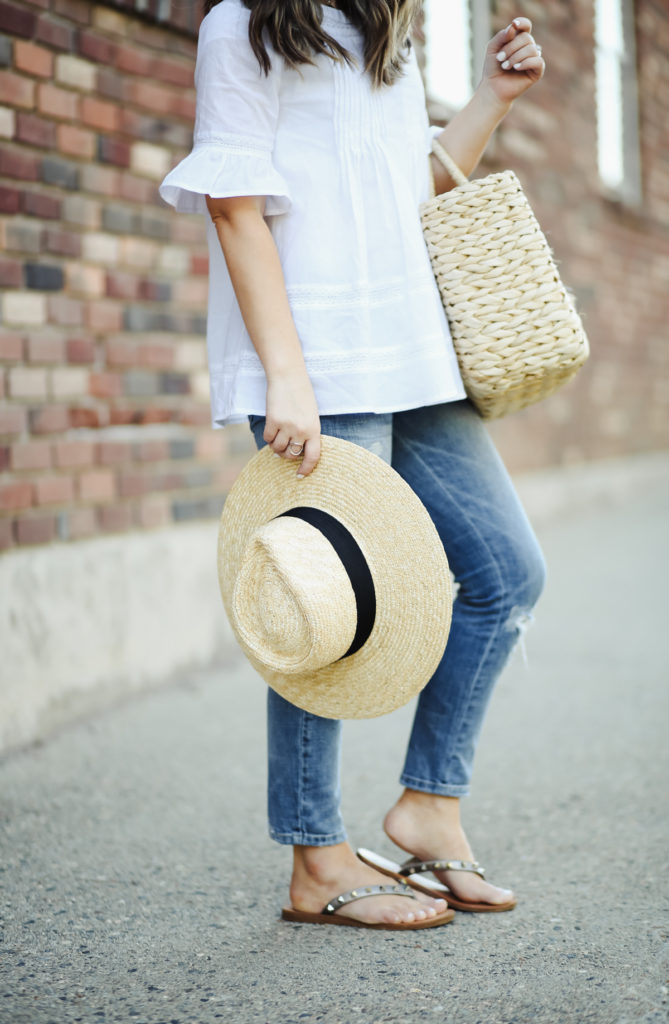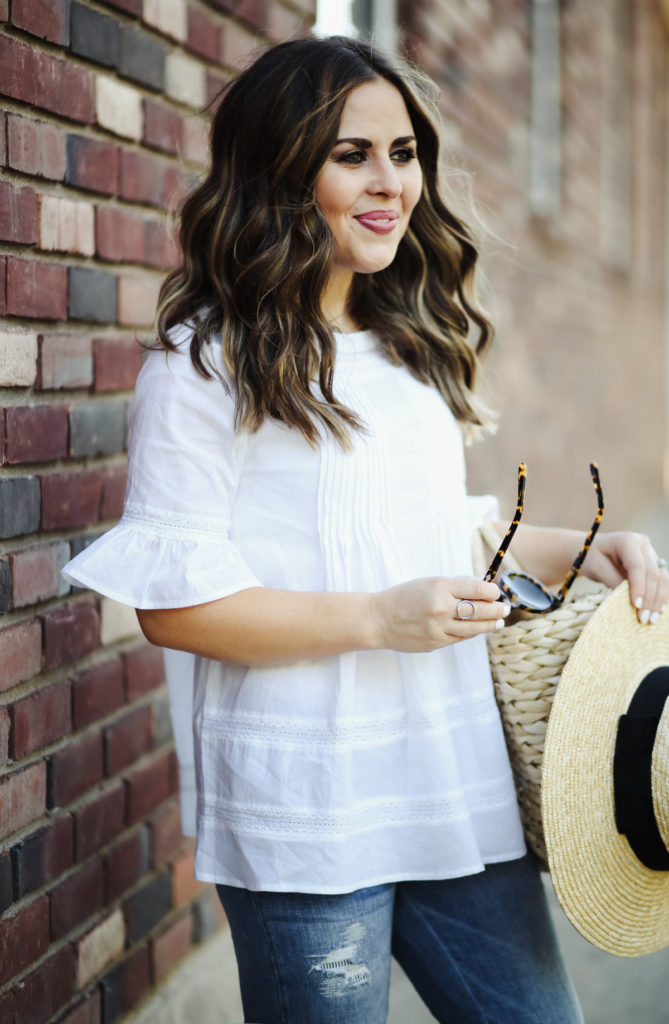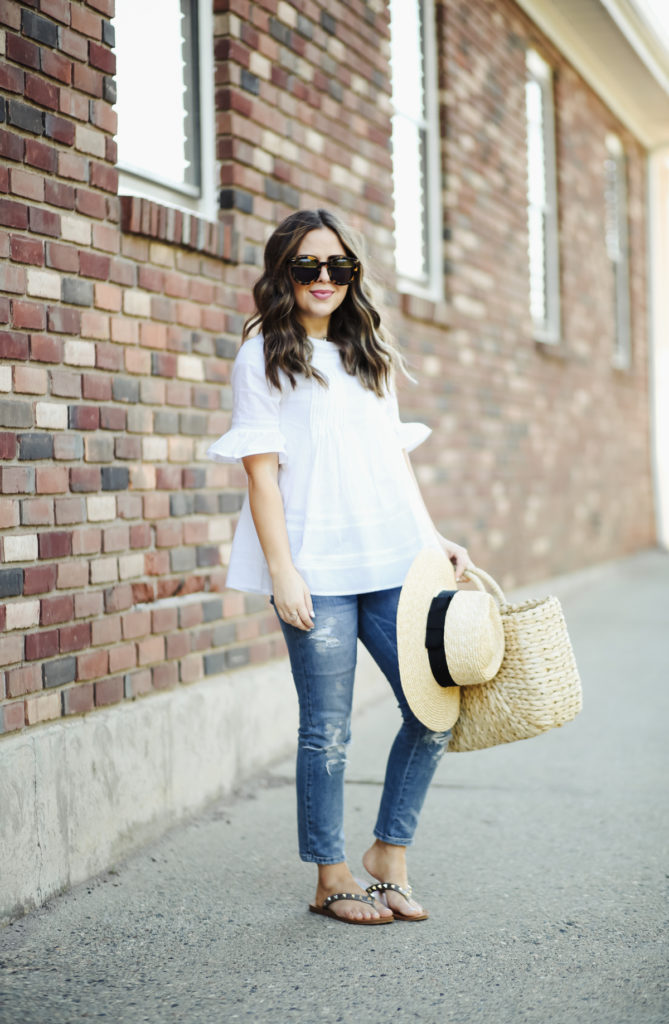 I wrote a post about this a few years ago (it's still one of my most popular posts) so I thought I would steal a bit of what I wrote then, for some of you that may not have read it, because it's still true:
How does capsule packing work?
So how does capsule packing work?  It's funny and almost counter intuitive.  You'd think that the more you pack, the better prepared you'll feel and the easier it will be to get dressed, but I've found the opposite to be true.  They call it the paradox of choice; i.e.. too many choices causes clutter which equals anxiety and frustration.   For me capsule packing is all about simplifying: picking versatile neutrals that can be mixed and matched and are interchangeable with each other.  I generally stick with one base color (usually black, navy or white) and work from there.  If I'm going to add in color, I'll typically add in one color that can work with everything I've packed.  (I added in pink on this capsule.)
The great thing about packing this way is that all your clothes can multi-task and it really simplifies the whole process especially with regard to your shoes.  I usually stick with 3 to 4 pairs.  Heels, sneakers, and a pair or two of casual shoes.  Shoes are a space/weight killer when you're traveling, so keeping it all streamlined really helps cutting down how many pairs you need.  **little tip for you. Cognac and camel/tan are magic colors when packing shoes.  They go with everything.
When I pack right, I can fit all my clothes in an overnight bag and still dress myself for around two weeks.
What to pack in a summer capsule?
Summer capsule packing is probably the easiest, because you don't need a lot of heavy warm pieces (even the shoes are less bulky) and it's easy to fit everything in a small bag.  (Huge benefit for road trips) For this summer's capsule I went with white and denim as my base color and added in pink, because I am all about that blush this year.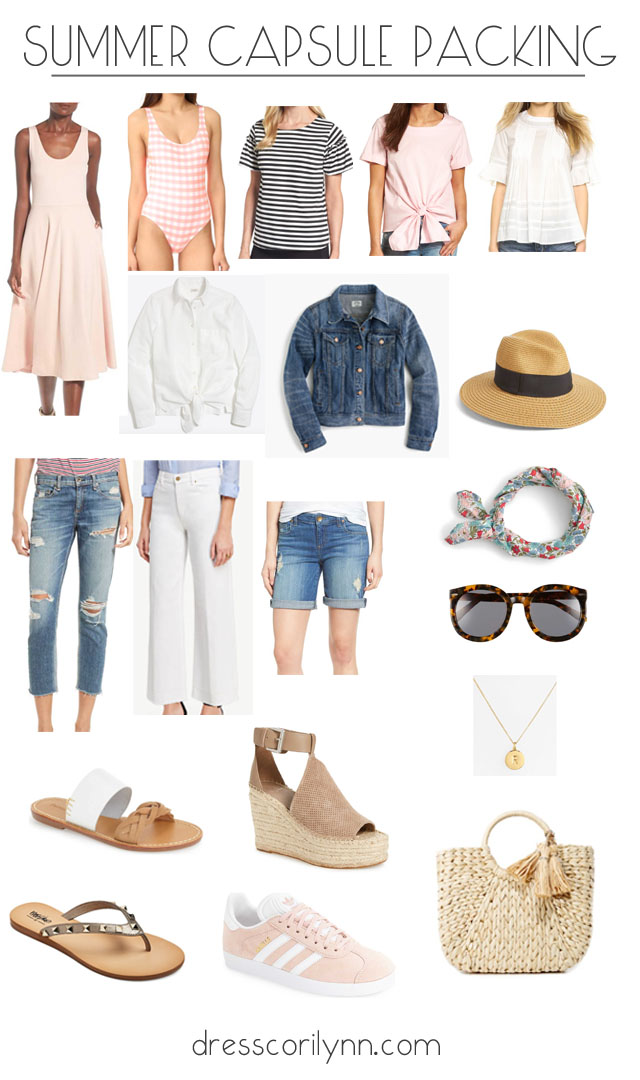 The key for me, when packing, is picking great neutral pieces that can be styled several different ways and still look chic and understated.  When you're traveling it's about where you're at and the people you're with, not the clothes.  I want to feel confident and comfortable, so that what I'm wearing works for me and the situation and doesn't distract from it.
Before I pack, I always think carefully about where we are going and what we'll be doing; nothing goes into the suitcase until I've done that.  This way I know what kind of shoes I'm going to need, whether or not I need something more formal, or how many jackets are necessary.  And I always go for comfort when traveling.  That doesn't have to mean frumpy either.  This white top is incredibly pretty, it's versatile, light and airy, and also so comfortable.  (And good if you're getting a little travel food baby.)
When summer capsule packing I choose 2-3 bottoms, (for this capsule I went with

skinny slouchy distressed jeans

,

white denim culottes

, and some

boyfriend shorts

), four pretty, on trend versatile tops (

a striped top is a must–this one

has ruffles too, bonus–,

the white top I'm wearing here

, this

pink tie waist top

–I ordered this for our trip to Paris– and a

light weight white button up

), one casual dress (I usually go with black or white, but I decided to be a little crazy and go with

blush on this one

), a denim jacket (

perfect for those cool Summer evenings

and goes with everything), one swimsuit (love this

cute pink gingham one

), and 3-4 pairs of shoes (two pairs of sandals, these

pink sneakers

are the prettiest, and a great pair of neutral wedges that are easy to walk in and can dress up any piece.)  The accessories are one way to add variety to your capsule outfits.  I always

bring a hat

when I travel.  I know it's a pain when en route, but it's worth it when you get there.  A

cute neck scarf

it the perfect comfy small accessory and right on trend this season, and I always use a neutral bag, so it goes with everything.  This

straw bag

is perfect, because it's really on trend right now while still working with all the pieces and it really just says "summer." My

Karen Walker sunglasses

are definitely a favorite right now, and the tortoise shell is really versatile.
Each of these pieces can be mixed and matched and styled several different ways, so you could get dressed for nearly a month even though you're only packing 10-14 things to wear.  And it all fits in a small bag.  Boom.  Here are some outfit ideas with the capsule pieces.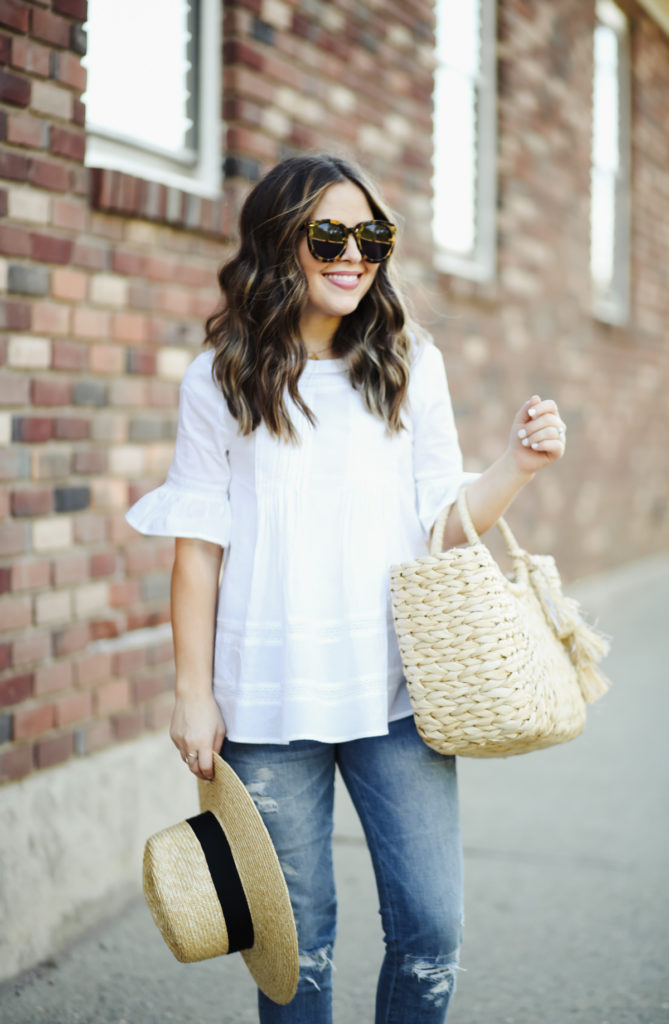 Do you use the capsule system when packing?  What are some tricks that work for you?