Okay guys, I am so excited to share this post with you today, because it is all about microblading!  I got my eyebrows microbladed last Saturday and I am breaking down the whole process for you today, including my thoughts about it, how I found a great brow artist, and what I think so far.
 I have literally been obsessed with brows since my first run in with a pair of tweezers when I was little more than a tween.  (That was a mistake, btw, keep your daughters away from the tweezers.)  I've always had a quest for great brows, and I've never really felt like I've gotten there, you know.  I've always had a tweeky brow, and anytime I tried to get them to match, they looked way, way too drawn on.  Powders weren't much good with my unruly brows, and swimming, sweating or just a rouge itch, and my brows were toast.
Annoying.
So imagine my delight when I heard about microblading.  Well, actually saw.  I first spotted the procedure on instagram probably 2 years ago and I was blown away.  Brows that looked straight up real– like can't tell the difference real, and they don't come off in the pool.
I wanted it done.  And bad.
But I was also a little scared because holy batman- semi-permanent.  What if they turned out bad?! And what if it hurt?!  There was an amazing girl doing it in Utah, but how did I find a great micro-blader where I was?
So I waited and started doing my homework.  The more I read about it, the more I decided it was definitely for me.  So I found an awesome girl I was going to have do my brows in Seattle, got on her waiting list… and then we moved.
So I put my brows on the back burner, until last Saturday, when I finally went in and had them microbladed.  Today, I'm going to tell you all about the process, my wonderful brow artist

Glenna from Permanent Makeup CT

, and how I found her.  And also, what I think of my new brows.  So here we go.
Before:

First things first, was finding a great microblading artist.  And when I say artist, I mean artist.  When you are looking for a microblader, you need to find someone that isn't just trained in microblading, but also someone who understands face/brow shape and is a true artist.  To find my amazing artist, I googled "microblading ct."  Once I found 5-6 great local studios, I went and found their instagram and Facebook pages.  And then I proceeded to stalk those pages for 4-5 months.  I would scrutinize every single picture.  And after all that time

Glenna

was the only one I wanted to do my brows.  Literally

every picture she posted

the brows were so good.  Beautiful shape, and such natural looking strokes you couldn't tell where the hair ended and the microblading began.
She's also highly trained, which was really important to me as well.  She's worked for many years as a makeup artist, as well as in permanent cosmetics and is highly trained in microblading.  She also believes in continued education and flies all over the world to continuing to train with the best in the trade.  This is the kind of person I want working on my face, you know.  If you are on the East Coast, I highly recommend her.  If you're somewhere else, I would follow the same method I went with.  And also ask for recommendations from others to find a great microblading artist.
Before my appointment, I had an over the phone consultation with Glenna to see if I was a good candidate for microblading.  This is an important part of the process, because it's an actual procedure where they cut your skin so they need to make sure you're in good health, etc.  Once we decided I was a good fit, we scheduled the appointment.
On the day of, I went in to her bright studio, and we went over the steps to the procedure, then she took before pictures of my brows the way I penciled them on.  After that, she removed the brow products and took another picture of my naked brows before.

Then comes the fun part!  We got to work designing my brows!  First she measured and marked my face so we could get the most symmetrical brows possible.  This is another reason you really want to find an artist.  Because no one's face is symmetrical (and definitely not mine) she was able to compensate for the differences between the two sides and make my brows more uniform.

Then she designed the shape of my brow and we tweaked them until I was completely happy.  I wanted someone really good that I could trust to not to just do the same shape I've always done, but give me the right shape for my face and brows.  Glenna was amazing.

After the shape is drawn on, she applied a numbing cream (hence the seran wrap and sexy shower cap) and we went over all the paperwork, and aftercare instructions while it cooked.  It takes about 1/2 an hour before you're numb.  Once your numb, you're ready to start the actual microblading.

This is where the actual microblading magic happens.  Using a razor and pigment she cuts small hair like strokes right into the skin in the shape we had already decided.  This creates the illusion of  fuller more beautiful brows that don't come off!  Glenna uses new disposable knifes for every procedure, and that was really important to me.   I don't know if every microblader does, but I feel like that's a good thing to insist on when you get it done.
Does it hurt?  Yes, but not badly.  You're pretty numb, but it's feels more like scraping than cutting, and while it hurts, it's not terrible.  (Is it weird that I found it relaxing?  I must be a mom…)

She did the first initial pass and then she saturated my brows with pigment for a few minutes.  After that we got up, she drew out the map again and we figured out where we needed to fill in a little more.  She marked out the spots in a white pencil this time, and then it was time for round two.

After the second microblading pass she saturated my brows again for a few more minutes then wiped them clean and I was done.

Ta-da!  My fresh brows right after she cleaned them off.

She shot pictures of the finished product, and I was done!

Glenna recommends using the dry heal method for micro-blading.  Which involves blotting your eyebrows every half an hour right after the procedure for 4 hours, then using a barely damp (with distilled water) pad morning and night to blot your brows morning and night for the duration of the healing process (10-14 days).  Other than that, you keep them completely dry the whole time.  And I mean dry.  No washing your hair, no swimming or exercising.  According to Glenna this is the best way to maintain the hair strokes and keep them from blurring.  So of course, I'm following her instructions to a T.
One week in, how am I feeling about my brows?
Obsessed.
Honesty I don't know why I waited this long!  They are so pretty, I love the new shape and how much time not drawing in my brows every morning has already saved me.  My eyes look and feel brighter, and I love the shape Glenna created.  The healing process has not been bad at all.  I have't really had a lot of scabbing or flaking yet though, so stay tuned.  It's not really painful after either.  The best thing I can compare it to is like having a mini sunburn on your eyebrows.
I go back in 4-6 weeks for the perfecting session, and after that is all the way healed I will write about the complete finished product brows, but honestly I'm already so happy with the results.
Have you thought about microblading?  If you have any questions, feel free to ask in the comments, or I am jumping on

Facebook live

this afternoon at 2:30pm Eastern time, and I'm going to talk all about my experience and answer any questions.
If you want to book an appointment with Glenna you can do so

here

.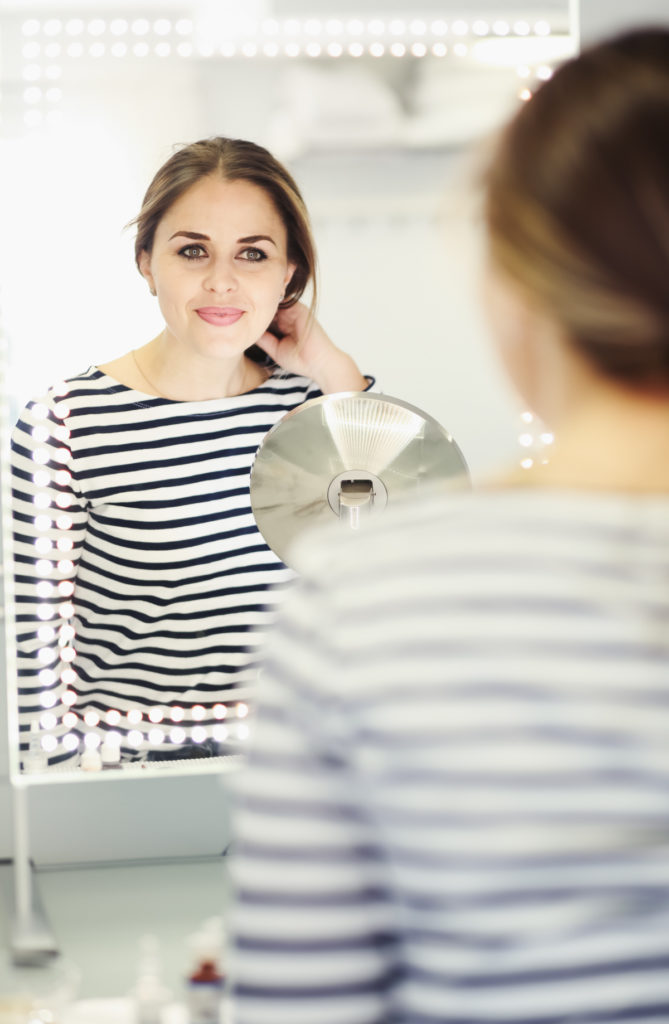 *created in partnership with Permanent Makeup CT.