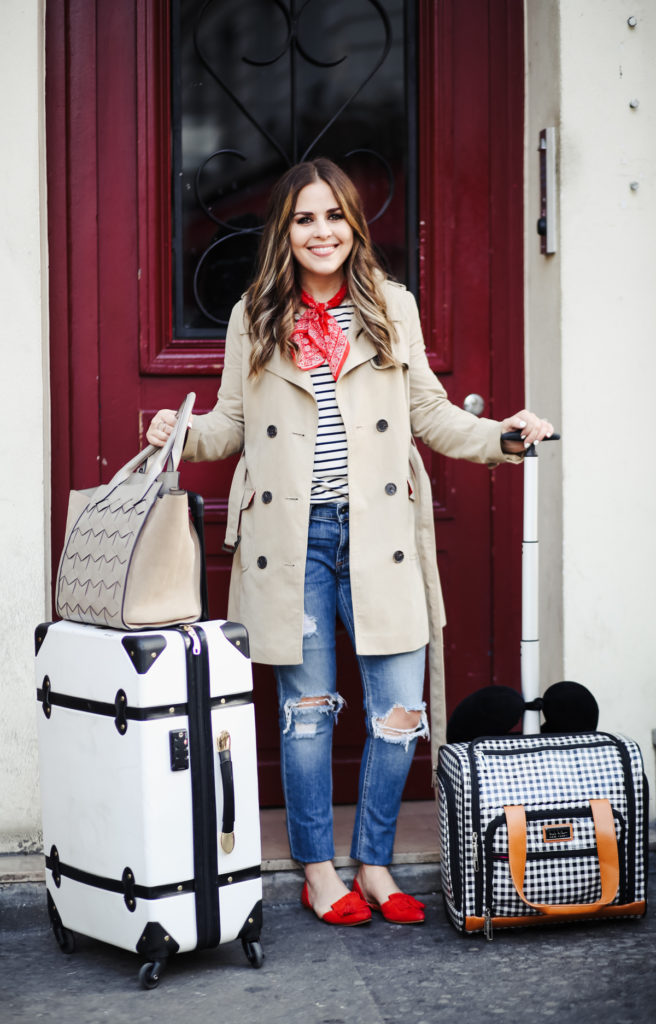 top. jeans. scarf. similar trench coat. shoes. Welden Bag c/o. DVF Suitcase.(more white suitcases) Similar mini-suitcase.
When we were planning our trip to Paris last month, one of the things that I really wanted was to stay in a quaint Parisian neighborhood.  I also knew I wanted to stay somewhere charming, and I didn't want to spend a ton on the place we were staying, because I knew we would hardly be there. (I'd rather spend our trip budget on food and activities, priorities people.)  Craig and I decided to book a small apartment in Montmartre through AirBNB and it was such a great way to go.
The apartment we rented for the week was right in the middle of a bunch of small cafes and bistros, and we got to say bonjour to half a dozen Parisians every morning as we made our way down the stairs and out to the street.  The windows in the apartment opened out onto a charming little courtyard, and in the evenings, when we had them wide open, French conversation floated up into the room from below.  In the mornings, we walked right out the door and bought a crepe at the stand across the street, and then ate them as we made our way down the cobblestone sidewalks to the metro stop.  It felt like a tiny taste of what it might be like to actually live in Paris.  And it was perfect.  Just what I wanted it to be.
I think AirBNB is still kind of a mystery, or at least something people are nervous to try, so I thought I would share a few reasons why it's a great option and also some tips for a successful stay, since we've used it several times now and have had really great experiences.  I also thought it might be helpful with the holiday travel season coming up, because it's a great way to save money on a fantastic place to stay.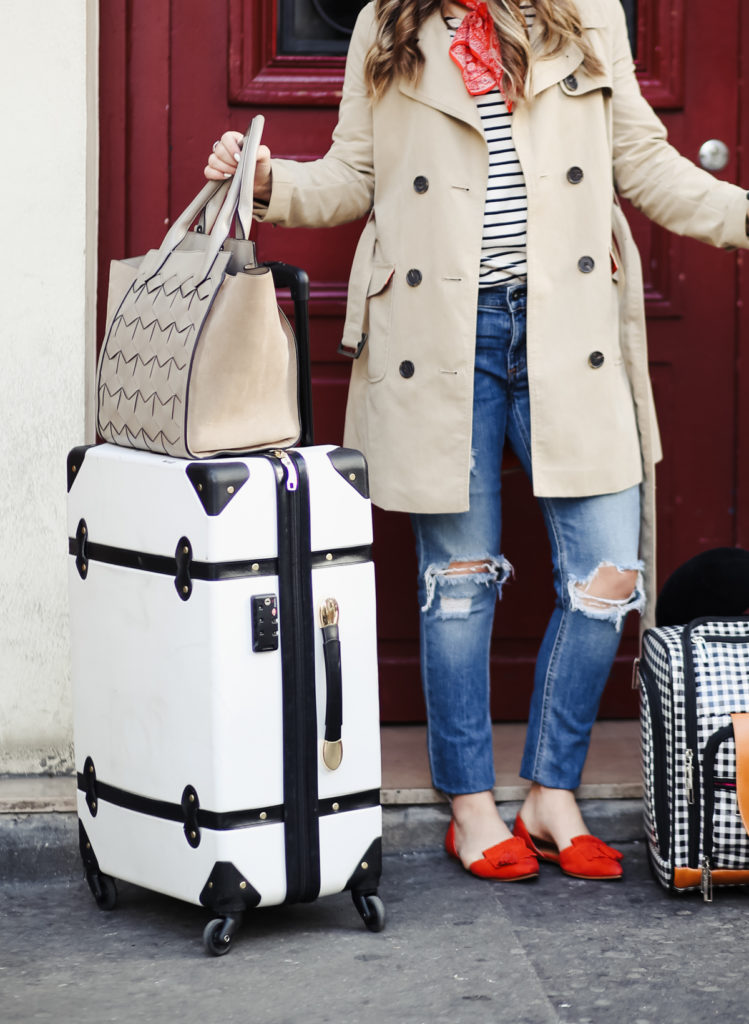 First of all, I wanted to share why I love using AirBNB.  Craig and I have been finding great places to stay in this way since we were early married.  We rented a condo in Cancun from HomeAway when it was still VRBO way back in the day, and we've rented beach houses in Oregon, on the Shoreline here in CT, apartments, and even bedrooms in someone's house when it's just one of use traveling.  So we were ALL about AirBNB when it came out because it's such an efficient and I think safer way to book.  We've stayed in some seriously cool places, and had way more authentic experiences than we would have had just staying in a hotel.  That's my favorite reason for renting an AirBNB.  Followed closely by the price.
You guys.  You can save so. much. money. on your travel by renting an AirBNB as opposed to staying in a hotel.  For example: our AirBNB in Paris was a small but very nice studio apartment with a little kitchen and a bathroom.  Not huge, but just as big or bigger than any city hotel room.  It was also located right in the heart of one of the most charming parts of the city, and it was a 3rd the cost of the cheapest hotel room we could find (that was 45 minutes outside the city center).  We seriously saved so much money on our lodging, which made it much easier to say yes to literally every activity we wanted to do, and every Chocolate croissant I wanted to buy. (so many croissants!)  Plus, I think it's more comfortable to stay in an apartment and have access to a kitchen, and a few extra amenities you wouldn't have in a hotel.
I also love using AirBNB  when we're traveling with the kids, because with 4 of them, one hotel room just doesn't really cut it for us anymore, but renting 2 rooms can get expensive.  I love finding an apartment or house that we can all fit comfortably in, and it's way better for kids than staying in a tiny hotel room.
So here are a few of my tips for successfully finding and enjoying your AirBNB rental.
Read all the reviews.  Seriously.  They will tell you what you need to know about the lodging, the host, whether or not it's a good area to stay in, and if there are any red flags etc. etc.  I don't stay anywhere unless all the reviews are really good.  That might sound picky, but with thousands of options on AirBNB it's easy to find a great place with all great reviews.
Turn off instant book on the filters.  To rent some of the apartments you need to get the hosts approval before you book, so you aren't able to book it immediately.  (There are lots of options for booking right away as well.)  It takes a little more time to book if you need the hosts approval, but I think it's totally worth it, because there are a lot more options, and I think some of the better places to stay require approval.  (Probably because they're nice.)  It also gives you the chance to connect with your host early, and get a little more info on the place/location.
Know the neighborhood you want to stay in.  Do your homework before you book and figure out where in the city or area you want to stay.  This is true for hotels too, but when you're traveling to a new place, it's easy to mistakenly book a place in kind of a crappy area, so have a few location options before you begin and then set your search accordingly.
Pay attention to the fees/deposits.  Lots of hosts don't add in any extra fees or deposits, but some of them do.  So make sure as you're booking you're aware if they're going to charge you a cleaning fee and deposit.  We found a great apartment at an amazing price in Paris and when we went to go book it the cleaning fee and deposit were insanely high.  A $50 a night apartment isn't such a good deal if they're going to charge you a $450 cleaning fee and a $2000 deposit.  Yikes.
Get recommendations from your host.  Whether through email, or when you're picking up your keys, make conversation with your host and get the inside scoop.  They're most likely local and can recommend the best restaurants and places to visit.  I think it takes a certain kind of person to rent an apartment out on AirBNB and usually it's the kind of person who's cool and open and willing to give you lots of great ideas for your trip.  Our host was super nice and gave us lots of good recs.  He even drew us a map so we could get our bearings a little quicker.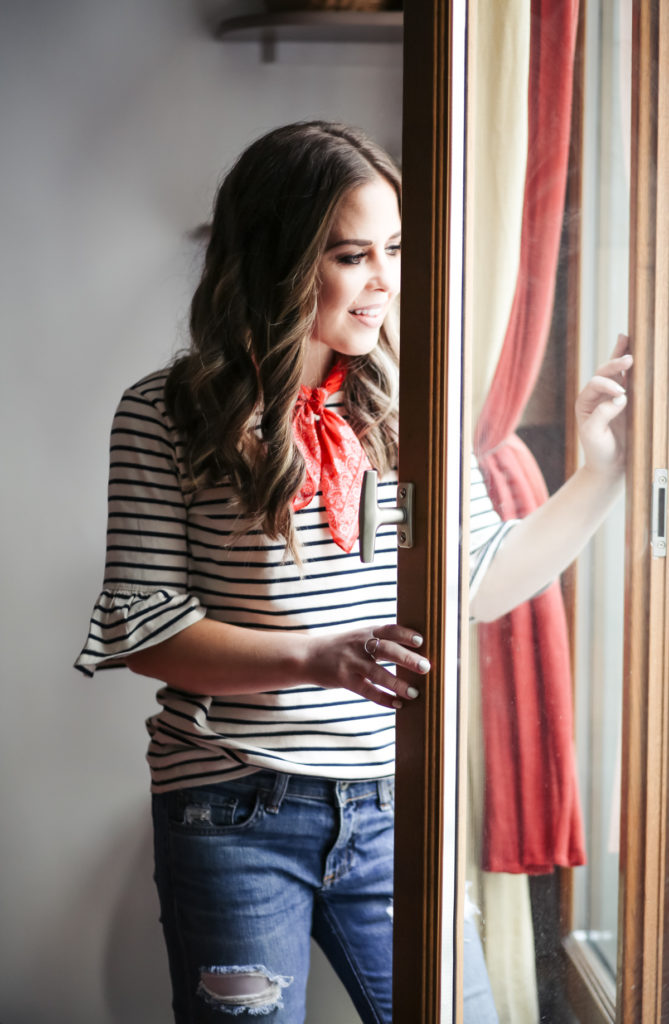 So there you have it!  A few of my tips for using AirBNB.  Have you ever used AirBNB?  What are some of your tips for using it?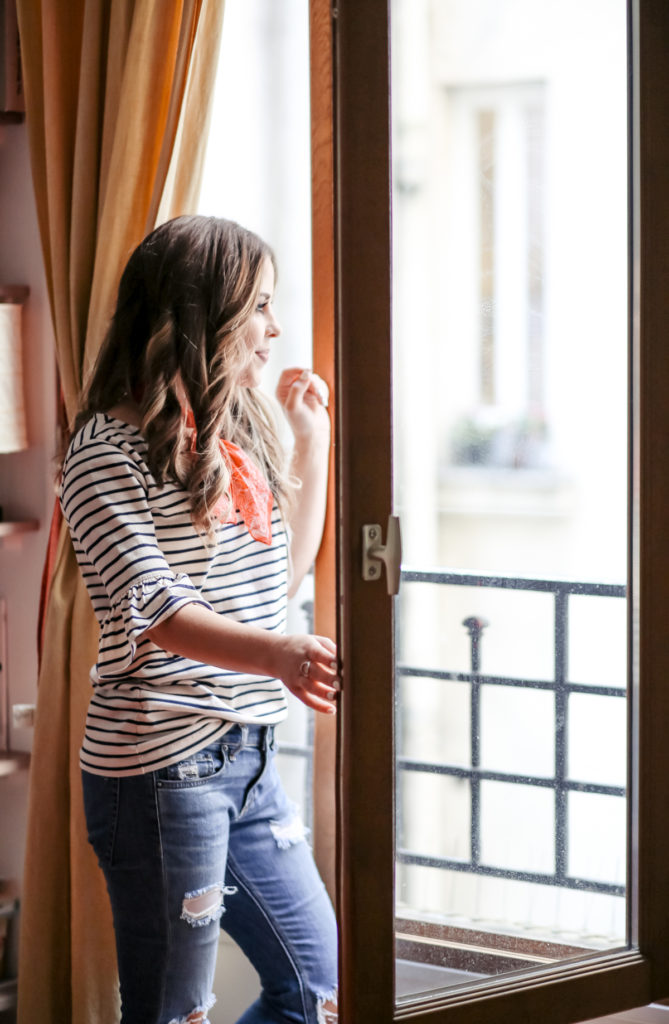 top. jeans. scarf. similar trench coat. shoes. Welden Bag c/o. DVF Suitcase. Similar mini-suitcase.
SaveSaveSaveSave
SaveSave