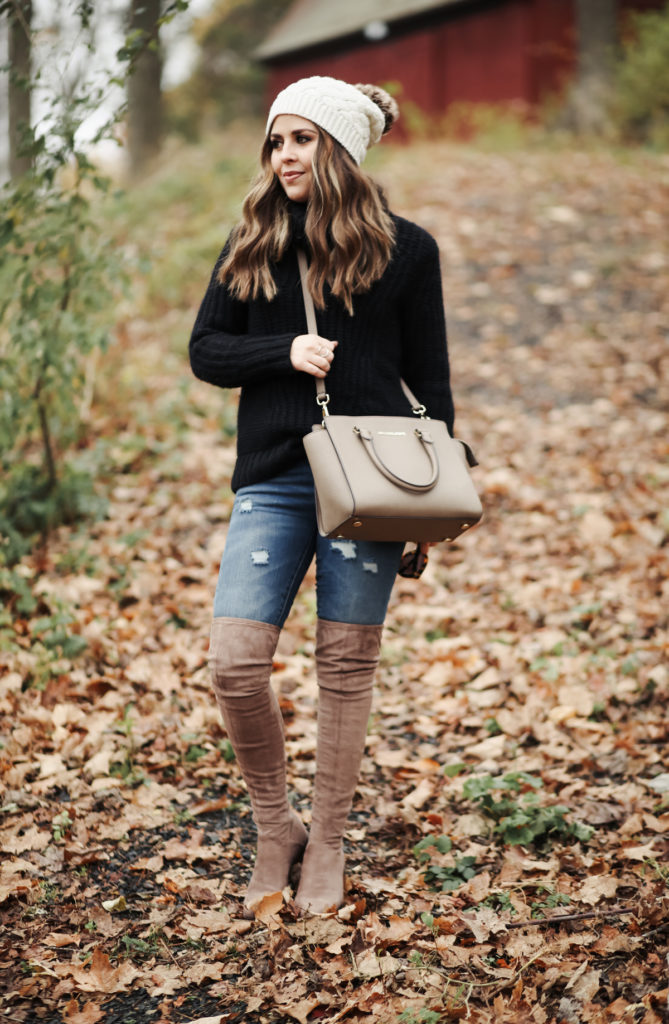 When the over the knee boot trend emerged in 2015, my first thought was, "wow, that's a really cute trend and surprisingly not at all hooker-ish looking like I would have thought."  And my second thought was, "there's no way I can ever pull that off."
Tall boots are always tricky for petites, and OTK ones just seemed like one of those places that sartorially I shouldn't go.  Because, #shortlegs.  But the trend has staying power, and doesn't seem to be going anywhere anytime soon, so earlier this fall I thought I would finally give it a shot.  Turns out petite girls can wear OTK boots, and I am obsessed with these.


Now, I know what you're thinking, cause it's probably what I was thinking for the last couple years.  Something along the lines of, "that works for her, but there's no way I can pull them off…"
Let me just say, I'm 4'11" with short athletic legs, so I guarantee if I can pull them off, you can pull them off.  In fact, I feel like I was so worried they would make my legs look short and stubby, and I feel like the opposite is true.  I feel like they actually make me look a little taller.
If you've tried them and they didn't work for you, you probably just haven't found the right pair yet.  I started looking for a pair that would work for me a few months ago and it took me 3-4 tries before I found a winner, so be willing to order and return, or try at least a few pairs.  If the first pair you try doesn't work, don't give up.
I finally went with

this pair

because the fit was really good for me, the heel height was just what I was looking for and I am obsessed with the color.  I also love that they don't have a tie in the back.  I tried a few pair with the ties and knew they would just drive me crazy.  Plus I love how sleek they look without it.  This pair is on sale right now, for under $100 and I can't believe how little they cost because they look so much more expensive than that.  It was totally worth the month I had to wait for them while they were on back-order.  I know I'll wear them for years to come.

A few tips for petites when buying/styling OTK boots.
If you are petite, stay away from slouchy or bulky OTK boots, they will make your legs look shorter and thicker.  (Not what we want.)  Trust me on this one.  I've tried.  It's not cute.  A nice slim silhouette works wonders.
Try a lighter color rather than black.  Don't get me wrong, black is a great color, but it can also have the effect of a black hole.  It's a very heavy color, and paired with denim can really break up your leg and make it look shorter.  Try a taupe or a gray for a more subtle elongated look.  Plus, double benefit, taupe goes with everything!
If you do buy

black OTK boots

, try pairing them with

black denim

and

black leggings

or very dark wash jeans.  That way it doesn't break up your leg and it will make you look longer and taller.
Tips for everyone: 
You want really fitted skinny jeans, or jeggings if you're going to tuck them into your OTK boots.  Otherwise, they won't fit.   Make sure you're wearing the right jeans to try them on too.
To get them on and off easily, fold them all the way down, slide your foot in and then unfold them up your leg.  It is way easier than trying to pull them on, and it's much easier on the boot/won't stretch them out.
All OTK boot fall down a little when you walk/sit in them.  This is normal.  Just make sure the pair you buy is nice and fitted and the fall down will be minimal.
Do you have any tips for OTK boots?  Share them in comments!



SaveSave